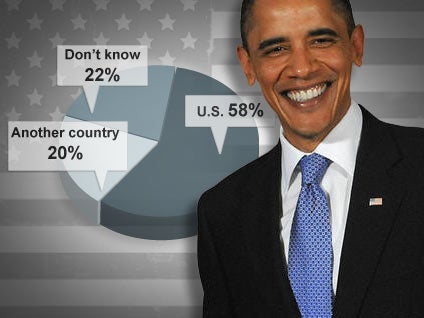 Poll: "Birther" Myth Persists Among Tea Partiers, All Americans
CBS News Poll analysis by the CBS News Polling Unit: Sarah Dutton,Jennifer De Pinto, Fred Backus and Anthony Salvanto.
Although the Constitution requires American presidents to be natural born citizens, as many as 30 percent of Tea Partiers say they think President Obama was born in another country, according to a new CBS News/ New York Times poll. More Tea Partiers, however, at 41 percent, say he was born in the U.S.
The so-called "birther movement," questioning Mr. Obama's origins, began during his presidential campaign. It has steadily persisted through Mr. Obama's presidency, in spite of overwhelming evidence he was born in the United States -- including his 1961 birth announcement, printed in two Hawaii newspapers.
The myth persists among the larger American population, but to a lesser degree, according to the poll, conducted April 5 - 12. Thirty-two percent of Republicans think the president was born in another country.
Among Americans overall, 58 percent think Mr. Obama was born in this country, while 20 percent say he was born elsewhere. Significant percentages aren't sure or don't have an opinion.
More from the Poll:
Tea Party Supporters: Who They Are and What They Believe
Tea Partiers View Palin, Beck and Bush Favorably
Tea Party Activists Small but Passionate Group
Most Tea Partiers Believe Too Much Made of Problems Facing Blacks
Most Tea Party Supporters Say Their Taxes Are Fair
Read the Complete Poll on Tea Party Members (PDF)
Read the Complete Poll on What Tea Partiers Believe (PDF)
---
This poll was conducted among a random sample of 1,580 adults nationwide, interviewed by telephone April 5-12, 2010. Phone numbers were dialed from RDD samples of both standard land-lines and cell phones. The error due to sampling for results based on the entire sample could be plus or minus three percentage points. The error for subgroups is higher.
An oversample of people who describe themselves as supporters of the Tea Party movement were interviewed, for a total of 881 interviews. The results were then weighted in proportion to the adult population. The margin of error for the sample of Tea Party supporters is three points. This poll release conforms to the Standards of Disclosure of the National Council on Public Polls.
Thanks for reading CBS NEWS.
Create your free account or log in
for more features.