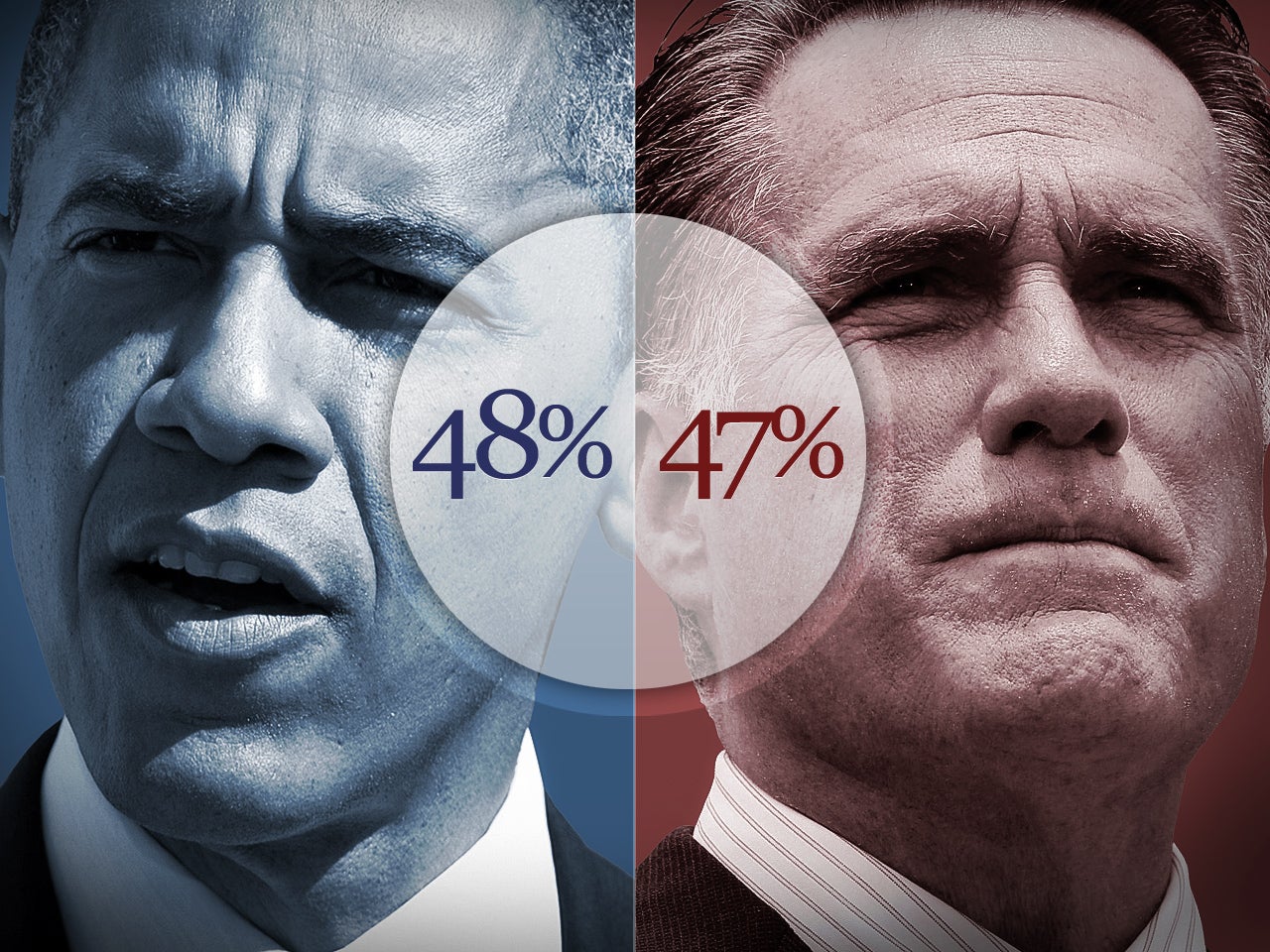 Poll: Storm puts close race on pause
By Sarah Dutton, Jennifer De Pinto, Anthony Salvanto, Fred Backus and Stephanie Condon
Before Superstorm Sandy put the presidential race on pause, President Obama held just a one-point lead over Mitt Romney nationally, according to a new CBS News/ New York Times poll, while voters continue to see Romney as stronger on the economy.
In the final days of the campaign, the storm may have changed the dynamics of the race, giving Mr. Obama a chance to display presidential leadership while compelling both the president and Romney to give up valuable days on the campaign trail. Just ahead of Sandy's arrival, however, the presidential race remained close, with Mr. Obama leading Romney among likely voters 48 percent to 47 percent, within the poll's three-point margin of error. The survey was conducted Oct. 25-28, while the storm made landfall in New Jersey on Oct. 29.
With just a week to go before the election, 10 percent of likely voters are still uncommitted, saying they are either undecided or could change their minds about who to vote for. Enthusiasm about voting is higher among Romney's supporters, 68 percent of whom say they are very excited about voting. Among Mr. Obama's supporters, 59 percent say they are very excited. Nearly eight in 10 likely voters now claim to be paying a lot of attention to the campaign, including similar percentages of Obama and Romney voters.
There is still a gender gap in the race: women support the president, 52 percent to 44 percent, while men support Romney, 51 percent to 44 percent. And while each candidate gets strong support from their respective political parties, Romney now holds a 12-point lead among the swing voting group of independents (51 percent to 39 percent). Romney retains the support of white voters, while the President enjoys strong support from non-whites.
On the issues
Romney now leads the president on the economy by six points, up from three points in a CBS News/NYT poll released just over a week ago. The Republican candidate has also widened his advantage on handling the deficit and now leads 54 percent to 39 percent. He also leads the president on handling illegal immigration by six points.
Mr. Obama leads Romney by five points on foreign policy and terrorism, but his lead on those issues has narrowed. He also has a nine-point advantage on the issue of Medicare and a 12-point advantage on abortion.
The candidates are close on taxes (Romney leads, 47 percent to 46 percent) and health care (Mr. Obama leads, 48 percent to 45 percent).
More voters say the president (52 percent to 43 percent) would do more than Romney to help the middle class.
Romney, however, has an advantage on the issue of bipartisanship. Half of likely voters think Romney would work better with both Republicans and Democrats in Congress, while 39 percent think the president would.
Voters' views of the two candidates differ sharply on corporate taxes. Though both have promised to lower the corporate tax rate, 80 percent of likely voters think Mr. Obama would raise taxes on business if he were re-elected. Seventy percent think Romney would not do so if he becomes president. About half think each man would raise taxes on people like them if elected.
Candidate qualities
As has been the case throughout this campaign, Mr. Obama continues to have an advantage over Romney on empathy: Nearly six in 10 likely voters say he understands the needs and problems of people like them, compared with 49 percent who say so about Romney. The president enjoys an even larger advantage (66 percent to Romney's 46 percent) when asked specifically about the needs of women in the workforce. However, more voters think Romney has strong qualities of leadership (67 percent) than say that about the president (59 percent).
Some voters, however, perceive Romney as pandering to voters. Fifty-four percent of likely voters say Romney says what people want to hear, while 42 percent thinks he says what he believes. Views of the president on this characteristic are more closely divided.
On handling an international crisis, more voters express a lot of confidence in the president (40 percent) than in Romney (30 percent).
More than half of voters think each candidate has made it clear what he would accomplish if elected, but four in 10 disagree.
Overall, more than four in 10 likely voters describe each candidate's positions as being about right. Forty-two percent think the president's views are too liberal, while 35 percent think Romney's are too conservative. Among moderates, six in 10 say Mr. Obama's positions are about right while 40 percent say that about Romney. In fact, 44 percent of moderates think Romney's positions are too conservative for them.
The debates
Two in three likely voters say the presidential and vice presidential debates have been important in their presidential vote decision, including 34 percent who say the debates have been very important.
Among those who say they were important, Romney has a slight lead, 51 percent to 45 percent, over Mr. Obama.
The president
The Obama administration receives negative marks for their handling of the recent attacks in Libya. Just 39 percent of Americans approve of how they have handled that, and more, 45 percent, disapprove. About three in four Americans have heard or read a lot about the attacks.
Evaluations of the administration on this measure are more negative among likely voters. Just 38 percent of them approve, and 51 percent disapprove, including 57 percent of independents.
Mr. Obama's approval rating overall is 50 percent; 42 percent disapprove.
See next page for full poll results.
---
This poll was conducted by telephone from October 25-28, 2012 among 898 adults nationwide, including 798 registered voters. The sample size for likely voters is 563. Not all likely voters are assigned the same probability of voting. Phone numbers were dialed from samples of both standard land-line and cell phones. CBS News and The New York Times originally intended for the interviewing for this poll to continue through Tuesday evening. By Sunday the demographic characteristics of the sample were similar to what would have been expected had interviewing continued.
The error due to sampling for results based on the entire sample could be plus or minus three percentage points. Among registered voters and likely voters, the error due to sampling could be plus or minus four percentage points. The error for subgroups may be higher. Percentages may not add to 100% due to rounding. This poll release conforms to the Standards of Disclosure of the National Council on Public Polls.
Thanks for reading CBS NEWS.
Create your free account or log in
for more features.