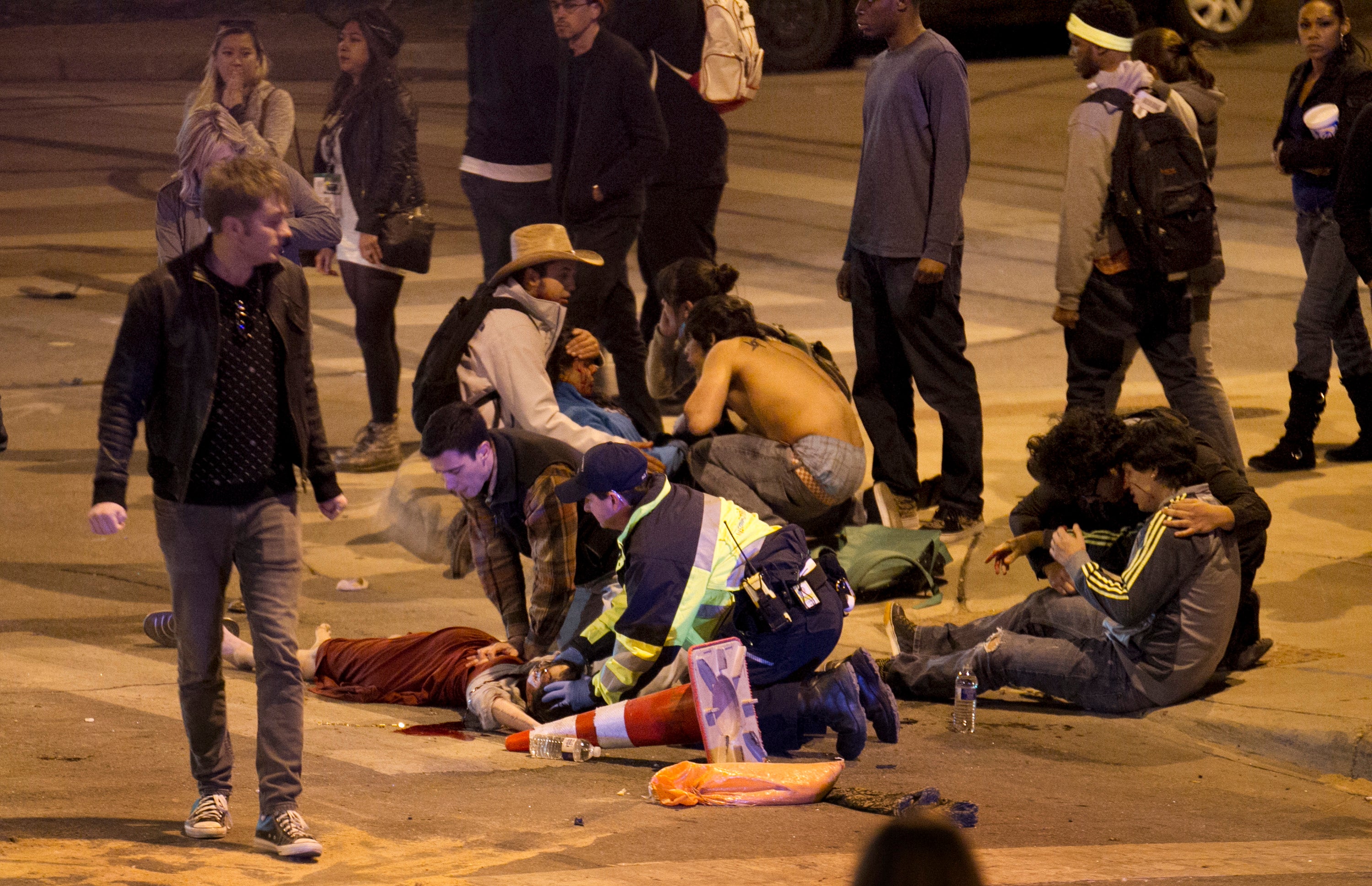 Police: Third person dies after SXSW car rampage
AUSTIN, Texas -- A third person has died after being struck by a suspected drunken driver who rammed a car into a crowd early Thursday during Austin's popular South By Southwest music festival, police say.

Austin police spokeswoman Veneza Bremner says Sandy Le has died of injuries suffered during the rampage. She did not say when the 26-year-old Le died.
Le had been in critical condition at the University Medical Center Brackenridge, reports the Austin American Statesman.
Rashad Owens, 21, of Killeen, Texas, is accused of driving a car drunk into a crowd of people outside a nightclub at the busy festival. He's charged with capital murder and is being held on $3 million bail.
Jamie West, 27, of Austin and Dutchman Steven Craenmehr, 35, were killed at the scene. More than 20 others were injured.
Seven additional victims remained hospitalized Monday, including one person in critical condition, hospital officials said.

Owens is set to be arraigned Monday and could face additional charges, including aggravated assault with a motor vehicle, reports CBS affiliate KEYE-TV.

It's not clear whether he will face additional charges in connection with Le's death.According to a police report, a breath test given after the crash showed Owens had a blood alcohol content of .114, over the .08 legal limit for intoxication, reports the station.


According to the arrest warrant released Friday, Owens did not use his brakes and even accelerated as he approached crowds.


Owens told police that he "got scared" when he saw police lights behind him around 12:30 a.m. Thursday because outstanding warrants meant he could go to prison for five years. The warrant says Owens said he's facing kidnapping warrants issued as part of a custody battle over his daughter.

The officer who tried to pull over Owens was looking for suspected drunken drivers when he spotted a 2012 gray Honda Civic that didn't have its headlights turned on, the arrest warrant says. Owens then made a turn from a middle lane and "would have caused a crash" with the police cruiser had the officer not turned to avoid it, according to the warrant.

Investigators say Owens then cut through a gas station and sped the wrong way down a one-way street before crashing through police barriers blocking a street closed for South By Southwest festivities -- forcing another police officer manning the roadblock on foot to dive out of the way.

Police say Owens then plowed into a crowd of concertgoers, hitting and killing a man from the Netherlands on a bicycle and an Austin woman on a moped. Investigators say he eventually crashed into a taxi and parked van and tried to run before police subdued him with a stun gun.

The warrant says a video from the police unit giving chase "shows the Honda accelerating into crowds, not simply crowded areas but crowds of people who are hit by the car and flung into the air." It adds that Owens drove "for almost three city blocks, accelerating into crowds and does not use his brakes, as in the video there are no brake lights visible from the rear of the Honda."

Court records indicate that Owens pleaded guilty to driving under the influence in Fairbanks, Alaska, in October 2011, when he was 19. He also was charged with leaving the scene of an accident, but that was later dismissed.

Owens also faced 2012 charges in Alaska of criminal mischief, and a warrant was issued for him after he failed to appear in court. In 2010, meanwhile, he was arrested in Texas by Killeen Independent School District police for criminal trespassing and pleaded guilty.

The annual music, film and interactive conference draws tens of thousands to Austin each year, and the toll could have been much higher. The street had been packed with revelers just minutes earlier, but officials had cleared the area to create a fire lane.

In a separate incident at South by Southwest Thursday, rapper Tyler, the Creator, was charged with inciting a riot after allegedly yelling to a large crowd of fans to push their way past venue employees controlling access to a party that was already at full capacity.
Thanks for reading CBS NEWS.
Create your free account or log in
for more features.