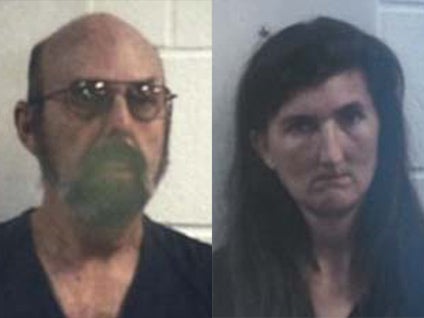 Police search for baby's remains in Southeast Oklahoma
(CBS/KFSM) LEFLORE COUNTY, Okla. - Oklahoma authorities are searching the property of a mother and father accused of abusing their nine children. A bulldozer was brought to the property Friday after one of the couple's children claimed she had a stillborn baby which her father buried in the woods behind a home near Monroe.
The teenage girl told police that she had given birth to a baby girl in August 2010 which was delivered by her father at her home, reports CBS affiliate KFSM. She said a boy she met at camp is the baby's father.
According to KFSM, the teen told officials the baby girl didn't cry when she was born and claims her dad said the baby was dead. The teen also told authorities the baby was buried in the woods behind some of their property. State officials say they searched public records and found no report of the baby's birth or death.
The teen is one of nine siblings, ages 3 to 17, who were taken into the custody of the state after an investigation revealed extreme physical and educational neglect by their parents, KFSM reports. Officials say one of the children told authorities she and a younger sibling were sexually abused by their father.
Now, KFSM reports that the parents, 61-year-old James Haskins and 39-year-old Lucinda Haskins were arrested during the course of the investigation. The father is charged with sexual abuse of a minor and child neglect. The mother is being held on charges of child neglect and failure to protect.

Both adults are being held on a $275,000 bond.
Thanks for reading CBS NEWS.
Create your free account or log in
for more features.