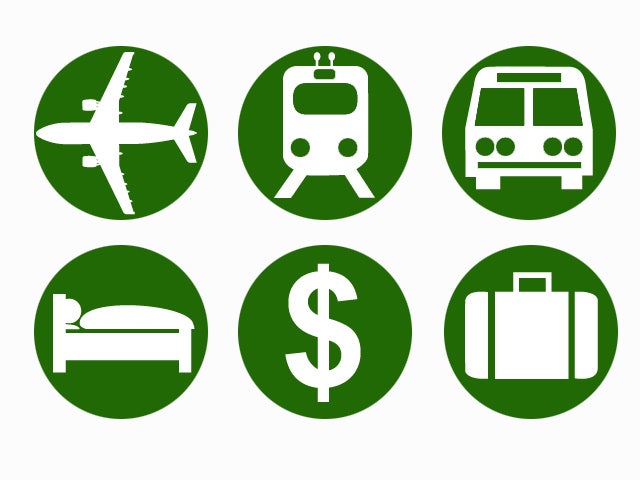 Plentiful discounts seniors might not know about
It's said youth is wasted on the young - but it can also be said lots of great discounts go to senior citizens - and many might not know about the bargains available to them.
On "The Early Show" Friday, AOL consumer adviser Regina Lewis pointed to many of them:
TRAVEL
By plane
Seniors should take advantage of exclusive travel deals set aside for them. When it comes to airfares, most major airlines including American, Continental and Delta regularly offer discounts to those passengers ages 65 or older. But because airfares change with such frequency, not all airlines reveal the exact amount of the discounted fare on their websites. In some cases, you will have to call the airline to determine the exact discount for your flight. For that reason, it's good idea to first research the lowest fare you can get online before picking up the phone. That way, you have something to compare the senior discount fare against.
American Airlines: American offers Senior fares in some domestic markets for seniors 65 years and up. To take advantage of the discounted fares, you will have to call the airline's reservation number at 1-800-433-7300
Continental Airlines: Continental offers Senior fares to selected travel destinations for passengers who are 65 and older. Ask for details when you make your telephone reservation or when you make your booking on continental.com, select the Seniors (age 65 and older) category under the "advanced search" tab.
Delta Airlines: Delta and Delta Shuttle offer discounts to Senior travelers, but these discount tickets cannot be booked through Delta.com. Reservations must be made by phone.
By bus and train
There are discounts to be had here as well. Big names like Amtrak, Greyhound and Trailways offer discounted fares.
Amtrak: Amtrak travelers 62 years of age and over are eligible to receive a 15% discount off the lowest available rail fare on most Amtrak trains. The Senior discount does not apply to the Auto Train or to weekday trips on the Acela Express.
Greyhound Bus Lines: Greyhound serves over 3,700 destinations in the U.S., Canada and Mexico and offers Seniors ages 62 and up a 5% discount off regular fare prices. Fares can be booked online or via phone.
Trailways Transportation Systems: Trailways is regionally-based and comprised of privately owned and operated companies throughout the U.S. Many of the privately owned and operated companies, which are franchised by Trailways, provide discounts to seniors beginning at age 50. Visit the Trailways.com to for links to the various operators and to search for their discounts.
Car insurance
Drivers entering their fifties should see some decrease in their auto insurance rates. Although it may not be automatic, most insurance companies provide a mature drivers discount. In some cases, you will have to take a mature driver safety course to qualify. Successful completion of the course will usually result in a discount of about to 10% off insurance rates. AARP has a course locator tool on their website that's searchable by zip code. Youcan find a course locator at http://www.aarp.org/applications/VMISLocator/searchDspLocations.action.
VACATION DESTINATIONS
One of the best vacation discounts for seniors comes from the National Park Service. The U.S. has 58+ protected areas known as national parks & operated by the National Park Service. Those sites include national parks, monuments, battlefields, seashores, scenic rivers, trails and military parks. A Senior pass referred to as the formerly called Golden Age Passport, is an admission pass for anyone age 62 and older. It gets you into any national park, along with your vehicle load of people if the park charges by vehicle. If the park charges by the person, it gains admission for you plus three adults. It will also get you half off at parks' camping, swimming and boat launch facilities. The cost for the pass is just ten bucks - for life. That's a steal compared to the cost for those younger than 62: $80 per year. For details, go to www.nps.gov and search "senior pass." Whether setting out on their own or tagging along with the grandkids,
Seniors can snap up discounts at amusement parks like Busch Gardens (Tampa) and SeaWorld (Orlando):
Busch Gardens: A 335-acre, 19th century, African-themed animal theme park in Fla. It features tropical landscapes, exotic animals & amusements. Offer: $3 off a one-day ticket for those 50+. MUST PRESENT YOUR ID AT THE GATE.
SeaWorld Orlando: A theme park & marine-life based zoological park near Orlando, Fla. Offer: $3 off a one-day ticket for those 50+. MUST PRESENT YOUR ID AT THE GATE. (NOTE for web team: Vacation specifics below taken from GiftCardGranny.com: http://www.giftcardgranny.com/blog/senior-discounts/)
HOTELS
Many major hotel chains in prime senior destinations offer great discount packages, but it's still a good idea to compare prices in any case. A competing hotel may offer a lower rates overall, possibly even undercutting another's discount rate. Also, inquire about reserving a "senior-friendly" room. Most hotels offer rooms that are on the first floor, are easily accessible and sometimes handicap-equipped, if that's a concern. (NOTE: Regina will say a quick one-liner about each of the hotels as they appear on screen.)
Here's a look at some senior specific lodging discounts:
Comfort Inn: At Comfort Inn, there are discounts available for AARP members or anyone age 60 and up. The discounts range from 10% off to as high as 30% off standard room rates.
Econo Lodge: An economy hotel that gets even cheaper for AARP members or anyone 60 years or older. Expect at least 10% a senior rate and possibly more if you book well in advance.
Holiday Inn: Holiday Inn is the largest hotel chain in the world with over 1300 locations and nearly 240,000 hotel rooms, so you'd hope you could get one at a discount, right? Well, if you are 62 or older or an AARP member, you can expect to receive 10% to 30% off any stay, depending on the location.
Motel 6: Another budget hotel where they claim to offer the lowest rooms rates of any national chain. Here, travelers ages 60+ get 10% off any stay at participating locations with their Seniors Save at 6 promotion.
Quality Inn: At Quality Inn, AARP members receive 10% off room rates with a Mature Travelers Discount and those 60+ receive a 20% to 30% discount on reservations placed in advance. **To be sure you get the senior rate at any hotels offering these discounts, expect to be asked to show a valid ID at time of check-in. Really the way most of these hotel discounts work is by a) Being 50 years old AND being an AARP member or b) You are either 60 or 62 depending on the chain and it doesn't matter if you are an AARP member or not.
BANKING
Seniors can receive discounted banking and checking packages at many major banks. Most programs are available to seniors aged 50 or 55 and older and the benefits can typically be found on the bank's web site. You can also inquire about discounts in person or via the bank's toll free phone number. Some extras you may receive with a bank's senior program can include Free or discounted personalized checks; No fee Travelers Cheques; Free personal money orders and cashier's checks; No minimum daily balance requirements; Free or discounted Bill Pay; Preferred interest options on checking balances; Preferred rates on Money Market Savings, CDs and IRAs; Preferred rates on select loans and lines of credit; Extra savings account; Special check cards; Free or discounted safe deposit box; Free stop payment, money order and bond redemption services; Overdraft protection options; Unlimited check writing with no per item fees and/or Free or discounted identity protection. Two banks that have programs are Wachovia which offers a Crown Classic Checking program and Bank of America's Advantage for Seniors. For additional information on how their programs operate, you can check out their web sites, www.wachovia.com and www.bankofamerica.com respectively.
OTHERS
Hallmark: Just about everyone has a local Hallmark store and even if you only shop there for special occasions, it pays to shop on the right day. Seniors age 65 and up receive 10% off purchases one day each week. The senior discount day varies by Hallmark location, so check with you local store to find out your deal day.
AMC Theaters: After you're through gardening, relax by taking in a movie at your local AMC theater where seniors 60+ receive up to 30% off the price of admission at most theater locations. And on Tuesdays, it's Senior Day at participating AMC theaters, with discounts up to 60% off a regular priced ticket. You should truly do your own research, because as you see here, there are a number of different places that offer discounts as well.
AT&T: The largest provider of fixed telephony in the U.S., and also provides broadband & subscription television services. Offer: The Special Senior Nation plan for those 65+ includes 200 any-time minutes and 500 nights-and weekends, along with mobile-to-mobile calling for $29.99.
Kmart: Kmart is the third largest discount chain in the world, with a total of 1,327 stores and supercenters. Offer: Gold K prescription discounts are available up to 20% off for those 50+.
Rite Aid: Operates 4,780+ stores primarily on the East and West Coasts. It's the 3rd largest drugstore chain in the U.S. Offer: Join the Living More Loyalty program for Seniors to save an extra 10% off on Tuesdays and receive 10% off prescriptions, along with various other discounts.
Banana Republic: With over 500 stores, this international brand sells mainstream luxury clothing. Offer: 10% discount for those 50+, although not all locations participate.
Ross Stores: Ross is the 3rd largest off-price retailer in the U.S., operating in 27 states. Offer: Those 55+ receive 10% off on Tuesdays.
Salvation Army Thrift Stores: Run by the evangelical Christian church known for its charitable work, these thrift stores sell clothing for all ages. Offer: Discount varies from 15-50% off your purchase for those 55+. (NOTE: These surprising specifics taken from GiftCardGranny.com.
Thanks for reading CBS NEWS.
Create your free account or log in
for more features.