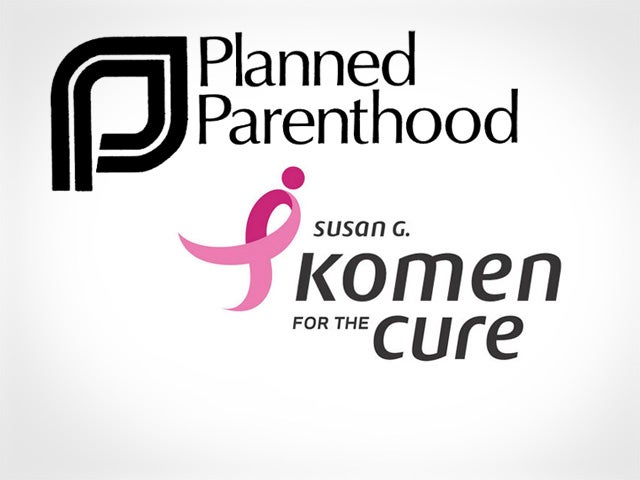 Planned Parenthood raises $3M for breast care services in wake of Susan G. Komen flap
Planned Parenthood has raised an eye-popping $3 million since Tuesday to support its breast cancer preventive services, the organization said Friday -- a silver lining for the organization after controversy erupted surrounding some its funding from the Susan G. Komen for the Cure Foundation.
The Komen Foundation announced on Tuesday that it was adopting a new policy that would have made Planned Parenthood ineligible for grants. But after facing a strong backlash against their decision, the cancer charity said Friday it was changing its policy so that Planned Parenthood is once again eligible for grants.
As Planned Parenthood supporters learned of the Komen's decision on Tuesday, they flooded the organization with donations and took to the Internet to express their outrage. The Komen Foundation has maintained the decision was not political, but Planned Parenthood President Cecile Richards said Friday, "If there's any lesson in all of this, it's that women and people in this country want preventive care, and they don't want politics to get in the way."
The $3 million in donations for its breast health care fund will allow Planned Parenthood to "expand our breast care work beyond our wildest dreams," Richards said.
Susan G. Komen reverses course on Planned Parenthood
Backlash grows over Susan G. Komen-Planned Parenthood flap
Planned Parenthood fight mobilizing liberals
Planned Parenthood typically receives between $500,000 and $700,000 a year from the Komen Foundation for breast cancer screenings and preventative education. In an official statement Friday, Richards said Planned Parenthood has a "treasured relationship" with Komen -- a charity that has played a significant role in raising the national awareness of breast cancer risk, screening and treatment, and thus, has saved countless lives. Richards said that Planned Parenthood helps Komen in particular with reaching out to under-served communities like low-income women, minorities and women who live in rural areas.
Planned Parenthood currently provides clinical breast exams to more than 700,00 women every year, and Richards said 100 percent of the $3 million in donations will go to maintain and expand its breast health services.
Richards said that more than 10,000 people contributed to Planned Parenthood in some way since Tuesday, and that the supporters were "a very wide ranging group and a lot of folks we had never heard from before."
Richards said there was an "outpouring of personal stories from patients" who have used Planned Parenthood services and that those stories reached a broad audience via social media sites like Facebook and Twitter.
"The intimate nature of social media and the ability of folks to communicate across all lines, I've never seen anything like it," she said."I absolutely believe the explosion on Facebook and Twitter drove a lot of coverage on mainstream media as well."
Thanks for reading CBS NEWS.
Create your free account or log in
for more features.