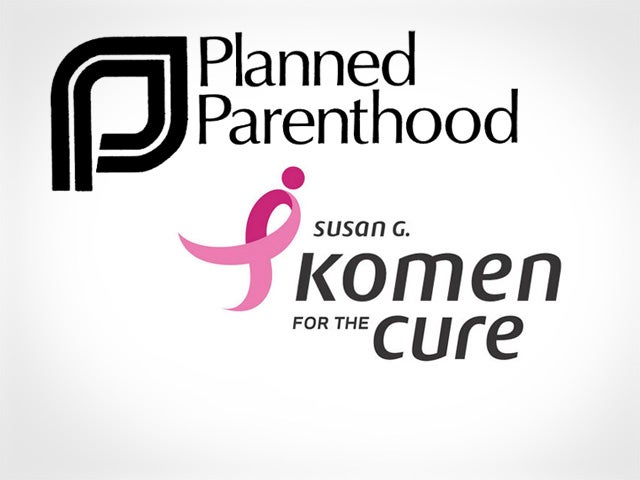 Susan G. Komen reverses course, will keep funding Planned Parenthood
Updated at 2:30 p.m. ET
Three days after pulling its funding for cancer screenings from Planned Parenthood, the Susan G. Komen for the Cure Foundation on Friday apologized for the decision and reversed course.
"Our only goal for our granting process is to support women and families in the fight against breast cancer," Nancy G. Brinker, founder and CEO of the foundation, said in a statement. "Amending our criteria will ensure that politics has no place in our grant process. We will continue to fund existing grants, including those of Planned Parenthood, and preserve their eligibility to apply for future grants, while maintaining the ability of our affiliates to make funding decisions that meet the needs of their communities."
The cancer charity initially announced it was pulling funding for the women's health organization because Planned Parenthood is the subject of investigations by Republican members of Congress for allegedly using federal dollars toward providing abortions. The Komen Foundation said its decision was not political, and in her statement today, Brinker maintained that it was not about politics.
"Our original desire was to fulfill our fiduciary duty to our donors by not funding grant applications made by organizations under investigation," she said.
Brinker said in her statement that the Komen Foundation is amending the criteria of its new policy to make clear that it will only bar funding for organizations under investigation if that investigation is "criminal and conclusive in nature and not political."
The policy change doesn't guarantee the Komen Foundation will continue to fund Planned Parenthood's cancer prevention efforts. Yesterday, Brinker suggested that in addition to the congressional investigation, Komen cut ties with Planned Parenthood because they provide "pass-through" services, like clinical exams, rather than mammograms.
However, Planned Parenthood President Cecile Richards said Friday of the Komen Foundation, "I really take them at their word that this [controversy] is behind us."
"In many ways the strength of the relationship with the foundation is where it should be -- it's at the community level," Richards said. "I think where these grants really take place is at the local level and Planned Parenthood's affiliates will be applying for programs [at the local level]. It's certainly my hope and belief we'll be partners again."
Even before the Komen Foundation reversed course, some of its local affiliates had expressed their opposition to the decision.
"Susan G. Komen for the Cure Connecticut enjoys a great partnership with Planned Parenthood, and is currently funding Planned Parenthood of Southern New England," the Connecticut affiliate posted on its Facebook page Tuesday. "We understand, and share, in the frustration around this situation."
Richards added Friday, "I feel very positive, relieved, and I'm glad we can all focus on women's health again."
The Komen Foundation's decision to cut ties with Planned Parenthood spurred a strong backlash against the charity. Online, groups opposed to the decision drew tens of thousands of supporters, and in Washington, more than two dozen senators called on the Komen Foundation to reverse its decision. Planned Parenthood also saw a surge in donations in response to the news. Richards said Friday that Planned Parenthood raised $3 million since Tuesday for its breast health care fund, which will allow the organization to "expand our breast care work beyond our wildest dreams."
Planned Parenthood said it typically receives between $500,000 and $700,000 worth of Komen grants annually for breast cancer screenings and preventative education. Planned Parenthood helps the Komen Foundation reach under-served communities like low-income women and minorities.
In an official statement, Richards said Planned Parenthood has a "treasured relationship" with Komen -- an organization that has played a significant role in raising the national awareness of breast cancer risk, screening and treatment -- and thus, has saved countless lives.
Brinker said the events of this week have been "deeply unsettling" for Komen supporters.
"We want to apologize to the American public for recent decisions that cast doubt upon our commitment to our mission of saving women's lives," she said.
Brinker said that the Komen Foundation will communicate with its key supporters and its network of local chapters starting today to refocus its attention on its mission.
Richards said today's decision is "really a victory for women and women who rely on this care." It demonstrates, she added, that "political bullying" won't keep women for standing up for women's health.
A number of Democratic lawmakers today commended the decision.
"With these changes to their policy, Susan G. Komen for the Cure is depoliticizing its grant-making process and refocusing itself back on its core mission: saving women's lives," Sen. Frank R. Lautenberg, D-N.J., said in a statement.
House Democratic leader Nancy Pelosi called the development a "big victory." The decision "just goes to show you when women speak out, women win," she said.
Thanks for reading CBS NEWS.
Create your free account or log in
for more features.