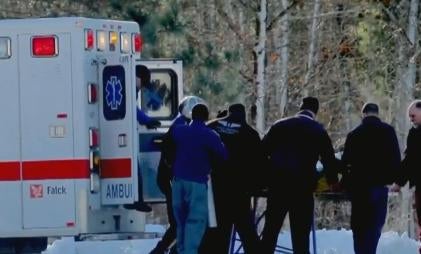 1-year-old girl attacked by family pit bull in Massachusetts
FALMOUTH, Mass. -- Authorities say a 1-year-old girl has life-threatening injuries after she was attacked by the family dog, CBS Boston reports. Falmouth police said the girl was playing in the kitchen with her father nearby Sunday morning when the pit bull terrier attacked and bit her in the face.
Her father was unable to separate the dog from the child, police said. He grabbed a pistol but when he realized it was unloaded he picked up a knife and stabbed the pit bull. Police said the dog was fatally wounded by the owner.
First responders arrived to the home on Brick Kiln Road just before 9 a.m. local time. An ambulance took the girl to Falmouth Hospital, where she was then flown by helicopter to a Boston area hospital.
Her condition was not immediately known but Falmouth fire Lt. Scott Stanbard told CBS Boston her injuries are believed to be life-threatening.
The family has owned the pit bull for five years and it has no known history of violence or aggression, according to a preliminary police investigation.
The attack appeared to be unprovoked, but authorities are investigating.
Thanks for reading CBS NEWS.
Create your free account or log in
for more features.