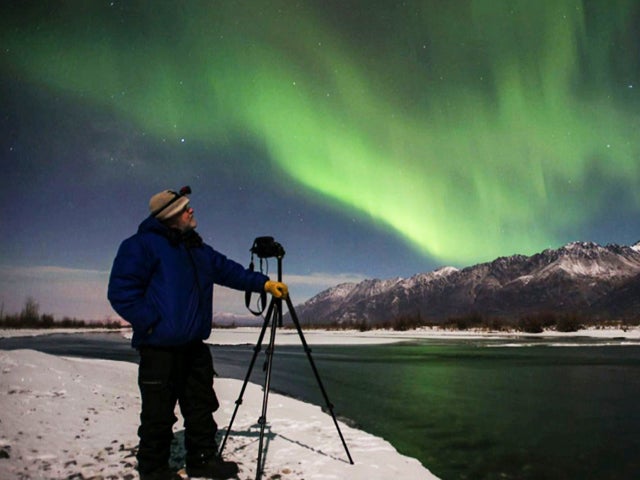 Photographer captures stunning images of Northern Lights
ANCHORAGE, Alaska -- Dave Parkhurst carries his camera into some of the most remote places in Alaska. He waits for the sun to go down and the lights to come on. He's captured some of the most stunning images of the Northern Lights.
"Well, the scientific term is Aurora Borealis, which is the goddess of light," Parkhurst says. "It's totally spiritual, because it's so powerful, it's beyond your imagination."
When Parkhurst moved to Alaska in 1981, people told him about the light shows. They also said don't bother trying to photograph it. Parkhurst says that became a challenge for him.
"It's kind of a fickle light," he says. "Film got better and is better than it's ever been now. You only have seconds. When they explode, they can cover, you know, 180 degrees of the sky in a few seconds."
It was three below zero when CBS News visited Parkhurst at his home in Anchorage. Even when it was 58 below, he still went out to see the lights.
"I tell people it's angelic," he says. "Something that's indescribable to some point, unless you're under them and experiencing them."
The Aurora appears when highly charged solar winds strike particles on the edge of space. Alaska is the best place in the U.S. to see the Northern Lights. But even here, with 20 hours of dark winter skies, there is no guarantee.
"And it makes for a long work shift," Parkhurst says. "Sometimes you're paid early, sometimes you're paid late or not at all."
Parkhurst gets paid by selling his more than 50,000 images. He also organizes Aurora sightseeing tours. Green auroras are the most common. Red are the rarest, seen just six to 10 times each decade.
"It never gets old," Parkhurst says. "Every show is like a fingerprint, so you're experiencing that moment and it's over."And then he waits until the next time nature's night light returns.
Thanks for reading CBS NEWS.
Create your free account or log in
for more features.