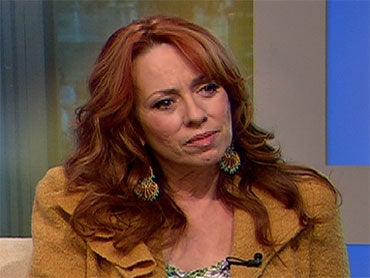 Phillips: Family Response is "Devastating"
Mackenzie Phillips said her family members' reactions to her incest claim last week against her father, the late musician John Phillips of '60s super group The Mamas and the Papas, has been "devastating."
Mackenzie said on "The Early Show," "Don't get me wrong, I understand that my family doesn't want this played out nationally, but the people who are saying that I'm lying have known about it for such a long time. (They're) trying to discredit me in a public way to either protect the brand of The Mamas and the Papas or to protect the memory of (my father.)"
Mackenzie added, "I absolutely loved my father, but he wasn't a good man. He was deeply flawed."
Among those who question Mackenzie's claims are her former stepmother Michelle Phillips, who says in a statement to CBS News, "Whether her relationship with her father is delusional or not, it is an unfortunate circumstance and very hurtful for our entire family."
She also told Us Weekly magazine, "You should take with a grain of salt anything that's said by a person who has had a needle stuck in their arm for 35 years. The whole story is disgusting."
Michelle also told The Hollywood Reporter, referring to Mackenzie's claim she had an almost decade-long sexual relationship with her father, "I have every reason to believe it's untrue."
Mackenzie's half-brother, Tamerlane Phillips, weighed in last week, as well, saying, "I don't know if these allegations are true are not, (but) they're very surprising to me."
In Mackenzie's new memoir, "High on Arrival" and in televised interviews, the former child star alleges the relationship started out as rape but became consensual. Mackenzie also claims she got pregnant at one point and her father paid for an abortion, thinking the baby might be his.
However, others believe Mackenzie's story, including her 29-year-old half-sister Bijou Phillips. Mackenzie said she told Bijou about the relationship with her father when Bijou was 13, but then took it all back when she got hysterical.
"Bijou is an extremely emotional girl. At 29, she's extremely emotional. But at 13, it was off the hook," Mackenzie said.
However, Bijou has supported Mackenzie in an interview on "The Oprah Winfrey Show" saying, "Well I believed her because, well first of all, who's going to go out of their way to say, 'Yeah, I had sex with dad?'"
"I backtracked. Look, I backtracked and I said, 'I'm sorry. ... It's not true. Yeah, I did to that to protect her."
"Early Show" co-anchor Maggie Rodriguez also pointed out the timing of Mackenzie's allegations -- after her father's death -- when John Phillips couldn't defend himself.
Why now?
"I wasn't ready to talk about this," Mackenzie said. "My son was a teenager when my father was still alive. My son is now a 22-year-old young man who is more able to handle something like this. I wasn't thinking about protecting my father. I was thinking about my family, my son, and when he would be prepared. And I didn't plan on writing a memoir that included incest, but when I sat down to write this book, I thought am I going to put out another sanitized version of my life? Why go there? Why go through writing a memoir about addiction if you can't actually address one of the reasons why the addiction was there in the first place?"
Mackenzie also disagreed with the way people are characterizing her, and her drug-filled past.
She said, "If you get a drug addict clean, you will have one of the hardest-working, most honest, best friends, who are so capable and intelligent. I think that is a big misconception. Because you're clean and you're living the life that you were meant to live in the first place. And why would I put myself in this position?"
Mackenzie countered claims that she's trying to look like a victim or sell her new book.
She said, "They can say whatever they want. I think my truth stands on its own."
Mackenzie said she has been off drugs for over a year -- ever since her arrest and rehabilitation last August.
Phillips asserts her father introduced her to cocaine. He died in 2001 after a lifelong battle with drugs and alcohol.
Mackenzie said she's received thousands of responses to her story.
She said, "There's so many addicts that are survivors of incest, and they're just afraid to speak. And maybe now they can have a voice. We can have a voice."

Thanks for reading CBS NEWS.
Create your free account or log in
for more features.