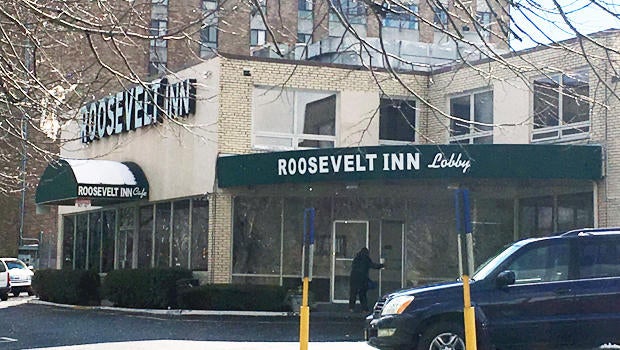 Teen says she was forced to have sex with 1,000 men over 2 years
PHILADELPHIA -- Lawyers in Pennsylvania say their client was sexually exploited at a motel for years, alleging the teen girl was a victim of human trafficking who was forced to have sex with more than 1,000 men.
"This child was forced into sex slavery, paid to do things with men double, triple, quadruple her age," attorney Nadeem Bezar told reporters.
The teen's lawyers are using Pennsylvania's human trafficking law to sue the motel where they say their client was sexually exploited, marking the first civil suit under the law since it was enacted in 2014, CBS Philadelphia reports.
Lawyers allege employees at the Roosevelt Inn in northeast Philadelphia knew that a 14-year-old girl was being held against her will for two years. She was forced to have sex with more than 1,000 men for as little as $50, they said.
"She is devastated by what happened to her. She's just trying to piece her life back together," said Bezar.
The girl, now 17, wants the hotel to pay for what happened to her. Under the 2014 human trafficking law, she's suing the motel's owners, the motel's management company and the manager himself. The lawsuit demands $50,000 in damages, according to the Philadelphia Inquirer.
According to the Inquirer, the girl managed to escape and reconnect with her family after two years at the motel. The Inquirer notes that those responsible for trafficking the teen were convicted and sentenced to prison. Her attorneys reportedly declined to identify her captors, fearing retaliation.
When CBS Philadelphia tried to talk to motel manager Yanga Patel about the lawsuit, he denied the allegations.
"I was always in the office. I didn't see anything wrong," said Patel.
The Inquirer reports the motel is well-known to Philadelphia prosecutors as "the epicenter of human trafficking" in the city. An assistant district attorney, Erin O'Brien, told the Inquirer that Patel had cooperated with police in previous investigations, but said "almost every trafficking investigation we have, we see the victim is at Roosevelt Inn."
"You have to be blind, deaf and dumb not to know that 100 men are showing up over a period of a couple days," says Tom Kline, an attorney representing the girl.
"You have a cleaning crew that comes into the room and oftentimes finds boxes or waste cans full of use condoms," Bezar added. "This is about as open and obvious as it gets."
Kline said it is a flagrant and blatant example of a motel looking the other way and reaping the profits.
"You can't have a line of johns out the front door and around the room waiting without them knowing," Kline said. "The front desk would direct the traffic to the room of this child."
Kline says if the people responsible are not held criminally liable, hitting them in the pocketbook will go a long way in policing human trafficking.
The victim is currently in therapy and trying to get her life back on track, her attorneys said.
Thanks for reading CBS NEWS.
Create your free account or log in
for more features.