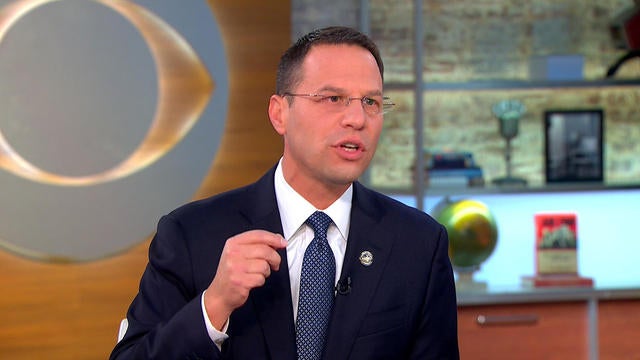 Issues That Matter: How state attorneys general are tackling the opioid crisis
As part of our ongoing series, Issues That Matter, we take a closer look at America's opioid crisis with Pennsylvania Attorney General Josh Shapiro. He called out drug companies for being the "supply chain" that enabled the epidemic and Congress for their lack of action against those companies.
"We are undeterred – unlike the folks in Congress – we are undeterred by these big pharmaceutical lobbyists and all the money they throw around," Shapiro told "CBS This Morning."
Forty-one attorneys general around the country including Shapiro have subpoenaed drug companies for information and documents to understand how opioid medications are made, marketed and distributed. An average of 13 people die of overdoses every day in his state alone.
"This crisis is of epic proportion. We're losing – we lost 6,000 Pennsylvanians last year, tens of thousands more across this country. I've had moms and dads in my arms crying over the loss of their loved ones," Shapiro said.
Pennsylvania Congressman Tom Marino withdrew his name Tuesday from consideration as the next drug czar following an investigation by "60 Minutes" and the Washington Post into a law he sponsored. A Drug Enforcement Administration (DEA) whistleblower said the law made enforcement of suspicious opioid distributions more difficult.
"It was important journalism – it was shocking journalism for a lot of people. It didn't surprise us a whole lot but it really put an exclamation point on the work we're doing," he said.
Shapiro said they're looking into drug companies because they are the "supply chain" fueling the opioid epidemic.
"Look, 80 percent of heroin users start with a legal prescription drug," he said. "I think what disturbs me most is just how reckless and callous they've been. It seems like they just want to turn a profit and they're willing to put these highly-addictive medications out there, seemingly turning a blind eye to the fact that these pills are being dumped in communities."
One of the distribution companies named in the "60 Minutes"-Washington Post investigation is Cardinal Health. In a statement to CBS News they said, "We maintain a sophisticated, state-of-the-art program to identify, block and report to regulators those orders of prescription controlled medications that do not meet our strict criteria."
Asked if distributors are breaking any laws, Shapiro said "potentially" and elaborated with an example of the type of behavior they are looking into.
"You have a pharmacy somewhere in central Pennsylvania and they're sending a thousand of these highly-addictive oxycodones to that pharmacy each month and then all of a sudden it's 10,000 and 50,000 and 100,000 pills. You know, there's a responsibility on these distributors to actually look into that, to flag it and report," he explained.
Another target for Shapiro is some of the doctors who are excessively prescribing the pills.
"We've doubled the number of arrests of doctors in my office in Pennsylvania who are diverting or taking these legal pills and using them for unlawful uses," he said.
Shapiro is confident that he has both the moral force and the legal ground to go after the companies.
"We certainly have the moral force and we have plenty of laws in our states that are going to enable us to hold these folks accountable, recover for our respective states and then make sure most importantly we change corporate behavior. We cannot continue to lose the lives we're losing in the United States of America and the pharmaceutical industry has an important role in this process and we're gonna hold them accountable."
Thanks for reading CBS NEWS.
Create your free account or log in
for more features.