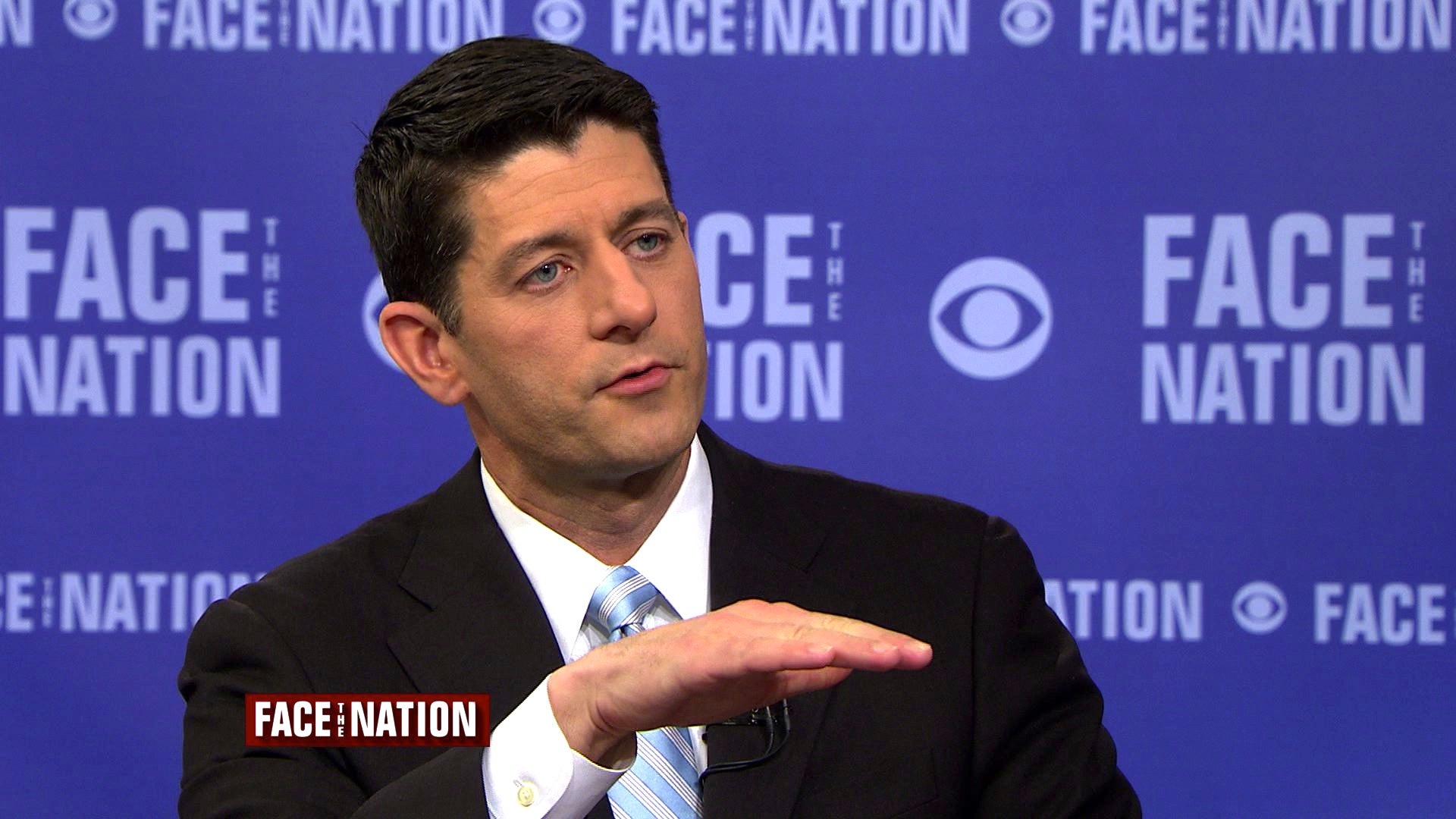 GOP's point man on poverty weighs in on Baltimore
In the wake of protests in Baltimore over the death of Freddie Gray, Rep. Paul Ryan, R-Wisconsin, said that "all of us need to engage more as Americans in these communities where there is this anxiety, where this is real despair."
The House Ways and Means Chairman and 2012 vice presidential nominee has quietly focused on combating poverty since he and GOP nominee Mitt Romney lost the 2012 election to President Obama. In an interview on CBS' "Face the Nation" Sunday, Ryan argued that America needs to do another round of welfare reform, "not to save money, but to save lives," and to rethink the way the government attacks the root causes of poverty.
Ryan rolled out an anti-poverty proposal last year and echoed many of the ideas from that plan in his interview with host Bob Schieffer.
"What the federal government's good at doing is providing resources. What the federal government is bad at doing is dictating solutions," he said. "Rather than measuring success based on results, outcomes, how many people are we actually getting off of poverty? And what I think the federal government has done is displaced local problem solving with top-down one size fits all and it's not working and so we need to go to an outcome-based approach and...overhaul our poverty fighting strategies to be focused on results and outcomes."
He argues for consolidating many of the federal poverty programs into flexible programs that allow states to customize welfare benefits to individual people. When people get welfare from several different programs stacked on top of each other, Ryan argued, they get stuck in the "poverty trap" and lose the incentive to get a job because they would lose some of their benefits.
During his travels to inner cities after the 2012 campaign, Ryan said he saw "incredible stories of redemption going on right now, under our noses, in the poorest communities of America, that are just absolutely jaw-dropping and inspiring."
He argued that finding the best role for the federal government isn't a partisan issue.
"We as a country need to say, 'That's not good enough. These-we're not getting the results we need. What do we do to get the results?' And I think the best thing we can do is go listen to people who are fighting poverty right now and especially those who are overcoming it," he said.
In a separate "Face the Nation" interview, PBS host Tavis Smiley, who has studied poverty, lauded Ryan and other Republican leaders for starting to talk about the issue. But he argued that any approach that cuts social welfare programs is not the answer.
"If we can't get a real serious conversation about jobs with a living wage, then what's the answer going to be?" Smiley said. "My problem with these Republicans is that they are against everything but they can't put on the table what they are really for when it comes to job creation. So for all the years that Barack Obama has been president and we've been debating this issue about how to get this economy started we can't get a serious conversation about jobs."
Smiley didn't give the president top remarks on his handling of the Baltimore crisis either, though, saying, he has taken a "hands-off approach to a hands-up crisis."
"Our leaders ought to call a state of emergency and in calling for a state of emergency, the president on down, we can...get a real conversation about police accountability, about civilian oversight and again, about jobs for fellow citizens," Smiley said.
During his interview, Ryan also advocated for Congress to pass legislation that would speed up the passage of trade agreements currently being negotiated by the administration. The legislation would allow Congress to give the president parameters for a trade agreement, and then allow them to approve or disapprove of the final result with a single vote rather than a longer process in which lawmakers could amend the deal.
Ryan is in the unusual position of being aligned with the White House, which wants Congress to pass so-called "fast-track" legislation. But many Democrats oppose the Trans-Pacific Partnership, a massive free-trade agreement with Asia-Pacific region that is under negotiation, because they fear it would would send more American jobs overseas, hurt wages at home, and harm the environment.
"In a world where 95 percent of the world's consumers live in other countries, not our country, we have to break down trade barriers so that we can have more jobs here at home, making grow things in America to sell them overseas. And the problem is, if you're standing still on trade, you're losing. You're falling behind," Ryan said. "The kind of trade agreement we're trying to talk about here is to bring other countries up to our standards so we can have a fair deal because these countries can already sell to America pretty much unrestricted. We don't have the kind of access to their markets that they have to ours and that's what we're trying to get with this trade agreement."
Thanks for reading CBS NEWS.
Create your free account or log in
for more features.