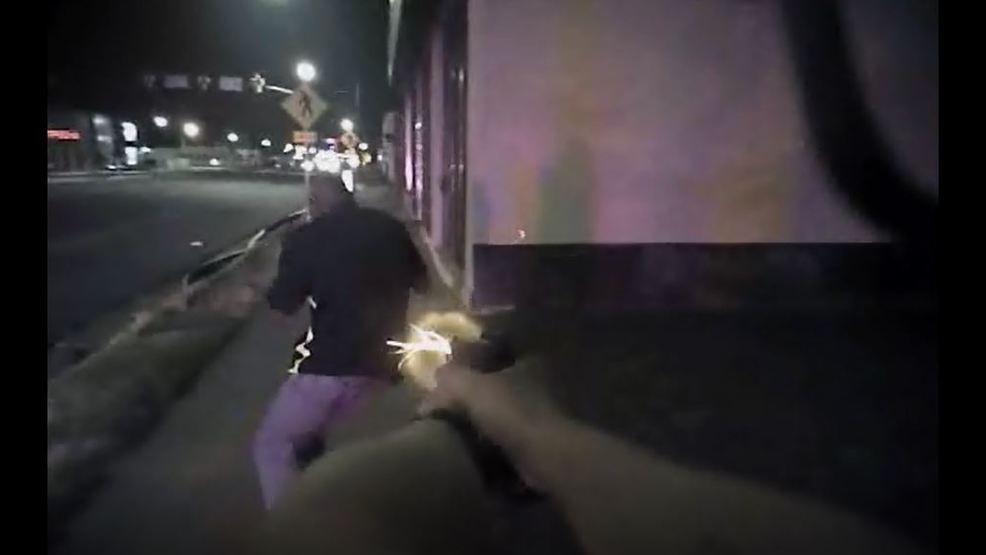 Video of deadly Utah police shooting sparks outcry
SALT LAKE CITY -- A Utah prosecutor this week determined police were legally justified in the deadly shooting of a black man in August that was captured on body camera video, enraging anti-police brutality groups and the family of the man who was fatally shot.
While one video appears to show the victim, Patrick Harmon, 50, shot from behind as he ran from police, a slowed-down version shows he pivoted toward officers with a knife, Salt Lake County District Attorney Sim Gill said Friday.
Officer Clinton Fox told investigators Harmon threatened to stab him before he fired the fatal shots. Body camera video shows Fox shot Harmon at close range after Fox yells, "I'll f....ing shoot you."
Harmon's family said the video proves that he was "murdered."
"They just murdered him flat out," Alisha Shaw, Harmon's niece, told The Guardian. "They are lying. There is no way they were threatened by anything. He was only trying to get away."
Lex Scott, an organizer with Black Lives Matter in Utah, said the community is livid over the footage and wants the district attorney to resign. The Harmon family, which lives in Colorado and St. Louis, is "shell shocked," Scott said.
"You can't watch that video and not realize it is a clear case of murder," Scott said. "It is one of the clearest cases of murder we've ever seen."
African Americans make up about 2 percent of the population in Utah yet are over-represented in the criminal justice system, Scott said.
About 50 protesters rallied in front of Salt Lake City police building last weekend, including members of Harmon's family, demanding police release the footage. They did that this week after Gill's ruling.
The shooting comes amid an intense debate throughout the United States about race and policing following the fatal shooting of many black victims.
In 2014, police in Saratoga Springs, Utah, shot and killed Darrien Hunt, 22, after receiving reports of a man with a samurai sword. The Utah County attorney's office ruled the two officers involved were justified in shooting Hunt because they feared for their lives and the lives of others.
Hunt's family said the shooting was racially motivated. Hunt was black; the officers who shot him were white. He was wielding the sword as part of a Japanese anime costume.
Harmon was shot and killed on Aug. 13, after an officer saw him ride his bicycle across all six lanes of traffic and a median on a downtown Salt Lake City street.
He was stopped because he didn't have a required red rear tail light on his bicycle, according to the district attorney's report. Police say that Harmon gave "a couple" of different names and eventually they found warrants for felonies including aggravated assault.
As they put him in handcuffs, Harmon pleaded with them not to take him to jail.
The video shows a distraught-looking Harmon peacefully putting his hands behind his back, then suddenly breaking into a run. The video from Fox's body camera is difficult to decipher as the officer ran.
Fox said that as he chased him, Harmon suddenly turned and pulled out a knife and threatened to stab him. Neither that statement nor an obviously visible knife are captured on the video. But two other officers at the scene reported hearing Harmon say he would cut or stab the officers and a knife was found near Harmon's body.
"Officer Fox said he was terrified by how close Mr. Harmon was to the officers when Mr. Harmon stopped and turned toward them," the district attorney report on the shooting states. "Officer Fox said that in 10 years of law enforcement and two military deployments, it was the scariest situation he had ever been in."
The report also includes stills from the video and an image of a knife found at the scene.
Gill said that when his investigators slowed down the video, it showed that Harmon was pivoting toward the officer.
Harmon was shot on his side, and a knife was found at the scene, he said.
CBS affiliate KUTV reported that to locate the hip wound, officers cut off Harmon's pants and try to stop the blood flow and said to him several times, "Stay with us."
His office has to decide whether to file criminal charges by weighing whether the officer could reasonably fear being seriously injured or killed, Gill said.
Given the slowed-down version of video from the body camera worn by Fox and a second officer, the knife found at the scene and the relatively close distance between Harmon and Fox, Gill found that fear would have been reasonable, he said.
Gill said he didn't come to that conclusion easily. The first time he saw the video at full speed, he thought, "Oh my god, this isn't right," he said.
"These are not easy decisions. They're difficult decisions. I don't take them lightly, and this was a very trying decision," he said.
Jeanetta Williams, president of the Salt Lake branch of the NAACP, said Friday that the group will follow up with prosecutors to get more information before deciding what action to take.
"He ran, but in the video I didn't see a knife," Williams said. "I just saw him try to run and then they just shot him."
Thanks for reading CBS NEWS.
Create your free account or log in
for more features.