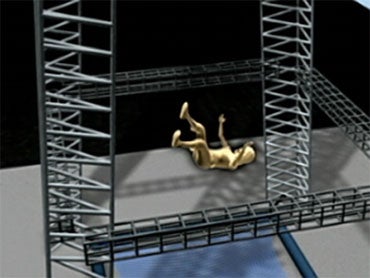 Park Ride Victim's Father: "She Was Dead"
A 12-year-old Florida girl is in critical but stable condition after falling more than 100 feet in an amusement park ride in Wisconsin. A safety net did not catch her.
Last Friday, Teagan Marti was looking for a thrill when she signed up for "Terminal Velocity," a freefall ride at Extreme World in Wisconsin Dells.
Teagan told her parents she wanted to do it after seeing the ride on a Travel Channel show. A person is raised to the top of a platform and then unhooked, free-falling at up to 52 miles per hour before, as the ride is designed, hitting the safety net below.
When Teagan was released, police say, the landing net was still fully on the ground. So when she hit, it did not break her fall.
The ride operator released the girl before the net was in place. In a statement to CBS News, the park said the accident was "caused by human error" and the ride operator is on "leave for mental health reasons."
Teagan is in a Wisconsin hospital with 10 fractures in her back and one in her skull. She has yet to speak.
Dr. Alex Marti, Teagan's father, was the first to see his daughter after her fall. He said on "The Early Show" Tuesday, "She was dead."
He explained, "She was basically unconscious, not moving and laying flat on her back with blood coming out of her ears and nose. Just a horrible, horrible scene. At the moment she fell and I heard that loud thud, I just assumed she was dead."
Stuart Grossman, attorney for Teagan Marti and her family, told CBS News that Dr. Marti, a radiologist, performed CPR and brought her back to life.
CBS News correspondent Ben Tracy reported the ride did have an age limit. You are supposed to be 14, but 12-year-old Teagan had a signed form of parental consent to get on the ride.
Alex Marti, whose family lives near Fort Lauderdale, Fla., said the trip was part of vacation fun for his daughter.
He said, "I figured that it would be safe and be fine to do. ... I watched several people before her. ... I saw several times that it was being done and it looked like everything was organized and done well."
He added, "Except in this case, the platform went up and never reached the top, and we were waiting for it to go to the top, and they were trying to lift the net below and before -- the net was still on the ground, and all of a sudden, she's released from the bucket. And she falls 100 feet directly to the ground. To me, it's just impossible to imagine that something like that could happen."
So who is at fault?
Grossman said, "(The person to blame is) the person who released Teagan early before this had reached its safe height and who didn't bother to check to see if the nets that were going to catch her were in place."
Grossman added, "The fact that you could release a rider prematurely tells you that there must be some design defect that could cause or allow that to happen. There was no failsafe method."
Grossman said there was "no backup" or "no safety net in place."
"This fellow had to make a conscious move to release Teagan," he said. "You can't just do it inadvertently. It has to be a conscious move. I'm curious as to the issues that he's faced with. So we'll see."
The park where Teagan was injured is temporarily closed. Officials say it's cooperating with the police investigation.
Tracy added there is video of Teague's accident, but police haven't released it ywt.
Overall, amusement parks have a pretty good safety record, Tracy points out. The U.S. Consumer Product Safety Commission estimates that more than 270 million people visit American amusement parks each year. About 7,000 are treated in emergency rooms for injuries from ride accidents. An average of four people die.
Ride safety experts such as Ken Martin say you shouldn't assume all rides are safe. Martin told CBS News, "Watch the ride, ask questions, make sure the ride operator is paying attention. Make sure other rides are behaving themselves."
Thanks for reading CBS NEWS.
Create your free account or log in
for more features.