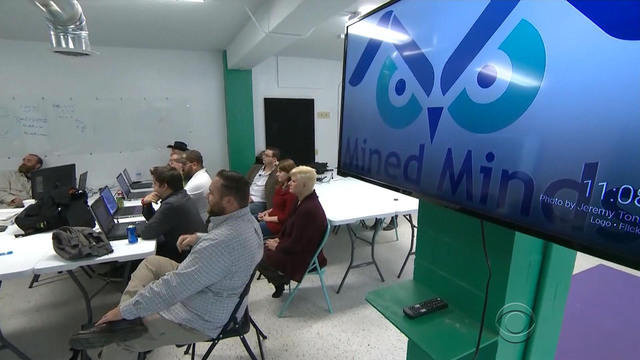 Out-of-work coal miners find new work in computer industry
CLENDENIN, W. Va. -- The coal industry has lost more than 40 percent of its workforce in recent years. Out-of-work miners have had to find jobs in other fields.
Former miners are heading to the classroom, using many of the same skills they used underground.
In Boone County, West Virginia, coal mining has provided work for seven generations of Billy Jack Buzzard's family. He became a miner when he was 18, right after graduating high school.
Three years ago, Buzzard lost his job.
"It was horrible. I got laid off, lost my vehicle, lost my house," he said. "There was no Plan B."
But the 29-year-old found one in June, swapping his hard hat for a laptop.
He was accepted into a free training program called "Mined Minds" that teaches former coal miners to become computer coders, creating apps, websites, and games.
Founder Amanda Laucher started the nonprofit in Pennsylvania in 2015 because her younger brother was worried about losing his coal mining job.
"In just a few months we realized they're really good," she said. "They're going off and learning stuff we haven't even done yet."
West Virginia Sen. Joe Manchin invited the group to his state.
"We saw that, called them, and said, 'Would you come to our jobs fair?'" he said.
Manchin helped Mined Minds establish headquarters near West Virginia's capital using money from federal grants.
"I think it gives us a chance to diversify ourselves and be something people think we are not," he said.
Manchin points out modern mining and coding require similar skills, especially in math and problem solving.
So far, 80 people have received computer coding certificates from Mined Mines. The program has sparked a new initiative to open coding "boot camps" across the state. West Virginia plans to have six camps open by early next year.
"We're not a bunch of idiots out here. We're not a bunch of hillbillies and hill jacks," Buzzard said. "There are some very smart individuals here."
Buzzard's ultimate goal? Helping turn his home from coal country to code country.
Thanks for reading CBS NEWS.
Create your free account or log in
for more features.