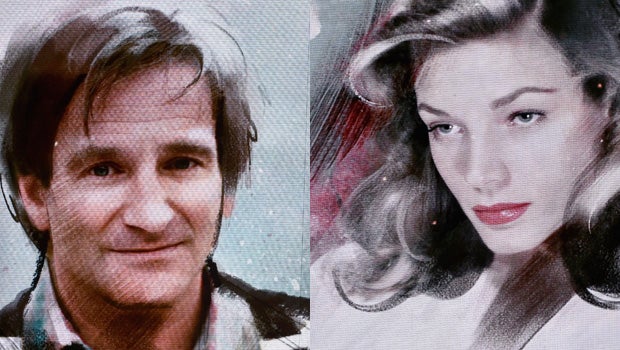 Oscars 2015: In memoriam honors Robin Williams, Lauren Bacall, skips Joan Rivers
Comedian Joan Rivers, James Bond villain Richard Kiel, and the voice of Pinocchio were among those missing from the In Memoriam segment of Sunday's Academy Awards ceremony, honoring industry luminaries who have passed away this year.
Introduced by Meryl Streep, and concluding with a musical performance by Jennifer Hudson, this year's In Memoriam comprised 50 names, including Lauren Bacall, Ruby Dee, James Garner, Elizabeth Pena, Luise Rainer, Mickey Rooney and Robin Williams; directors Richard Attenborough, Paul Mazursky, Mike Nichols and Alain Resnais; "Alien" designer H.R. Giger; makeup artist Dick Smith ("The Godfather," "The Exorcist"); and cinematographer Gordon Willis ("The Godfather," "Manhattan"). [See below for a complete listing.]
For the dozens of actors, directors, craftspeople and industry executives who had died since last year's awards ceremony who were not mentioned during the broadcast, the Academy directed viewers to an online gallery of more than 120 people at oscar.com. The Academy also maintains a Memorial page for its members at its website, oscars.org.
Rivers, who died last September at age 81, was the most glaring omission from the broadcast tribute. In addition to writing and directing he 1978 comedy "Rabbit Test," starring Bill Crystal, she was a prominent presence on the Oscar red carpet for years.
Also not included in the broadcast tribute: Actors Polly Bergen ("Cape Fear," "Kisses For My President"), Khan Bonfils ("Star Wars Episode I: The Phantom Menace"), Mona Freeman ("The Heiress"), Sarah Goldberg, Bob Hastings ("The Boatniks"), Jan Hooks ("Pee-Wee's Big Adventure), Dick Jones ("Pinocchio"), Richard Kiel ("The Spy Who Loved Me" and "Moonraker"), Ed Nelson ("A Bucket of Blood"), Marian Seldes ("Fingers"), Marcia Strassman ("Honey, I Blew Up the Kid"), Elaine Stritch ("Providence"), Ken Takakura ("Black Rain"), and Billie Whitelaw ("The Omen");
Screenwriters Joanna Crawford ("My Side of the Mountain"), Ted Flicker ("The President's Analyst") and S. Lee Pogostin ("Hard Contract");
Directors Francesco Rosi ("Christ Stopped at Eboli") and Brian G. Hutton ("Where Eagles Dare");
Producers Stanley Chase ("Colossus: The Forbin Project"), Arthur Gardner ("The Scalphunters"), Joseph Thomas Naar ("Blacula"), Stanley Rubin ("White Hunter, Black Heart"), and Raymond James Wagner ("Petulia");
Songwriters Gerry Goffin (a nominee for "Theme From Mahogany (Do You Know Where You're Going To)" and Lesley Gore (a nominee for "Out Here On My Own" from "Fame"); and composers Ken Thorne (an Oscar-winner for "A Funny Thing Happened on the Way to the Forum") and Ian Fraser (a nominee for "Scrooge");
Production designer Frank Richwood ("Predator");
Sound: Joe Dorn ("Road to Perdition," "Flags of Our Fathers"); Gary Gerlich ("Close Encounters of the Third Kind," "Gladiator"), James S. LaRue ("Tron"), and James Nelson ("American Graffiti," "The Exorcist");
Title designers Anthony Goldschmidt ("Young Frankenstein," "Pee-Wee's Big Adventure") and Jimmy Zelinger ("A.I.: Artificial Intelligence," "Ronin");
Visual effects artists Daniel W. Lee (an Oscar winner for "Bedknobs and Broomsticks," nominee for "The Black Hole") and Martin Bresin ("Waterworld");
Documentary filmmakers Robert Drew ("Primary") and Alan Landsburg (a nominee for "Alaska Wilderness Lake");
Animator Michael Sporn (nominee, "Doctor DeSoto");
Film curator Mary Lea Bandy (Museum of Modern Art Film Archive).
To watch the In Memoriam segment click on the video embed below. [Music: "Love Theme" from "Sophie's Choice" by Marvin Hamlisch.]
In memoriam:
Mickey Rooney, actor (nominee, "Babes in Arms," "The Human Comedy," "The Bold and the Brave" and The Black Stallion"; recipient of two special awards)
Paul Mazursky, writer-director (five-time nominee, including "Bob & Carol & Ted & Alice," "Harry & Tonto," "An Unmarried Woman" and "Enemies: A Love Story")
Geoffrey Holder, actor ("Live and Let Die")
Nadia Bronson, marketing executive
James Garner, actor (Best Actor nominee for "Murphy's Romance")
Elizabeth Peña, actress ("Down and Out in Beverly Hills," "Jacob's Ladder")
Alan Hirschfield, producer
Edward Herrmann, actor ("The Purple Rose of Cairo")
Maya Angelou, writer-director-actress
Lorenzo Semple, Jr., writer ("Papillon," "The Parallax View")
George L. Little, costume designer ("Apocalypse Now")
James Rebhorn, actor ("Scent of a Woman")
Menachem Golan, director-producer ("The Delta Force") and head of Cannon Films
James Shigeta, actor ("Die Hard")
Anita Ekberg, actress ("La Dolce Vita")
Paul Apted, sound editor ("The Fault in Our Stars")
H.R. Giger, designer ("Alien")
Sanford E. Reisenbach, marketing executive
Malik Bendjelloul, documentary filmmaker (Oscar-winner for "Searching for Sugar Man"
Virna Lisi, actress ("Casanova '70")
Louis Jourdan, actor ("Gigi")
Gordon Willis, cinematographer (two-time nominee for "Zelig," "The Godfather Part III"; Governors Award recipient)
Richard Attenborough, actor-director-producer (Oscar for Best Director, Best Picture for "Gandhi")
Oswald Morris, cinematographer (Oscar-winner for "Fiddler on the Roof," nominee for "Oliver!" and "The Wiz")
Tom Rolf, film editor ("Taxi Driver," Oscar-winner for "The Right Stuff")
L.M. Kit Carson, actor-writer ("Paris, Texas")
Ruby Dee, actress ("Do the Right Thing"; Best Supporting Actress nominee for "American Gangster")
Samuel Goldwyn Jr., producer (Best Picture nominee for "Master and Commander: The Far Side of the World")
Martha Hyer, actress (Best Supporting Actress nominee for "Some Came Running")
Andrew V. McLaglen, director ("McLintock!")
Jimmy T. Murakami, animator (nominee, "The Magic Pear Tree")
Robin Williams, actor (Best Supporting Actor Oscar for "Good Will Hunting"; nominations for "Good Morning Vietnam," "Dead Poets Society" and "The Fisher King")
William Greaves, documentary filmmaker ("Symbiopsychotaxiplasm: Take One")
Joseph Viscocil, visual effects ("Terminator 2: Judgment Day," Oscar-winner for "Independence Day")
Rod Taylor, actor ("The Time Machine," "Young Cassidy")
Stewart Stern, screenwriter (nominations for "Teresa," "Rachel, Rachel")
Luise Rainer, actress (back-to-back Best Actress Oscars for "The Great Ziegfeld" and "The Good Earth")
Dick Smith, makeup artist ("The Godfather," "The Exorcist"; Oscar-winner for "Amadeus"; Governors Award recipient)
Lauren Bacall, actress (nominee for "The Mirror Has Two Faces"; Governors Award recipient)
Walt Martin, sound mixer (two-time nominee for "Flags of Our Father," "American Sniper")
Charles Champlin, film critic, journalist
Pennie Dupont, casting director
Herb Jeffries, actor ("The Bronze Buckaroo")
Misty Upham, actress ("Frozen River")
Eli Wallach, actor ("Baby Doll," "The Good, the Bad & the Ugly")
Gabriel Garcia Marquez, author and screenwriter
Frank Yablans, producer ("The Fury," "North Dallas Forty")
Alain Resnais, director ("Last Year at Marienbad")
Bob Hoskins, actor ("Who Framed Roger Rabbit," Oscar-nominee for "Mona Lisa")
Mike Nichols, director-producer (Oscar-winner for "The Graduate"; Best Director nominations for "Who's Afraid of Virginia Woolf?", "Silkwood" and "Working Girl"; Best Picture nomination for "The Remains of the Day")
Thanks for reading CBS NEWS.
Create your free account or log in
for more features.