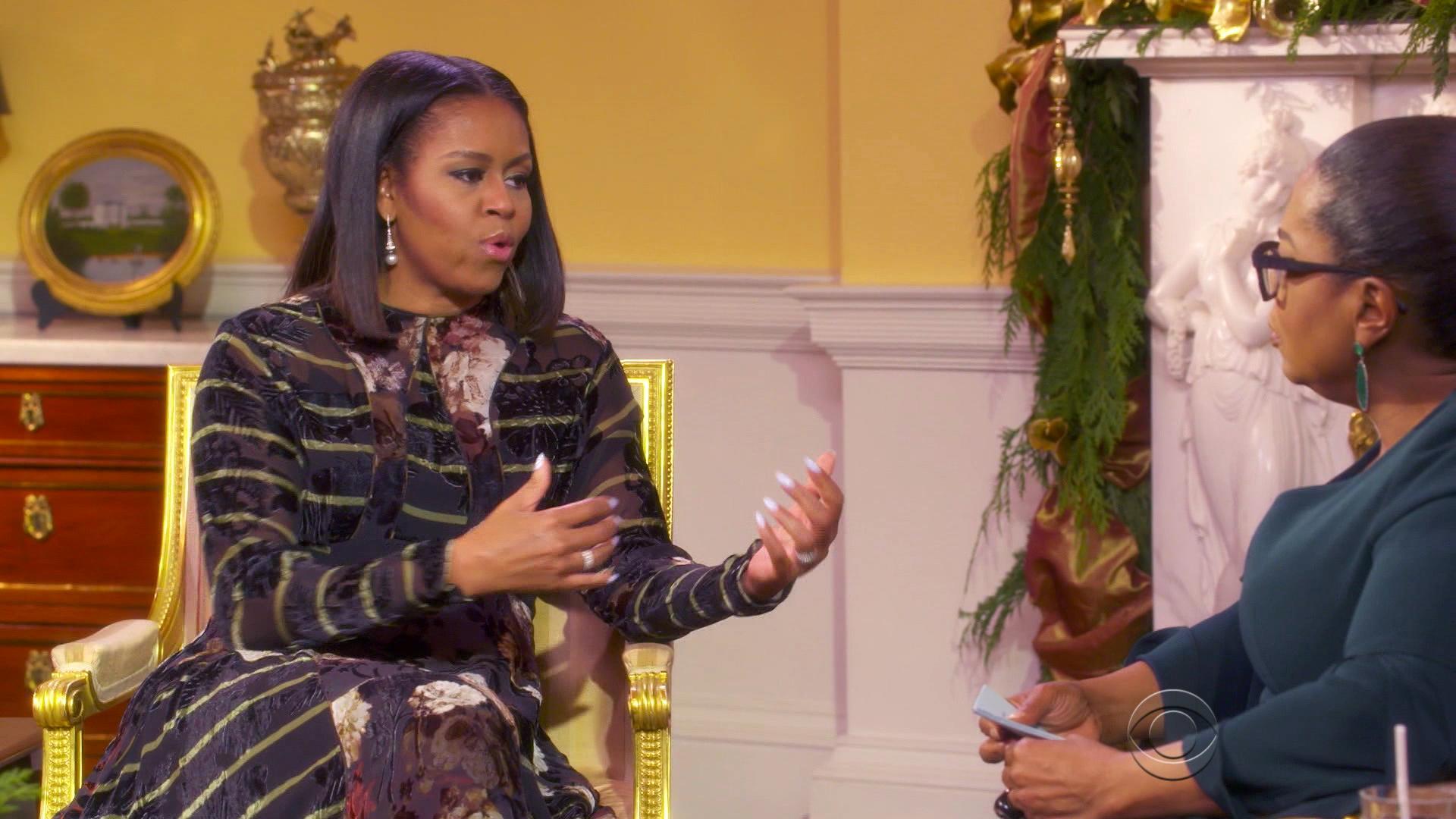 Michelle Obama tells Oprah Winfrey the election "was painful"
Oprah Winfrey's interview with Michelle Obama re-airs Wednesday on OWN at 9 p.m. ET
This presidential election, one that saw the defeat of Democrat Hillary Clinton, "was painful," First Lady Michelle Obama said, in her farewell interview with Oprah Winfrey.
"You know, this -- this past election was challenging for me as a -- as a citizen. To watch and experience. It was painful," Obama told Winfrey during the interview.
The first lady acknowledged that she went to sleep without knowing the outcome of the election.
The next morning, she found out Donald Trump had won.
"I got up and I looked at my iPhone," she said. "And I saw it."
"And what was your first thought?" Winfrey asked. Obama said it wasn't a complete surprise.
"Well, pretty much, you know, you kind of saw the tea leaves," she told Winfrey. "I kind of felt like how things were going by the time I went to bed."
She said she was preparing for either outcome, "So mentally, I'd already kind of digested it before I actually read it."
But though it wasn't the outcome she'd hoped for, Michelle Obama is determined that every word she utters supports the transition to the Trump presidency -- though she did not mention Donald Trump by name.
"Words matter," she said. "[T]he words that we say moving forward, all of us, it matters. Which is one of the reasons why Barack and I are so supportive of this transition. Because no matter how we felt going into it, it is important for the health of this nation that we support the commander-in-chief. Wasn't done when my husband took office."
Winfrey was curious about that last point - "wasn't done when my husband took office," and asked Obama what she meant.
"That there were people who did not support his presidency," Obama recalled. "There were people in Congress. There were leaders in Congress who did not support his presidency, which was not something that was good for the country. It was good for politics, but it wasn't good for the country. And that wasn't the right way to approach it."
Obama, while careful not to disparage the president-elect directly, nonetheless considers the mood of the country now to be darker than when her husband took office.
Mr. Obama had famously campaigned on the idea of hope, Winfrey said, and she asked the first lady, "Do you think that this administration achieved that?"
"Yes, I do," Obama said, "because we feel the difference now."
"See, now we're feeling what not having hope feels like. You know? Hope is necessary. It's a necessary concept," Obama continued. "And Barack didn't just talk about hope because he thought it was just a nice slogan to get votes. I mean, he and I and so many believe that if you -- what else do you have if you don't have hope?"
But if the first lady is sensing a certain loss of hope in the country, her husband is taking a philosophical view -- even as he faces the knowledge that much of his administration's accomplishments will almost certainly be rolled back.
"You know, we've talked about this, that history moves in cycles," he said, dropping by for part of the interview. "And what lasts is the impact what we've done has had in people's minds and hearts."
On a personal level, Michelle Obama also talked about some of the things that were said about her eight years ago. Winfrey played a clip from her Tuskegee commencement address, in which she told the graduates, "You might remember the on-stage celebratory fist bump between me and my husband after a primary win that was referred to as a 'terrorist fist jab.' And over the years, folks have used plenty of interesting words to describe me. One said I exhibited a little bit of uppity-ism."
Winfrey asked her about having been labeled as an "angry black woman."
"That was one of those things where you think, 'Dang, you don't even know me,'" Obama said. "You just sort of feel like, 'Wow, where did that come from?' And that's the first blowback."
And then, she grew contemplative. "You think, 'That is so not me.' But then you sort of think, 'Well, this isn't about me. This is about the person or the people who write it,'" Obama said. "That's just the truth."
"You start thinking, 'Oh, wow, we're so afraid of each other,'" she told Winfrey. "Color. Wealth. These things that don't matter still play too much of a role in how we see one another."
Obama continued, "[I]t's sad because the thing that least defines us as people is the color of our skin....It's our values. It's how we live our lives."
The decision she then made was to move toward greater openness, she said.
"I thought, 'OK, well, let me live my life out loud so that people can then see and then judge for themselves,'" Obama said in the interview. "And that's what I want young people to do: Just live your life. Live it out loud."
Thanks for reading CBS NEWS.
Create your free account or log in
for more features.