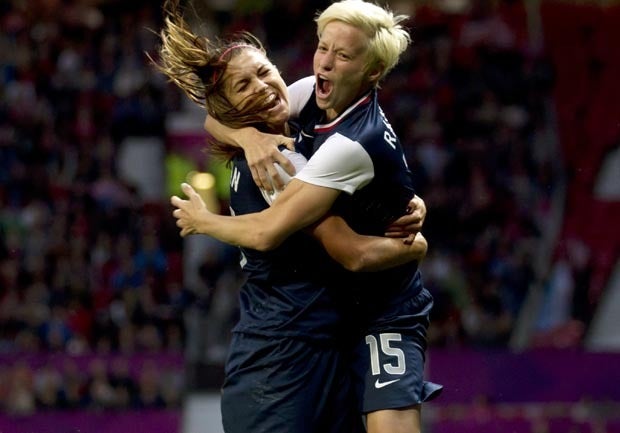 Openly gay athletes still scarce at Olympic Games
(AP) LONDON - It has been a great games for gay Olympians - probably.
British equestrian Carl Hester won gold in team dressage in London. Midfielder Megan Rapinoe has scored three goals for the U.S. women's soccer team and several other lesbian players are part of the Dutch field hockey team heading into Friday's final.
But it's likely there have been more triumphs by gay and lesbian competitors that the world doesn't know about.
There are more than 10,000 athletes competing at the London games, but when the gay website OutSports.com set out to count how many were openly gay, it came up with 23.
"It's an absurdly low number," said site co-founder Jim Buzinski. He said that compared to the arts, politics or business worlds, "sports is still the final closet in society."
Estimates of the percentage of gay people in any given population vary widely. In a 2010 survey by Britain's Office for National Statistics, 1.5 percent of respondents identified themselves as gay or bisexual, although many consider that an underestimate.
Only a handful of Olympic competitors have publicly identified themselves as gay, including Hester, Rapinoe, U.S. basketball player Seimone Augustus, Australian diver Matthew Mitcham and South African archer Karen Hultzer, who came out to the media during the games.
"I am an archer, middle-aged and a lesbian," the 46-year-old athlete told OutSports - but said she looked forward to the day when her sexuality was not an issue.
"I am also cranky before my first cup of coffee," she said. "None of these aspects define who I am, they are simply part of me."
Gay sports groups say the London games organizers have been welcoming, including gay, lesbian and transgender volunteers among its staff and sanctioning an official games rainbow pin.
The London Pride House, a gay hospitality venue, had official approval from games organizers. London organizing chief executive Paul Deighton said the site helped show Britain as an inclusive place "which welcomes the world's diverse communities and creates a safe sporting environment for LGBT athletes."
But activists fear the next host city - Sochi in southern Russia - will be far less gay-friendly. Homosexuality was decriminalized in Russia in 1993, but anti-gay sentiment remains strong. Protests by gay rights activists regularly end in mass arrests.
British rights activist Peter Tatchell and a handful of supporters rallied Thursday outside Russia's Sochi Park pavilion in London to protest Russian authorities' refusal to allow a pride house at the 2014 Winter Games - a decision that was backed up by a Russian court.
"Quite clearly, this ban is in violation of the Olympic charter, which prohibits discrimination and guarantees equality," Tatchell said. He said the International Olympic Committee "doesn't appear to want to engage with this issue."
IOC spokeswoman Emmanuelle Moreau said the IOC would not comment "on private court cases," but added that "the IOC is an open organization and athletes of all orientations will be welcome at the games."
Marc Naimark of the Federation of Gay Games said the IOC should pressure countries to repeal anti-gay laws the way it once excluded South Africa for its racial apartheid policy and, more recently, succeeded in getting all competing nations to include female athletes on their teams in London.
"The lack of 'out' athletes in the Olympics is a symptom," Naimark said. "It's not the problem."
There is a particular dearth of openly gay male Olympians - there are only three men on that London list of 23. The most high-profile is Mitcham, whose Twitter biography calls him "that gay, 2008-Olympic-gold-medal-winning diver dude." He'll be defending his 10-meter springboard title at the games this weekend.
Rapinoe, who came out earlier this year, said it was more difficult for male athletes than for women to be open about their sexuality.
"I think there's a lot of gay women in sports, and it's widely known in the team, they can live a pretty open lifestyle without being open in the media," she said. "But I think for men unfortunately it's not the same climate in the locker room."
There's also the fear of losing lucrative commercial endorsements. Sponsors would never admit that they would drop an athlete who came out as gay, but few competitors would want to risk it.
Much was made of the fact that former NBA player John Amaechi signed an endorsement deal with razor company HeadBlade after he came out in 2007. But HeadBlade is small potatoes compared to Adidas or other huge sports sponsors.
Times may be changing, however. Adidas spokeswoman Katja Schreiber said the company would stand by an athlete who chose to come out of the closet.
Buzinski thinks the environment for gay athletes is improving. He points to the growing number of athletes, gay and straight, who are prepared to speak out against homophobia.
Many athletes who come out say it has been a positive experience - and even performance-enhancing. Rapinoe scored two goals in the U.S. team's semifinal win over Canada.
"I guess it seems like a weight off my shoulders," she said on the eve of Thursday's gold medal match against Japan. "I've been playing a lot better than I've ever played before. I think I'm just enjoying myself and I'm happy."
Thanks for reading CBS NEWS.
Create your free account or log in
for more features.