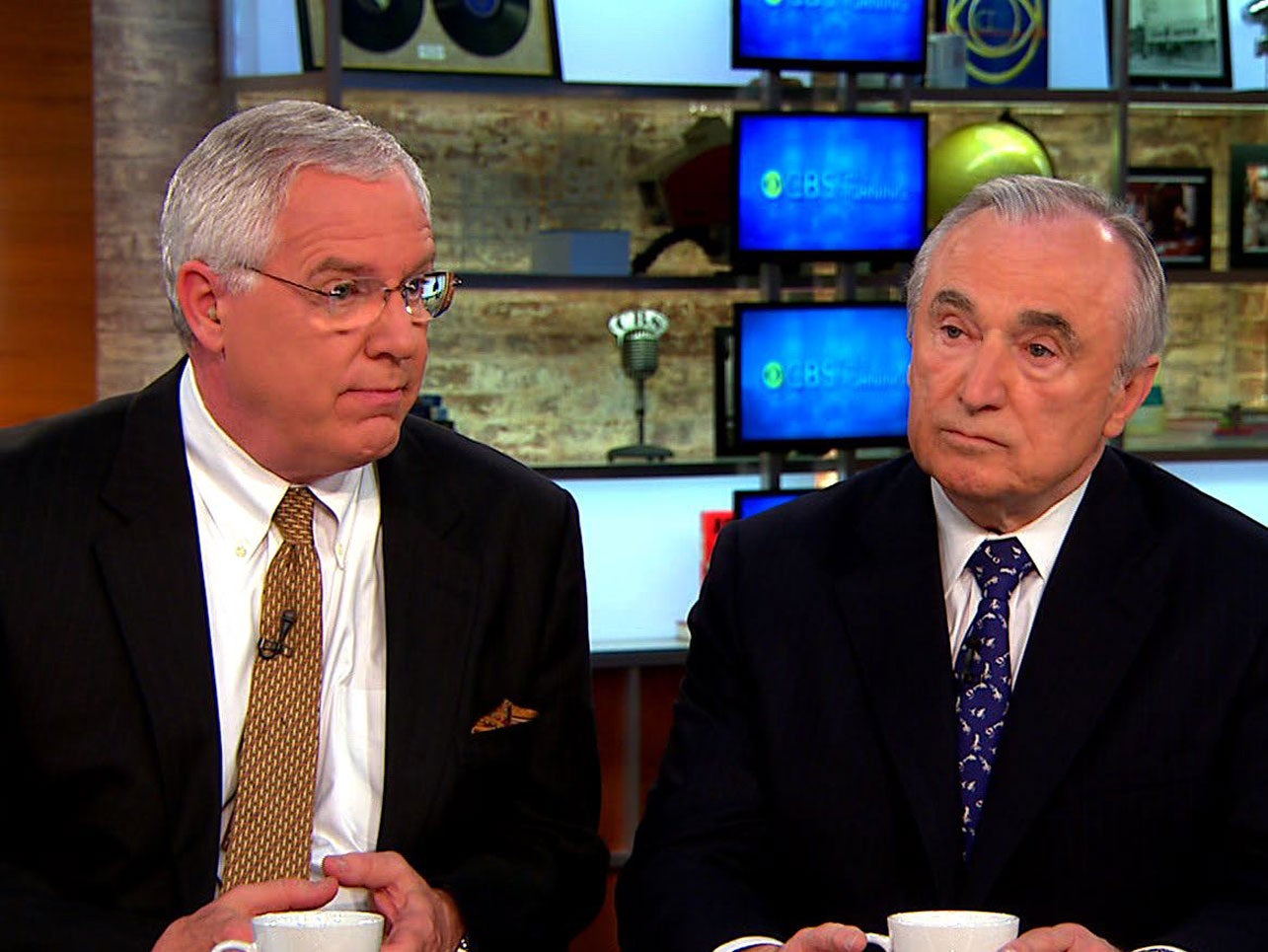 What was learned about security from the Boston Marathon bombing
Security in Boston is tight as the city honors the marathon bombing victims. Precautions will remain heavy for Monday's marathon but one year later there are questions are being raised about how intelligence agencies are coordinating critical information.
New York Police Commissioner Bill Bratton - who used to lead the Boston Police Department - and former CBS News senior correspondent and current NYPD Deputy Commissioner of Intelligence John Miller joined "CBS This Morning" to discuss the security precautions.

Bratton said that he thinks Boston is prepared in "great shape" for the marathon this year.


"They've spent an exhaustive year looking at every aspect of what went wrong and what went right last year," he said. "So they're as prepared as any city could be for this event."

An Inspector General's report released Thursday said that the FBI did not do a thorough assessment of Tamerlan Tsarnaev. They pointed out that the agency didn't interview his wife, didn't go to the mosque and watch lists didn't have consistent information about his birth date or spellings of his name.
"The FBI office in Boston did 775 of those threat assessments that year. This is part of a cadence. And the rules they operate under - which are largely self-imposed - is stricter than the Attorney General guidelines and say 'If they don't find evidence of a crime or evidence supporting that threat within 90 days, they have to close that case,'" said Miller. "That's based on the theory that you can't just go on investigating somebody forever based on a tip."

Miller said that the review the FBI did of the Tsarnaev case said the agency ran every data base, ran every cross-check, checked with all of the sources that they had and then they went further and did interviews with parents at the home.

"Did they interview everyone that they would have liked to? In 20-20 hindsight, no," he said.

Miller also discussed why the FBI did not speak to Tsarnaev's wife.

"I think you can go back to any case and find fault," said Miller. "I think looking at that today, it's certainly somebody you'd have wanted to talk to, but you know, at the time I think they went as far as they could with what they had."

According to the report some of the information the FBI found about Tsarnaev was not communicated to local authorities in Massachusetts. When asked about New York City's government interactions with the FBI, Bratton said that the relationship between the two groups is "extraordinarily close and getting closer all the time."
Bratton also discussed how these communication issues were similar to those found in investigations after the Sept. 11 attacks.

"That is one of the aspects coming out of the bombing last year. That some of the sharing that should have been done, was not done," he said. "And out of every negative, you try to get a positive and one of the positives coming out of Boston was that we understand clearly the need to share, share and share again."

Russia is also accused of not sharing all the details they had on Tsarnaev prior to the bombing.

"They sent a fairly vague report saying that they were suspicious of Tamerlan Tsarnaev. The FBI wrote back to them through cables - through diplomatic channels of the embassy three times, saying 'Do you have any more to go on' before they closed out their investigation. And never got any further," said Miller. What the Russians then did is they sent an equally vague report to the CIA asking them to investigate the same thing."

Miller also said "I have to suggest that Russian intelligence had a lot more on Tamerlan Tsarnaev then they probably shared. What they were likely trying to do is protect their sources and methods
To see the full interview with Bill Bratton and John Miller, watch the video in the player above

Thanks for reading CBS NEWS.
Create your free account or log in
for more features.