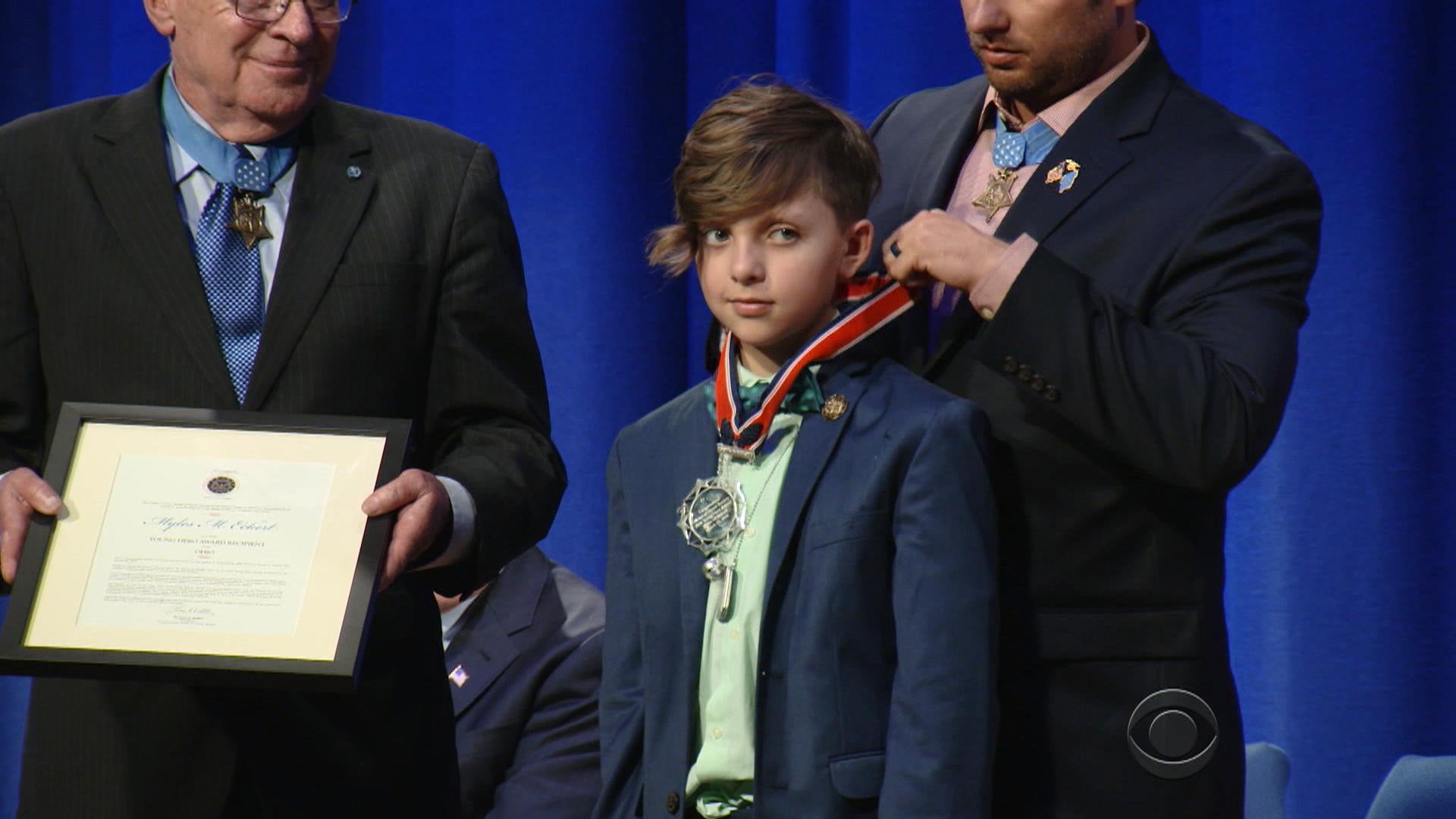 Boy who gave soldier $20 he found wins high honor
ARLINGTON, Va. -- Friday is National Medal of Honor Day. At a ceremony at Arlington National Cemetery, a special award was presented to a young man you first met on "CBS Evening News."
The Medal of Honor, presented by the president, is reserved for this country's bravest military heroes. But every year, past Medal of Honor recipients get together to recognize civilians who have gone above and beyond the call of duty.
For the first time this year, one of those Citizen Honor awards went to a kid -- a 10-year-old boy named Myles Eckert.
As we first reported a couple years ago, it all started at a Cracker Barrel in Toledo, Ohio. Myles was very excited. He'd just found $20 in the parking lot.
"I kind of wanted to get a video game but then I decided not to," Myles told CBS News in 2014.
He changed his mind when he saw a guy in uniform.
"Because he was a soldier and soldiers remind me of my dad," Myles said.
So he wrapped the $20 in a note that read, "Dear Soldier -- My dad was a soldier. He's in heaven now. I found this $20 in the parking lot when we got here. We like to pay it forward in my family. It's your lucky day! Thank you for your service. Myles Eckert, a Gold Star kid."
Army Sgt. Andy Eckert was killed in Iraq just five weeks after Myles was born. All the kid has ever had are pictures and dog tags -- other people's memories and his own imagination.
"I imagine him as a really nice person and somebody that would be really fun," he said.
The dad he imagines must also love a good story, because after lunch that day, Myles asked his mom, Tiffany, to make one more stop.
"He wanted to go see his dad," Tiffany Eckert said. "And he wanted to go by himself that day."
She took a picture from the car. Follow the footsteps and you'll see Myles standing there behind the flag, presumably telling his dad all about it.
After that story first aired, Myles helped raise nearly $2 million for Gold Star charities. And for his selfless service to others, the Congressional Medal of Honor Society gave him its highest praise.
"He was chosen by our country's bravest men," Tiffany said. "And Andy might not have had that medal that they have, but -- I guess I just see Andy in everything we do."
And Myles clearly does too. He wore his father's dog tags to the ceremony. A sweet touch Andy will surely appreciate, on their next visit together.
To contact On the Road, or to send us a story idea, email us.
Thanks for reading CBS NEWS.
Create your free account or log in
for more features.