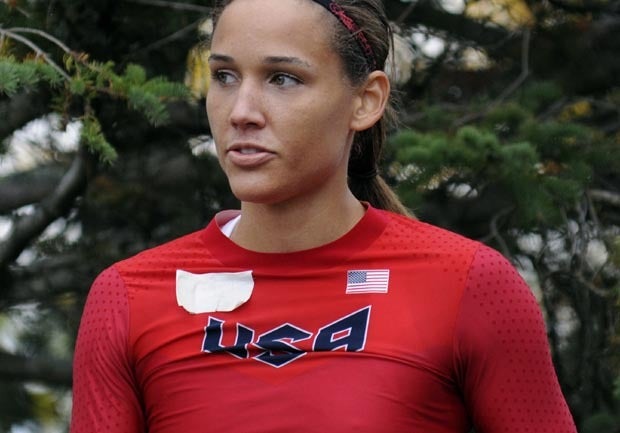 Olympic hurdler Lolo Jones and sprinting gold medalist Tianna Madison make U.S. bobsled team
Olympic hurdler Lolo Jones has made the U.S. bobsled team, three weeks after trying the sport for the first time.
Jones is one of six women selected as push athletes for the team, a group that also includes Olympic sprinting gold medalist Tianna Madison. The team was announced in Lake Placid, N.Y., on Thursday.
Jones and Madison were among a small number of track athletes invited to Lake Placid for bobsled's push championships this month by U.S. coach Todd Hays. He believed veteran Olympians would, if nothing else, help some of the team's younger competitors and raise morale on the team.
But Hays also had another idea in mind — recruitment. Bobsled has long sought athletes from the track world, with their strength and explosiveness considered the perfect combination to get a sled going quickly down an icy chute.
So now Madison — who was part of a world-record-setting 4x100-meter relay Olympic win in London — and Jones are in the mix for a shot at competing in the 2014 Sochi Games.
Both bring star power. Jones brings an element of celebrity as well.
She was the favorite for Olympic gold at Beijing in 2008, then hit the next-to-last hurdle and finished seventh. This summer in London, Jones was widely expected to be a medal contender again, yet finished fourth. She competed amid criticism, even from some of her teammates, that she received more attention and endorsements than her accomplishments on the track warranted.
Sponsorship marketing consultant Dan Migala, a partner in the Property Consulting Group, spoke with "CBS This Morning" co-hosts Gayle King and Jeff Glor about the making of Olympic media stars, including Lolo Jones and others. To see the intverview, click on the video at left.
Madison ran the opening leg of the gold-winning relay in London, one that smashed the record held by East Germany for 27 years.
Other women in the push-athlete mix are 2010 Olympian Emily Azevedo, world championship medalist Katie Eberling, Lake Placid start-record-holder Aja Evans and former Cal track athlete Cherrelle Garrett.
Three women's pilots are on the roster: reigning world championships bronze medalist Elana Meyers will drive USA-1, Jamie Greubel will drive USA-2 and Jazmine Fenlator will be at the controls of USA-3. Coaches will likely determine next week which three push athletes work with the drivers for the first World Cup event of the season. Because that's six women vying for three roles, there's no guarantee that Jones or Madison would start on the World Cup circuit.
The men's roster had few surprises. World and Olympic champion Steven Holcomb will drive USA-1, with Nick Cunningham in USA-2 and Cory Butner in USA-3.
Push athletes Steve Langton, Justin Olsen and Curt Tomasevicz helped the "Night Train" sled driven by Holcomb to the world title last year, and all are back this season. Coaches chose nine other men's push athletes as well: Adam Clark, Johnny Quinn, Chuck Berkeley, Laszlo Vandracsek, Chris Fogt, Dallas Robinson, Jesse Beckom, Andreas Drbal and Nic Taylor.
The U.S. skeleton roster will be announced next week after team selection races end in Park City, Utah. World Cup racing for bobsled and skeleton opens in Lake Placid on Nov. 8.
Thanks for reading CBS NEWS.
Create your free account or log in
for more features.