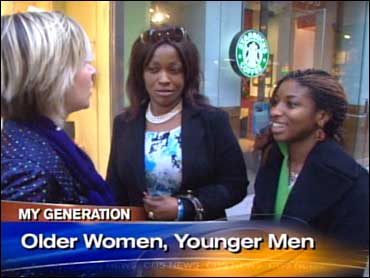 Older "Cougars" Prey On Young Men
Sparks flew when Ann Bancroft seduced Dustin Hoffman in film "The Graduate."
Almost 40 years later, women everywhere — on screen and off — are flaunting their hippest accessory: a sexy, younger man.
"Women are so different now — there's no question," relationship writer Amy Kean told The Early Show co-anchor Russ Mitchell. "Since the beginning of time, women have been basically valued for their youth and their beauty, and men have been valued for their ability to provide for a family. But now so many women have great, thriving careers they just really don't need men the way they used to."
For example, 44-year-old Demi Moore is married to 29-year-old Ashton Kutcher while 40-year-old Halle Berry is dating 31-year-old Gabriel Aubry. There is a 17-year gap between actress Susan Sarandon and longtime boyfriend Tim Robbins.
"When it becomes celebrity driven, it becomes acceptable to everybody. They say, 'Well, if they do then it's OK," Canadian author Valerie Gibson who wrote the book "Cougar: A Guide for Older Women Dating Younger Men." "A cougar is a very sophisticated, a very attractive, a very sensually-aware woman, very much in control of her life. She's got a lot of energy. Today they're very fit they're very healthy. They're very successful, very independent and sophisticated."
The cougar-cub relationship is a perfect fit for all kinds of couples.
"I do sometimes compare us to Demi Moore and Ashton Kutcher because they're so successful in their relationship," said 34-year-old Stefanie Schwartz, who is engaged to 24-year-old Matt Cavender.
She says one of the great things about dating a younger man is that she is forced to keep up with women his age and, therefore, stays in good shape.
"When I first brought him over to my girlfriends house, she said, 'Oh, you've lost so much weight!' I feel like I have to keep up with women his age and look better and it just makes me feel younger. He's adventurous," she said.
According to a recent online survey, 67 percent of women say they've dated a younger man and 49 percent of men admit to dating an older woman.
Gibson said now the men are even driving the trend.
"The younger men love it. They love the new trend. They go out on their own — they're called 'cougar hunters.' They have Web sites on their own where to find cougars, what to do with them when you find them," she said. "People often say to me, 'Don't these relationships break up more often then others?' and I say, 'They're just like any other relationship: you either get along and everything works or it doesn't.' "
Kean said the trend shows no signs of stopping because women are not going "back to the kitchen" and will only continue to grow stronger and more confident.
"It just means these women are taking what they want," she said. "It's about time. Men have done it forever."
Thanks for reading CBS NEWS.
Create your free account or log in
for more features.