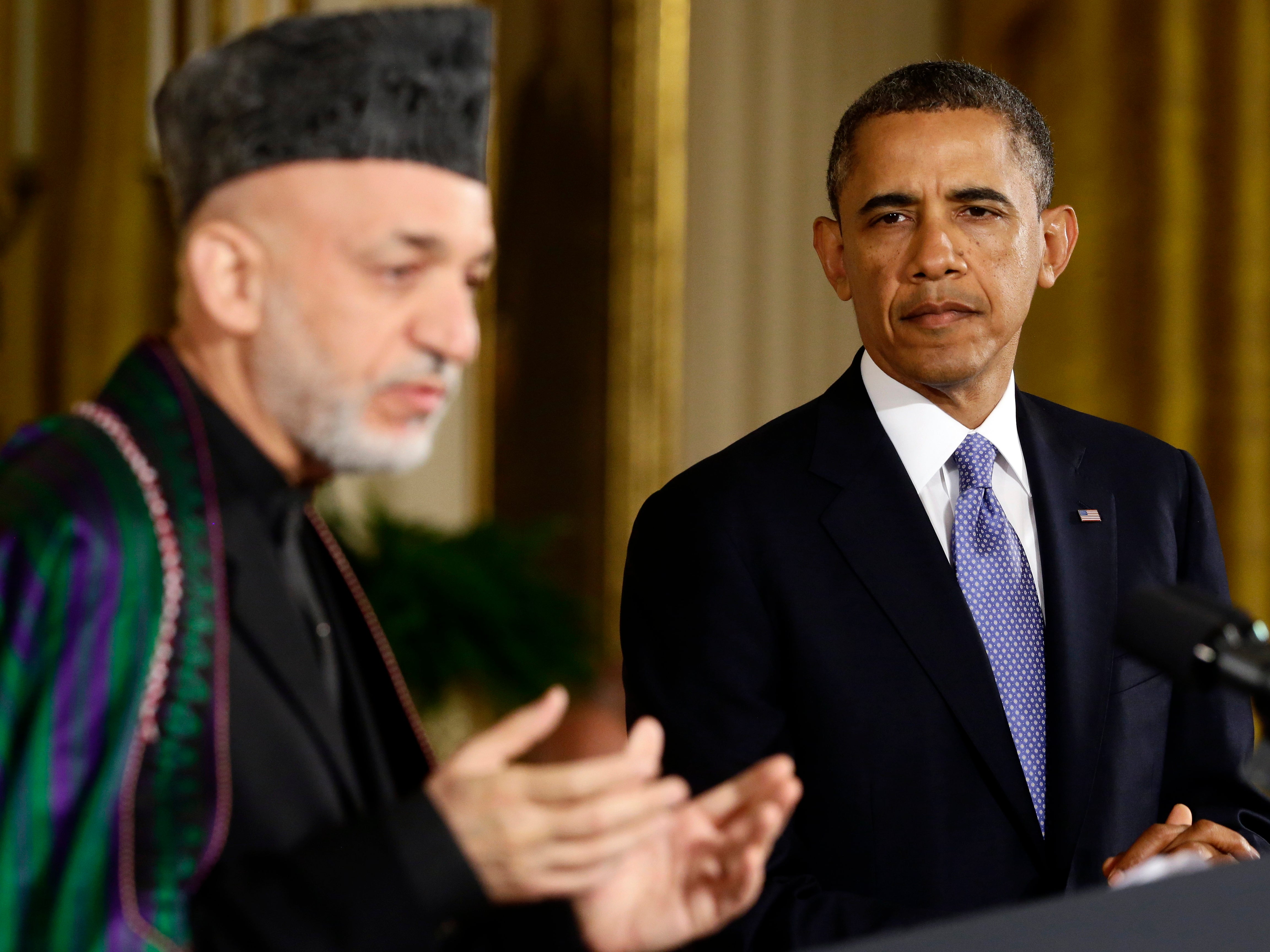 Obama: U.S. accelerating Afghan military transition
Updated: 3:20 p.m. ET

After a series of bilateral meetings with Afghan President Hamid Karzai, President Obama today announced the acceleration of the U.S. military transition in Afghanistan, and said the U.S. military will play a support role in the nation by this spring.
Mr. Obama, in a joint press conference with Karzai this afternoon, said that swift progress on the part of both U.S. and Afghan forces had enabled both nations to not only meet previously-enumerated goals, but to "accelerate them somewhat."
"Today we agreed that as Afghan forces take the lead and as President Karzai announces the final phase of the transition, coalition forces will move to a support role this spring," Mr. Obama told reporters. "Our troops will continue to fight alongside Afghans when needed, but let me say it as plainly as I can: Starting this spring our troops will have a different mission -- training, advising, assisting Afghan forces. It will be an historic moment and another step for full Afghan sovereignty."
The president said he would be taking recommendations from commanders on the ground and announce "the next phase in our drawdown" in the coming months.

As the United States prepares for the official drawdown at the end of 2014, there has been much speculation as to the size and scope of the U.S. presence there going forward -- and some have wondered at the abilities of the Afghan security forces to operate effectively after the departure of U.S. troops. In a joint statement released shortly before the press conference, Mr. Obama and Karzai touted the "recent improvements in Afghanistan's security environment," and pointed out that Afghan forces have been "exceeding initial expectations."

Mr. Obama said today that while he and Karzai discussed their mutual goals for post-2014, he doesn't yet know how how many U.S. troops -- if any -- will be required in meeting those goals. He did say that any troop presence would have to be at the "invitation" of the Afghan government, and that he would demand immunity for those troops.
In a conference call earlier this week, White House officials left the door open for withdrawing all U.S. troops from Afghanistan, arguing that Mr. Obama views current negotiations as in support of two stated objectives for post-2014 -- not with the goal of "keeping U.S. troops in Afghanistan."
"With regard to post-2014, we've got two goals -- and our main conversation today was establishing a meeting of the minds in terms of what those goals would be," Mr. Obama said today. He described those goals, which include training, assisting and advising Afghan forces, and "making sure that we can continue to go after the remnants of al Qaeda or other affiliates that might threaten our homeland," as "a very limited mission."
"It is not one that would require the same kind of footprint, obviously, that we've had over the last 10 years in Afghanistan," he added.
Even as the administration continues preparations for winding down the 10-year war, Mr. Obama reflected on the nation's extended presence in Afghanistan, acknowledging that while America's loftiest goals there had "probably not" been met, the military has "come very close to achieving" its central goal of dismantling al Qaeda. Recalling the 9/11 terrorist attacks, the president maintained that going after the terrorist organization was "absolutely the right thing to do."

"We went into Afghanistan because 3,000 Americans were viciously murdered by a terrorist organization that was operating openly and at the invitation of those who were then ruling Afghanistan," he told reporters. "Because of the heroic work of our men and women in uniform, and because of the cooperation and sacrifices of Afghans who had also been brutalized by that then-host government, we achieved our central goal, which is -- or have come very close to achieving our central goal -- which is to de-capacitate al Qaeda, to dismantle them, to make sure that they can't attack us again."
Karzai, who said today he has repeatedly thanked Mr. Obama for U.S. support over the last 10 years, said he was "happy" to have made progress with Mr. Obama on a series of key issues relating to Afghan sovereignty, including the "complete return of detention centers and detainees to Afghan sovereignty," as well as details regarding future peace talks with the Taliban. As for the future U.S. presence in his country, he dismissed the notion that Afghanistan has a large stake in how many troops the Mr. Obama decides to deploy there.

"Numbers are not going to make a difference to the situation in Afghanistan," he said. "It's the broader relationship that will make a difference to Afghanistan and beyond in the region."
Thanks for reading CBS NEWS.
Create your free account or log in
for more features.