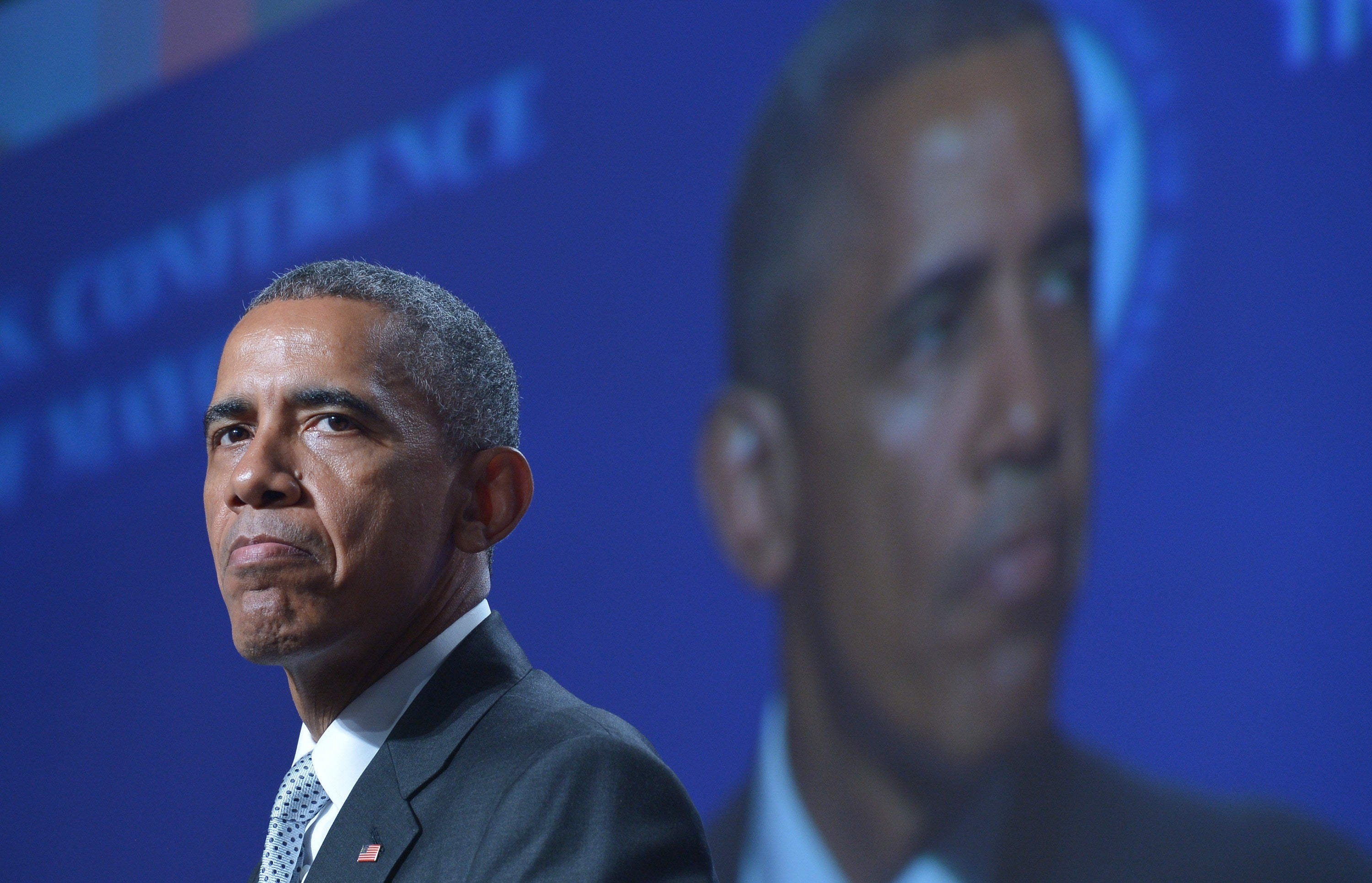 Obama: I'm not "resigned" to inaction on gun laws
SAN FRANCISCO -- President Obama addressed the U.S. Conference of Mayors on Friday and encouraged their work to raise the minimum wage, offer paid sick leave and promote early childhood education - priorities the president has pushed but that Congress has declined to advance.
He also offered some additional comments on the massacre in Charleston, South Carolina, that claimed nine lives on Wednesday, saying it's incumbent on policymakers to "move public opinion" on the subject of gun laws to prevent future mass shootings.
"More than 11,000 Americans were killed by gun violence in 2013 alone," he said. "If Congress had passed some common sense gun safety reforms after Newtown, after a group of children had been gunned down in their own classroom -- reforms that 90 percent of the American people supported -- we wouldn't have prevented every act of violence...but we might still have some more Americans with us. We might have stopped one shooter. Some families might still be whole."
On Thursday, the president said politics in Washington had foreclosed on a number of policy proposals to curb gun violence. He noted Friday that many reporters interpreted that remark as a sign of resignation on his part.
"I want to be clear, I am not resigned. I have faith we will eventually do the right thing," he said. "I was simply making the point that we have to move public opinion. We have to feel a sense of urgency. Ultimately Congress will follow the people, and we have to stop being confused about this. At some point as a country, we have to reckon with what happens. It is not good enough simply to show sympathy."
In his speech, the president also praised mayors for their constructive response to solving problems, thanking some of them for their support for his recent push for a massive free trade agreement. Despite the sting of a Democratic revolt over his trade policy, the president is using his swing through California to raise political money for lawmakers who voted against him.
Democrats are trying to block Obama's ability to negotiate a trade deal with 11 Pacific nations. He's hoping a rare alliance with Republican leaders who support the pact can save it.
"The problem is that too often the political system doesn't reflect the common sense and decency of the American people," Obama said Thursday night during a fundraiser at the Beverly Hills home of filmmaker Tyler Perry.
The event was one of four fundraisers with tickets as high as $33,400 that Obama is headlining over two days in California. On Friday night, he planned to appear with House Democratic Leader Nancy Pelosi at a fundraiser in her San Francisco district, awkwardly coming as the two remain opposed over the trade legislation that is a top priority for his second-term agenda.
The fundraiser with Pelosi is expected to draw more than 50 donors to the Sea Cliff home of retired hedge fund billionaire Tom Steyer. The two other fundraisers were smaller discussions with about 30 donors each, closed to the press.
Obama did not mention the trade debate at Perry's house, attended by about 250 donors, including "Mad Men" creator Matthew Weiner and star January Jones, former NBA basketball player Jason Collins, former Los Angeles Dodgers owner Frank McCourt and Netflix chief content officer Ted Sarandos.
Instead he told of a Colorado man who wrote him a letter listing all that had not been accomplished during his presidency. Obama said the man wrote that he voted for him twice but was "deeply disappointed."
"He thought that when I got to Washington I could bring people together and make them work more effectively, and the fact of the matter is that Washington is still gridlocked and still seems obsessed with the short-term and the next election instead of the next generation," Obama said. "And on that issue, I had to tell him, 'You're right. I am frustrated and you have every right to be frustrated because Congress doesn't work the way it should.'"
Before leaving Los Angeles, Obama sat in comedian Marc Maron's garage studio for an hourlong podcast interview that will be available Monday. Obama then planned to spend Father's Day weekend in Palm Springs, a favorite golf destination, while his wife and daughters are in Europe.
Thanks for reading CBS NEWS.
Create your free account or log in
for more features.