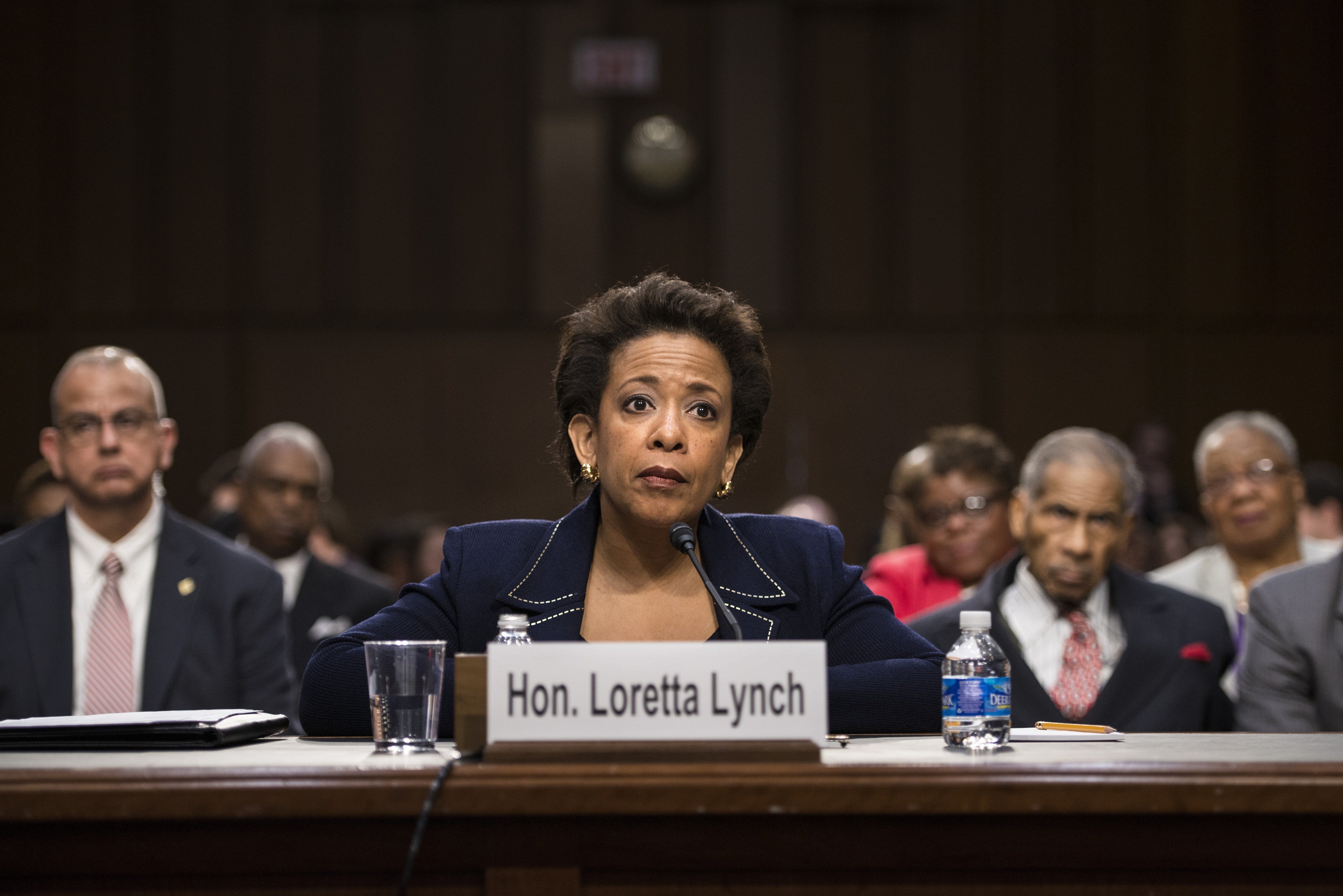 Obama to GOP: Stop playing games with attorney general pick
President Obama chastised Republican senators for delaying a vote on Loretta Lynch as the nation's attorney general, saying Lynch has been "languishing" for over four months awaiting confirmation.
"No one can claim she's unqualified. No one's saying she can't do the job. Senators from both parties say they support her. This is purely about politics," the president said in a video address. "First, Republicans held up her nomination because they were upset about the actions I took to make our broken immigration system smarter and fairer. Now they're denying her a vote until they can figure out how to pass a bill on a completely unrelated issue."
The Republican-backed bill in question -- the Justice for Victims of Trafficking Act -- faces Democratic opposition in the upper chamber because of an alleged anti-abortion provision.
Last Sunday, Senate Majority Leader Mitch McConnell said he would withhold a vote on Lynch's confirmation because of Democrats' resistance to the legislation.
"We can't pass the trafficking bill right now," the Kentucky senator told CNN. "And I wanted to hold a vote on the attorney general, but if I can't get this bill through first then I'm going to have to delay the confirmation vote."
Others in the Democratic Party, including former Secretary of State and presumptive Democratic presidential nominee Hillary Clinton, have already scolded Republican senators for delaying Lynch's confirmation. But Mr. Obama's weekly address marks the first time the president has personally expressed his frustration with the political posturing since McConnell threatened last week to postpone the confirmation vote.
Lynch, a career prosecutor and the current U.S. attorney for the Eastern District of New York, was tapped to lead the Justice Department soon after Eric Holder announced his resignation from the top post in September. Lynch was nominated in November and has already faced the Senate Judiciary Committee in a confirmation hearing.
"Republican leaders in Congress won't even let her nomination come up for a vote," the president said, saying that her wait for a vote on the Senate floor will be "longer than the seven previous attorneys general combined."
The president reminded his viewers that "Republicans promised that Congress would function smoothly with them in charge."
"Here's a chance for them to prove it," Mr. Obama said. "Congress should stop playing politics with law enforcement and national security."
In their own weekly address, Republicans pushed for their party's newly proposed balanced budget, which "started the monumental task of confronting America's chronic overspending."
"Republicans have put forward a responsible plan that balances the budget in 10 years with no new tax hikes, that protects our most vulnerable citizens," Sen. Mike Enzi, R-Wyoming, said in a video. "It strengthens our national defense, and it improves economic growth and opportunity for hard-working families."
Republicans in Congress unveiled plans this week for their budget, which included drastic cuts to Medicare and other social programs. And the House Budget Committee Thursday, led by Republican legislators, approved a sweeping balanced budget along party-line votes; it is expected on the House floor next week for debate.
Enzi, an accountant and chair of the Senate Budget Committee, stated the need for this Republican balancing as he slammed the White House for overspending and cited America's total debt of $18 trillion.
"It is time to begin this responsible accounting in Washington because while you can lie about the numbers, the numbers never lie," the Wyoming lawmaker said, referring to administrative spending and taxing as "the worst kept secret in America."
"Congress is under new management," he said, "and by working together to find shared ground on common-sense solutions, we can deliver real results and real progress."
Thanks for reading CBS NEWS.
Create your free account or log in
for more features.