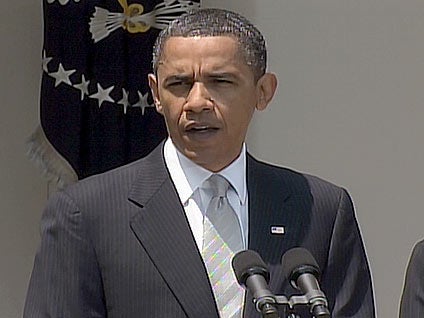 Obama Slams BP, Transocean, Halliburton Over Gulf Oil Spill
Updated at 12:59 p.m. Eastern

President Obama today harshly criticized BP and other companies for "falling over each other to point the finger of blame at somebody else" at recent Congressional hearings into who bears responsibility for the rapidly-expanding environmental disaster in the Gulf of Mexico.
"I know BP has committed to pay for the response effort, and we will hold them to their obligation," he said following a meeting with administration officials to discuss the oil leak. "I have to say though I did not appreciate what I considered to be a ridiculous spectacle during the congressional hearings into this matter."
"You had executives of BP and Transocean and Halliburton falling over each other to point the finger of blame at somebody else," he continued. "The American people cannot have been impressed with that display, and I certainly wasn't."
"I will not tolerate more finger pointing or irresponsibility," Mr. Obama later added.
Speaking in the Rose Garden, Mr. Obama said he is "not going to rest or be satisfied until the leak is stopped at the source, the oil in the Gulf is contained and cleaned up, and the people of the Gulf are able to go back to their lives and their livelihoods."
Oil Flow Rate Questioned as BP Tries 2nd Fix
Oil Leak Stop At Least a Week Away, BP Exec Says
Complete Coverage: Disaster in the Gulf
"I saw firsthand the anger and frustration felt by our neighbors in the Gulf, and let me tell you, it is an anger and frustration that I share as president," he said.
"For too long, for a decade or more, there's been a cozy relationship between the oil companies and the federal agency that permits them to drill," the president said, referencing the Minerals Management Service. "It seems as if permits were too often issued based on little more than assurances of safety from the oil companies. That cannot and will not happen anymore. To borrow an old phrase, we will trust but we will verify."
Mr. Obama said that his Secretary of the Interior, Ken Salazar, recognized the need for reform before the spill but "often-times he has been slammed by the industry, suggesting that somehow these necessary reforms would impede economic growth."
He noted plans to split the agency's inspection and collection divisions to avoid conflicts of interest and said he had asked Salazar "to conduct a top to bottom reform" of the agency.

The president also referenced the fact that scientists are now estimating that the spill may be far larger than government estimate of 5,000 barrels per day. According to one oceanographer, the spill could "easily be four or five times" than that estimate.
Mr. Obama said that because no one can reach the leak, which is 5,000 feet below the surface of the ocean, "we know there is a level of uncertainty." But he added that "our mobilization and response efforts have always been geared toward the possibility of a catastrophic event."
The government is using "every available resource" to address the spill, the president said.
"Over one million feet of barrier boom have been deployed to hold the oil back," according to Mr. Obama. "Hundreds of thousands of gallons of dispersant helped to break up the oil. About four million gallons of oily water have been recovered."

He added that 13,000 people and the National Guard had been deployed to help protect the shoreline and wildlife.
Mr. Obama pushed Congress to pass legislation that he said will help with cleanup efforts, provide unemployment help and jobs training to those affected and aid the economic recovery of the region. It would also help ensure that oil companies, not taxpayers, are on the hook for spills like this in the future, he said.
As his remarks concluded, the president reiterated his support for offshore drilling going forward.
"Domestic oil drilling continues to be one part of an overall energy strategy that now includes more clean, renewable energy and energy efficiency than at any other time in our history," he said. "But it's absolutely essential that going forward we put in place every necessary safeguard and protection so that a tragedy like this oil spill does not happen again."
More Coverage:
Oil Spill: Missing Data Mire Blast Investigation
BP Says Its Gulf Oil Spill Costs Now $450M
Gulf Oil Rig Plagued by Problems, Probe Finds
Obama Seeks Greater Liability from BP on Spill
2nd Oil Containment Box Reaches Gulf Seafloor
Fla. Gov. Crist Wants $35M from BP for Tourism
BP Will Keep Trying to Plug Leak
BP's Gulf Coast Mess
Oil Rig Captain Tells His Story
Thanks for reading CBS NEWS.
Create your free account or log in
for more features.