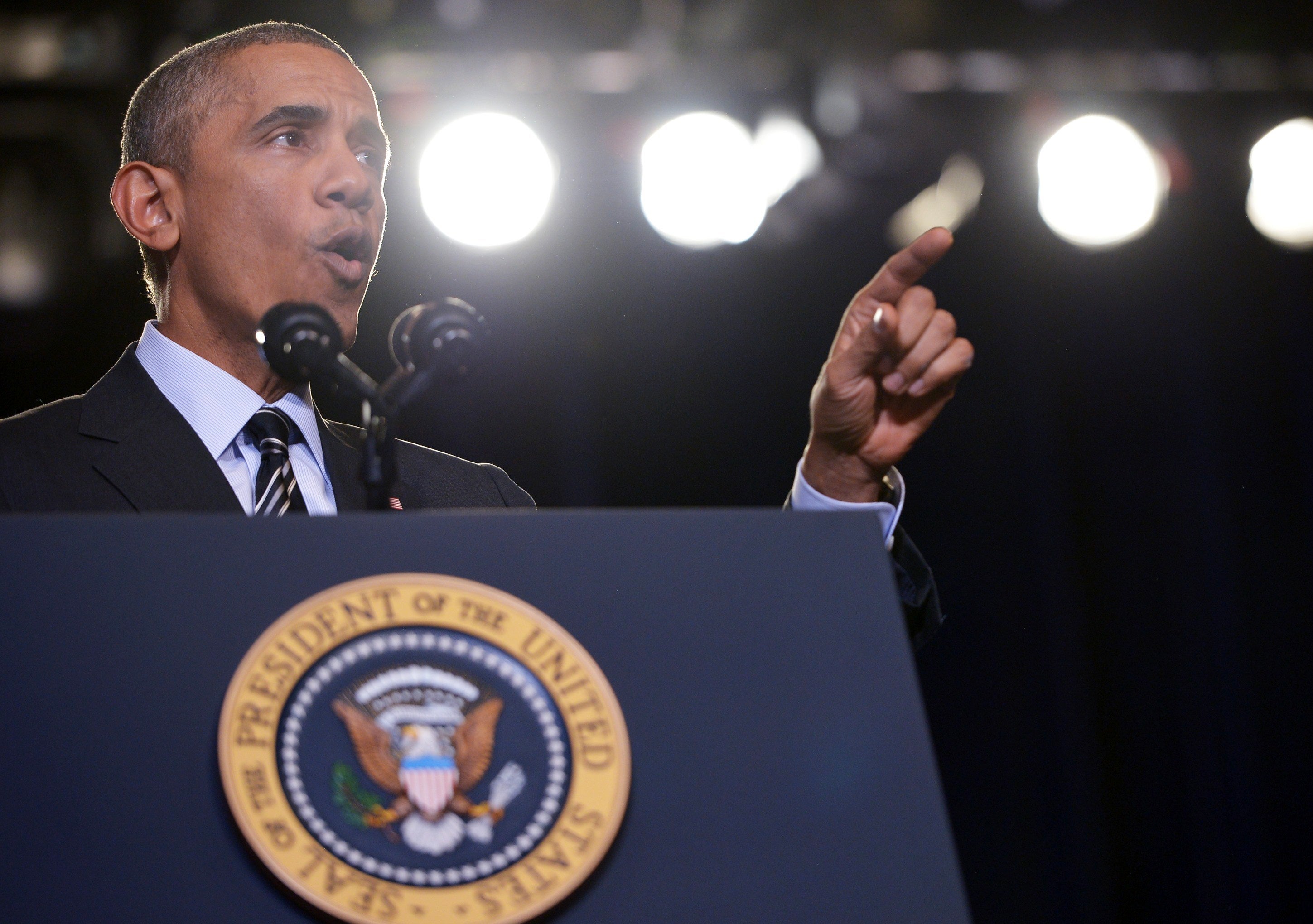 Obama: "No sympathy" for violent acts in Ferguson
President Obama said Tuesday that he has "no sympathy" for people who have turned to violence in Ferguson, Missouri after a grand jury announced it would not indict Ferguson police officer Darren Wilson in the August shooting death of an unarmed 18-year-old, Michael Brown.
"Burning buildings, torching cards, destroying property, putting people at risk, that's destructive and there's no excuse for it. Those are criminal acts. People should be prosecuted if they engage in criminal acts," the president said during a speech in Chicago.
"To those who think that what happened in Ferguson is an excuse for violence, I do not have any sympathy for that. I have no sympathy at all for destroying your own communities," Mr. Obama said.
It was the second time in 24 hours the president has spoken out about the events in Missouri. After the grand jury decision was handed down Monday evening, Mr. Obama made a statement in the White House briefing room asking demonstrators to protest peacefully.
He had kind words Tuesday for those who heeded that request, telling them, "your president will work with you." He said he has instructed Attorney General Eric Holder, who also condemned the violence Tuesday, to begin setting up regional meetings aimed at building trust between local law enforcement and communities and ensuring that law enforcement is fair.
"I've never seen a civil rights law or a health care bill or an immigration bill result because a car got burned," Mr. Obama said. "It happened because people vote, it happened because people mobilize, it happened because people organize, it happens because people look at what are the best policies to solve a problem. That's how you actually move something forward."
The president was in Chicago to meet with community leaders at the Copernicus Community Center to discuss the executive actions he's taking on immigration reform.
"Immigrants have made this city," Mr. Obama said. "We are Swedish and Polish and German and Italian -- everybody's Irish on St. Patrick's Day."
He tied the United States' immigrant tradition with the tension in Ferguson and across the U.S. over racial bias among law enforcement.
"Part of what America's about is stitching together people of different backgrounds, of different faiths and ethnicities," he said. "What makes America this remarkable place is being American doesn't mean you have to have a certain last name, or look a certain way."
While the crowd at the community center was receptive to Mr. Obama's message, he was interrupted by hecklers unhappy with his record of deportations. The president has been repeatedly heckled by immigration reform activists.
"I understand you may disagree, but we've got to be able to talk honestly about these issues. You're absolutely right there have been significant numbers of deportations," Mr. Obama said in response. "That's true, but what you're not paying attention to is the fact that I just took an action to change the law."
The executive actions he announced last week will defer the deportation of approximately 5 million undocumented immigrants. Mr. Obama on Tuesday touted the economic benefits of his actions. His Council of Economic Advisers has estimated that the actions would increase economic output by 0.4 to 0.9 percent over 10 years -- corresponding to increases in GDP of $90 billion to $210 billion in 2024.
Thanks for reading CBS NEWS.
Create your free account or log in
for more features.