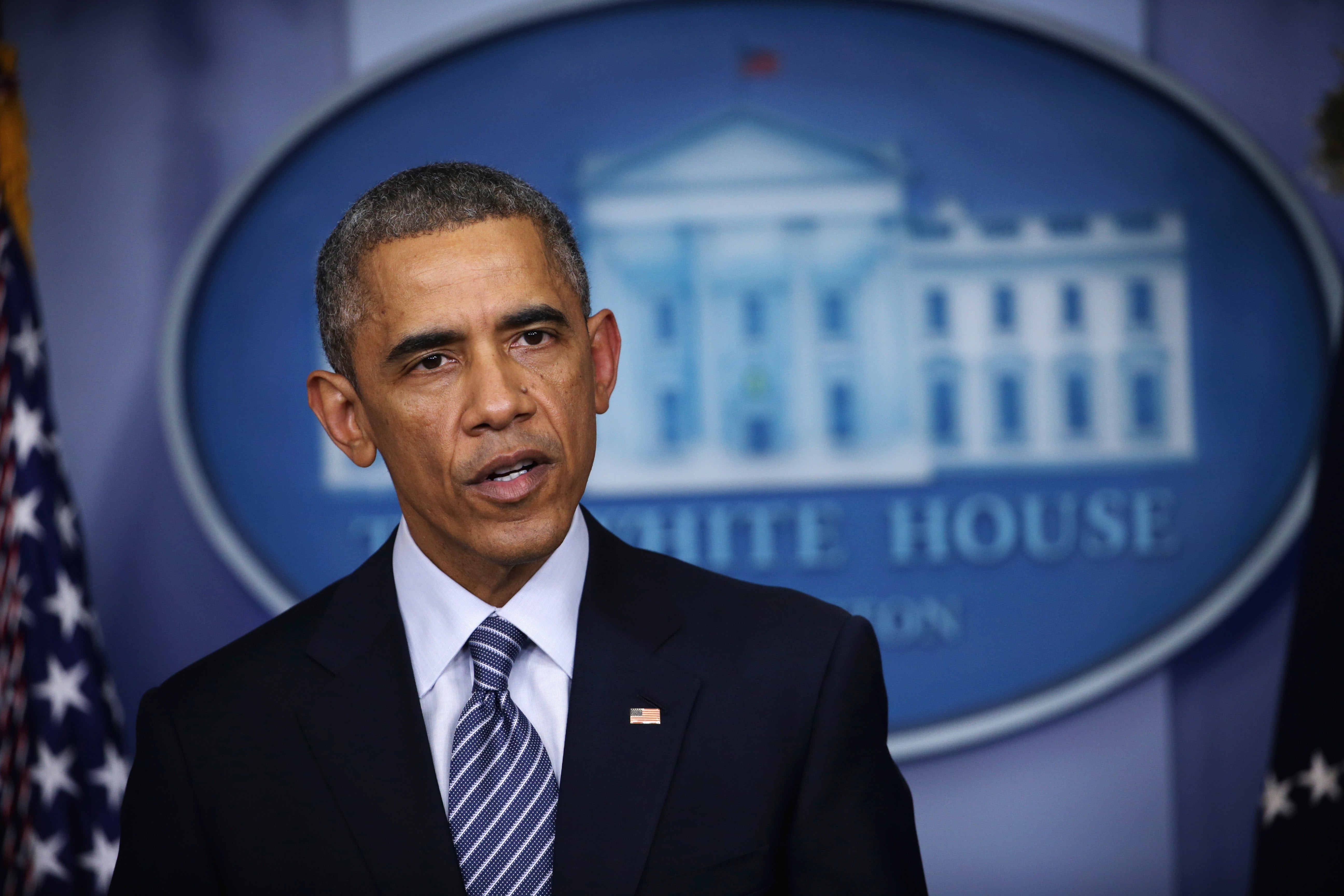 Obama calls for demonstrators to protest peacefully
President Obama called for demonstrators to protest peacefully, saying, "We need to accept that this decision was the grand jury's to make. There are Americans who agree with it and there are Americans who are deeply disappointed, even angry." He continued, "But I join Michael's parents in asking anyone who protests this decisions to do so peacefully."
Mr. Obama came to the White House briefing room soon after the announcement of the Ferguson grand jury's decision not to indict officer Darren Wilson for any charges related to the death of unarmed 18-year-old Michael Brown. As the president made his statement, live cameras showed some protests in Ferguson were growing more heated, with tear gas filling the air and some crowds running through the streets. Some police cars with smashed windows could be seen in the video feeds.
The president said that progress in race relations "won't be done by throwing bottles. That won't be done by smashing car windows. That won't be done by using this as an excuse to vandalize property and it certainly won't be done by hurting anybody."
He said he'd witnessed enormous progress in race relations over his own life, but admitted, "what is also true is that there are still problems and communities of color aren't just making these problems up."
Asked if he'd go to Ferguson himself, the president said he'd wait to "see how things are going," and mentioned that Attorney General Eric Holder and "a whole team from the Justice Department had been there" and had done "some very good work."
After the president spoke, Holder said in a statement that the Justice Department's own investigation into Brown's shooting is ongoing. The department's "federal inquiry has been independent of the local one from the start, and remains so now," the statement read. "Even at this mature stage of the investigation, we have avoided prejudging any of the evidence. And although federal civil rights law imposes a high legal bar in these types of cases, we have resisted forming premature conclusions."
About an hour after the president left the briefing room, close to 11:00p.m., a crowd of about 50 protesters began to gather in front of the White House, according to CBS White House Correspondent Mark Knoller. They chanted, "No justice, no peace."
Watch live coverage of the latest news about Ferguson, Missouri on CBSN.
Thanks for reading CBS NEWS.
Create your free account or log in
for more features.