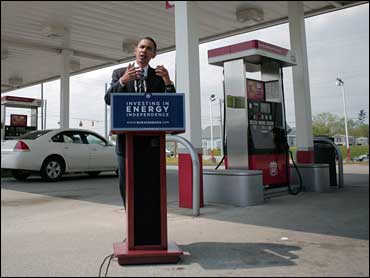 Obama Blames High Gas Prices On Washington
Democrat Barack Obama on Friday blamed high gasoline prices on Washington and a political establishment that he says hasn't stood up to oil companies, his two rivals for the presidency included.
"The candidates with the Washington experience - my opponents - are good people. They mean well, but they've been in Washington for a long time and even with all that experience they talk about, nothing has happened," Obama said in remarks delivered at a gas station. "This country didn't raise fuel efficiency standards for over 30 years."
The result, the Illinois senator said, is that consumers are suffering.
"So what have we got to show for all that experience?" Obama asked. "Gas that's approaching $4 a gallon."
New York Sen. Hillary Rodham Clinton, who is challenging him for the Democratic presidential nomination, campaigned in Jacksonville, N.C., and continued to press Obama for a debate before the May 6 primaries there and in Indiana.
Their most recent debate was last week in Philadelphia; North Carolina Democrats recently dropped plans for a debate.
"The only question I can't answer is why Senator Obama won't debate me in North Carolina," Clinton said. "Again, I offer that I'll go anywhere, anytime, and we'll have that debate as long as Senator Obama would agree to actually meet me."
Obama is favored to win in North Carolina; Indiana is considered close.
In the remarks, Obama said soaring gas prices were the latest manifestation of a Washington establishment that won't tackle the problems facing most consumers, and that he would bring needed change.
"In the end, we'll only ease the burden of gas prices on our families when Hoosiers and people all across America say 'enough,"' Obama said. "It's time to free ourselves from the tyranny of oil and stop funding both sides in the war on terror."
Campaigning in the heart of the Farm Belt, he paid the requisite nod to ethanol.
"I've been a strong supporter of ethanol," Obama said, noting that demand for corn to make ethanol is driving up food prices. "Corn-based ethanol is a transitional technology."
Obama's speech came after Sen. John McCain, the Republican Obama hopes to challenge in the fall, proposed suspending the federal gas tax for the summer driving season. Clinton supports the idea; Obama does not. Republican critics have noted Obama's vote for a temporary break on gas taxes when he was a member of the Illinois Legislature.
"Barack Obama can't deliver for working people if he supports higher gas taxes when the price of fuel is at a record high, and is likely to get higher by summertime," said McCain campaign spokesman Tucker Bounds.
In the speech, Obama called for a windfall profits tax on oil companies, with the money used to help consumers pay utility bills. He also said middle-class tax breaks he's proposed would help families with energy costs.
"But the truth is, there is no easy answer to our energy crisis, and we need a president who is going to be straight with us about that," Obama said, a reference to his oft-stated contention that Clinton hasn't been upfront with voters.
Speaking with reporters, Obama dismissed suggestions that he's struggled in recent primaries and should change his campaign theme.
"That theme is not going to change because I believe it," he said.
Obama also shrugged off a television interview by his former pastor, Jeremiah Wright, scheduled for national broadcast Friday night. Wright has been criticized for his negative comments about America.
"I understand that he might not agree with me on my assessment of his comments," Obama said. "He is obviously free to express his opinion. I've expressed mine very clearly. I think what he said on several instances was objectionable and I understand why the American people took offense."
As Clinton pleaded with North Carolinians for their support, she also asked for help keeping her husband, former President Clinton, healthy while he campaigns for her across the state.
"You gotta help me out here, though - my husband loves North Carolina, and he loves barbecue, and he's been eating a lot of it across the state," she said before heading to Indiana for several campaign appearances.
While she campaigns, Clinton also has been meeting with undecided superdelegates, the Democratic party leaders and elected officials whose support will be needed for either her or Obama to collect the 2,025 delegates needed to secure the nomination.
The former first lady spent Wednesday night and Thursday morning in meetings at the headquarters of the Democratic Congressional Campaign Committee in Washington.
The campaign would not answer any questions about the meetings on Thursday. Early Friday, campaign spokesman Jay Carson said Clinton "talked about her victory in Pennsylvania and her strength among core Democratic constituencies and the fact that she is tested and ready and would be the best candidate to defeat John McCain in November."
Thanks for reading CBS NEWS.
Create your free account or log in
for more features.