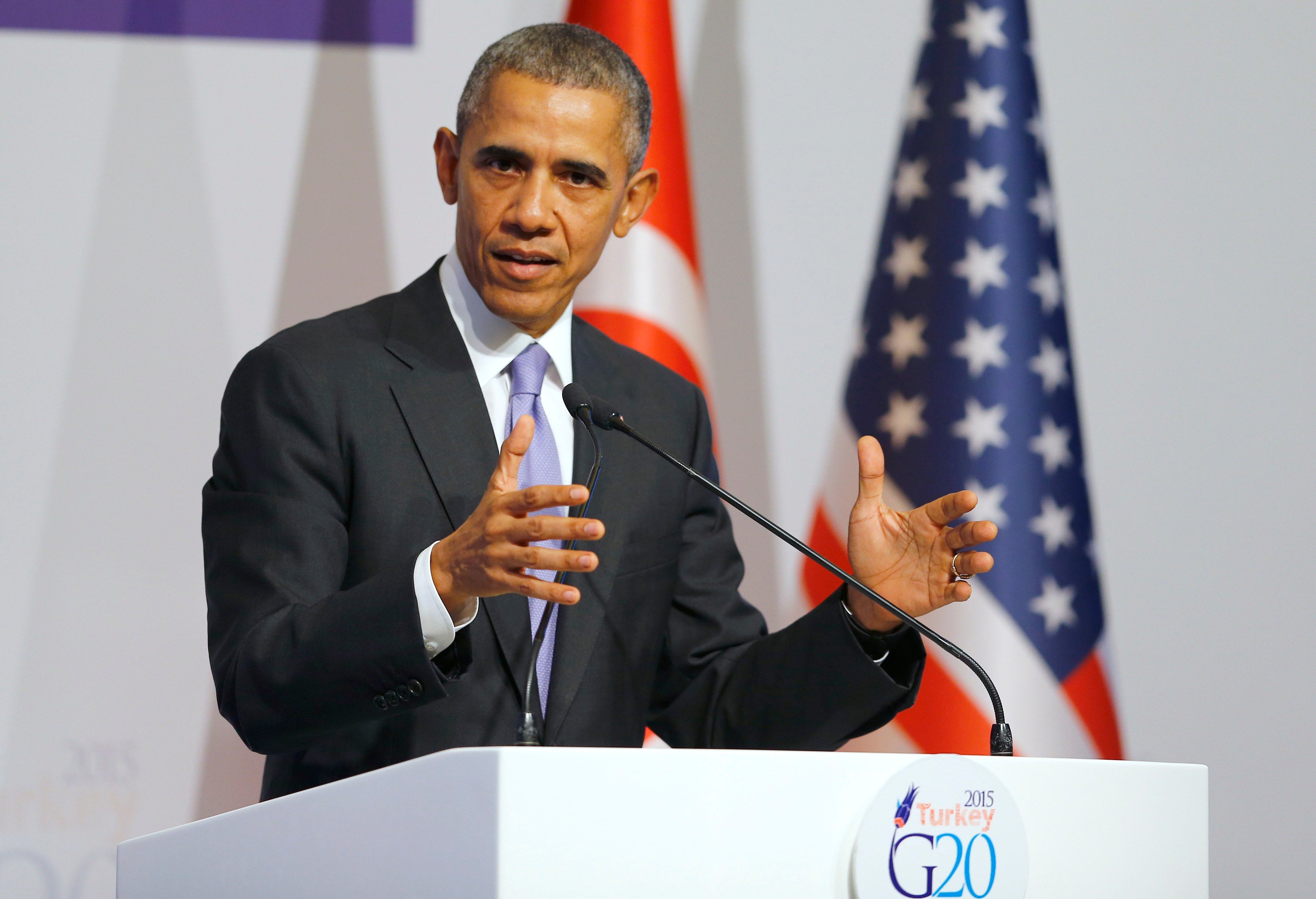 Obama faces questions on ISIS strategy after Paris attacks
President Obama faced repeated questions about his administration's handling of the threat posed by the Islamic State of Iraq and Syria (ISIS, or ISIL) and its strategy to destroy the group, and he also criticized Republicans for calling for a religious test for Syrian refugees.
At a press conference at the conclusion of the G-20 summit of world leaders, Mr. Obama said that the U.S. would amplify but not change its course on ISIS.
"There will be an intensification of the strategy that we've put forward but the strategy that we are putting forward is the strategy that ultimately is going to work," the president said at the G-20 summit in Antalya, Turkey. "It's going to take time."
The president condemned last week's attacks in Paris that killed more than 120 people, but cited progress in the fight against the terror group by pointing to the fact that they hold less territory now than they did before. The U.S. will continue to carry out airstrikes and assist local troops fighting ISIS on the ground, and Mr. Obama said that more countries "need to step up with the resources that the fight demands" in order to defeat them.
He resisted suggestions that the U.S. should exercise more military force and pushed back against his critics who argue for a larger U.S. ground force in Iraq and Syria.
"It is not just my view, but the view of my closest military and civilian advisors that that would be a mistake," the president said. "Not because our military could not march into Mosul or Raqqa or Ramadi and temporarily clear out ISIL, but because we would see a repetition of what we've seen before which is if you do not have local populations that are committed to inclusive governance, and who are pushing back against ideological extremes that they resurface."
He suggested this would just lead to a "permanent occupation" of those countries and an unsustainable U.S. obligation when terror attacks emerge from places like Yemen, Libya, North Africa or Southeast Asia.
The president also said his opponents often call for actions that the U.S. is already taking.
"Maybe they're not aware that we're already doing them. Some of them seem to think that if I were just more bellicose in expressing what we are doing that that would make a difference, because that seems to be the only thing that they're doing, is talking as if they're tough," he said. The president does not believe he has hesitated to act when there has been evidence more military action would be effective, and he referred to his decision to send additional troops into Afghanistan and leave them there longer than planned.
Aside from his frustration with the reporters - "I just spent the last three questions answering that very question so I don't know what more you want me to add," the president told CNN's Jim Acosta at one point - he remained relatively passive throughout the press conference until the end, when he laid into political leaders who have said the U.S. should prioritize aid to Christian refugees fleeing Syria.
"When I hear political leaders suggesting that there would be a religious test for which person is fleeing from a war-torn country is admitted, when some of those folks themselves come from families who benefitted from protection when they were fleeing political persecution, that's shameful," the president said. "That's not American, that's not who we are."
A handful of the Republican presidential candidates, including Texas Sen. Ted Cruz and former Florida Gov. Jeb Bush have advocated for limiting the flow of refugees, while including a special exemption for Christians.
"I do think there is a special important need to make sure that Christians from Syria are being protected because they are being slaughtered in the country and but for us who? Who would take care of the number of Christians that right now are completely displaced?" Bush said on "CBS This Morning" Monday, just hours before Obama's press conference.
Although he did not allude to Bush's remarks, the president did express admiration for his brother, former President George W. Bush.
"I was very proud after 9/11 when he was adamant and clear about the fact that this is not a war on Islam," the president said. "On this they should follow his example. It was the right one."
Earlier in the press conference, Mr. Obama reiterated U.S. pledge to take in Syrian refugees despite the news that one of the Paris attackers may have entered Europe among the wave of migrants leaving Syria. The president said that refugees would be accepted "only after subjecting them to rigorous screening and security checks," and he also said that many of them were also fleeing terrorism.
"Slamming the door in their faces would be a betrayal of our values," he said.
The G-20 summit was scheduled before the terror attacks in Paris last week and went ahead as scheduled.
CBS News Correspondent Margaret Brennan reports that U.S. officials are pressing France and Turkey to spend special forces to Syria to work alongside the 50 U.S. operators already deployed there.
The president is also looking to Russian President Vladimir Putin and Saudi Arabian King Salman to help broker a ceasefire in Syria. The administration hopes to establish a ceasefire in Syria by January 1st. Their aim is to convince the rebel groups and the government of Syrian President Bashar al-Assad to stop fighting each other and instead to fight ISIS. This concept - while incredibly difficult to execute - is now a cornerstone of the anti-ISIS strategy.
The president also said the nations gathered there committed to strengthening border controls, sharing more information, and preventing the flow of foreign fighters in the wake of the Paris attacks.
Thanks for reading CBS NEWS.
Create your free account or log in
for more features.