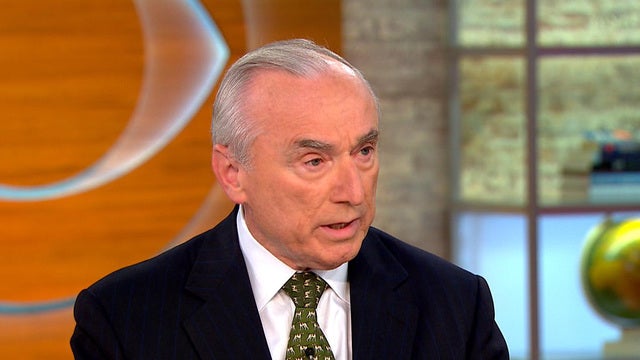 Bill Bratton: Confident in NYPD, but Trump "scares the hell out of me"
After his surprise announcement Tuesday that he will be resigning as NYPD commissioner, Bill Bratton promises he's leaving the force in good hands. But the top cop of the nation's largest police force -- one of the most recognized names in law enforcement nationwide -- has one scary concern.
"Mr. Trump scares me, scares the hell of out me, being quite frank with you. And I just don't get it in terms of the support for him," Bratton told "CBS This Morning" Wednesday. "The lack of depth on issues... the 'shoot from the hip' -- I've just watched his whole campaign and I just shake my head."
He stressed that this is just his personal opinion, but it's coming from a man with leadership experience in several of America's biggest cities, where he's played a key role in developing modern policing for over four decades.
"I've been in public life, public policy, law enforcement 45 years -- 48 if you include my three years in the Army. And I don't get it," Bratton said about the Republican presidential nominee.
Bratton chastised Trump for his insensitive remarks Tuesday at a campaigning event in Virginia about the Purple Heart, the military's highest decoration given to service members killed or wounded in combat. Sharing the story of his encounter with retired Army Lt. Colonel Louis Dorfman -- who gave him a replica Purple Heart backstage -- Trump told the crowd, "I said, 'Man, that's like big stuff.' I always wanted to get the Purple Heart. This was much easier."
A Vietnam War veteran himself, Bratton called the remarks "appalling," and rebuked the Republican nominee for having "no recognition of the significance" of the honor.
The controversy follows Trump's dispute with Gold Star families -- those who have lost a loved one in service -- who slammed the candidate for his "repugnant and personally offensive" comments about the family of U.S. Army Capt. Humayun Khan. Speaking at the Democratic National Convention, the father of the Muslim U.S. soldier - who was killed in Iraq in 2004 and awarded a Bronze Star - said Trump had "sacrificed nothing." Trump fired back, drawing bipartisan backlash and also drawing fresh attention to his numerous deferments from the Vietnam War.
"Tough guy. I wonder if he's ever taken a punch in his life, an actual, physical punch," Bratton said. "I'm always amazed at people who are portrayed as tough guys or portray themselves as tough. It's easy being tough... It's a lot tougher being soft and understanding when you need to be soft. Like the apology to this family -- what would be the harm, rather than taking offense that they said something bad about you, to understand their pain?... There's no compassion there, it's all about him and never about anybody else."
While Bratton may be anxious about the campaign, he is highly confident in his successor for NYPD commissioner, James O'Neill. O'Neill currently serves as the NYPD chief of department -- a position to which he was promoted by Bratton in 2014.
"I'm able to leave the department in very good shape... but also the comfort level that what I'm leaving behind is an extraordinary leader," Bratton explained. "I've worked with him over the last two and a half years, known him for 25 years... an individual who believes, like I do, that policing needs to change and reform. He is the right guy to continue that change."
Since beginning his career as a patrolman in Boston in 1970, Bratton has had an unmatched career in law enforcement, serving as top cop in Boston, Los Angeles and New York. Under his watch, the NYPD scaled back on the controversial stop-and-frisk-tactic and drove down the crime rate to historic lows with his "broken windows" policing approach -- cracking down on minor offenses to help prevent larger ones.
Bratton will be moving into the private sector, taking a job with the consulting firm Teneo Holdings, where he will head its new risk division in the fall.
He said now was "the right time" both personally and professionally, to end his long career in public service. But some might disagree, at a moment when law enforcement faces a number of tough challenges, including ongoing racial tensions and terror threats.
Still, Bratton asserted that that the NYPD is in "excellent shape" to "address all of the issues of the day."
"Issues of race, issues of terrorism, issues of crime, in dealing with all of them successfully -- although it's going to take years on the issue of race -- it's not a New York issue, it's a national issue," Bratton said.
Bratton's resignation also raises questions about another top police official, NYPD Deputy Commissioner of Intelligence and Counterterrorism John Miller. The former CBS News senior correspondent left the news business to join the NYPD under Bratton.
Bratton commended Miller for strengthening defenses in both New York City and the country "extraordinarily well," and said a decision to return to the media would be Miller's "personal decision," but would be a "phenomenal loss."
"I think you guys are going to have to get a big net and try and pull him back in here," Bratton said. "He's widely respected by everybody on the national and international scene relative to terrorism."
Thanks for reading CBS NEWS.
Create your free account or log in
for more features.