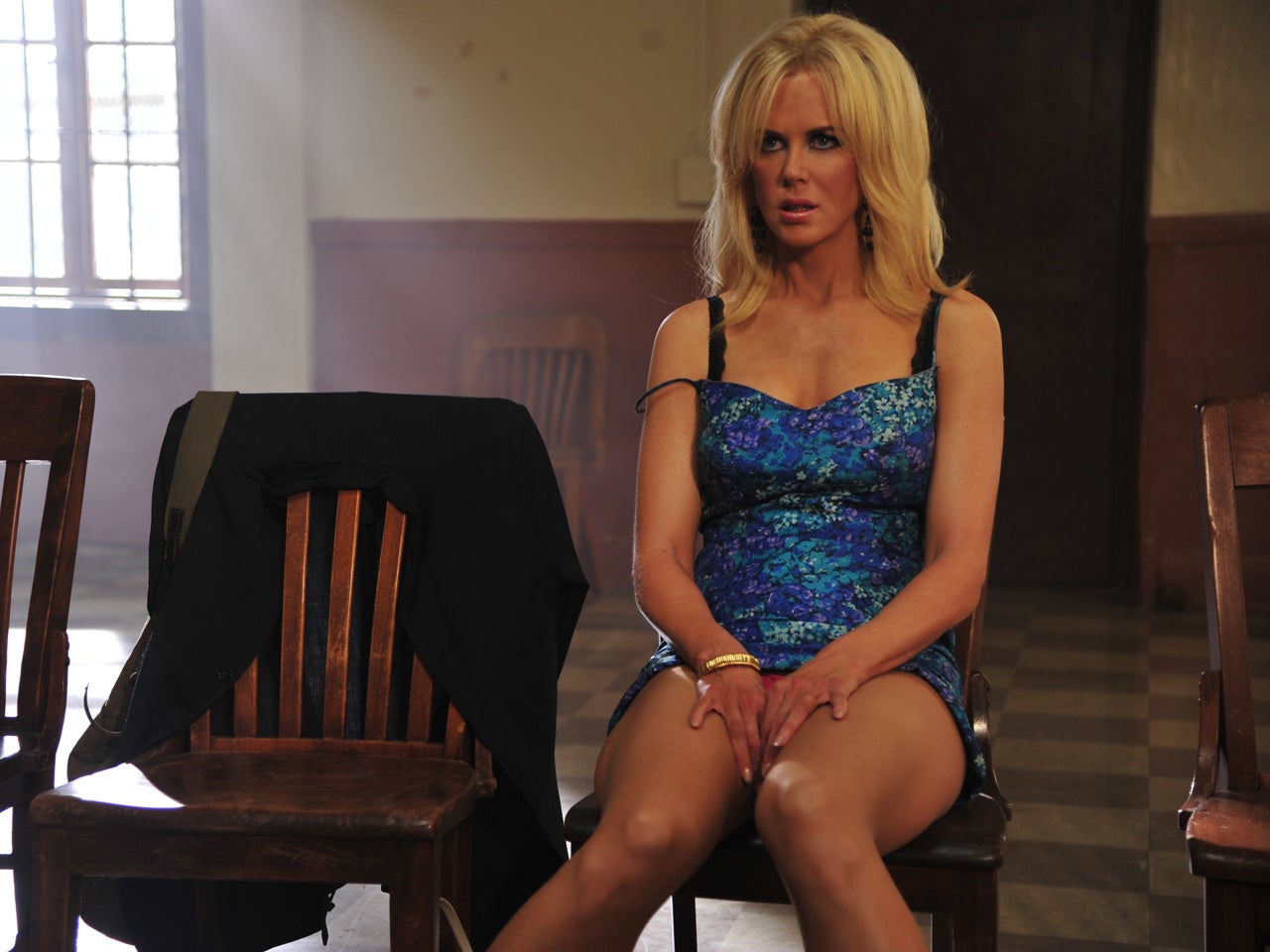 N.Y. Film Festival: Nicole Kidman burns in "The Paperboy"
NEW YORK "I don't see her as crazy, because I see very few people as crazy," said Nicole Kidman of the character she portrays in a scorching new melodrama, "The Paperboy."
Kidman's daring performance as Charlotte Bless, a Southern woman who engages in erotic correspondence with a death row inmate and then fights to prove his innocence, is one of the most uninhibited seen on screen in recent years.
Based on the novel by Peter Dexter that was inspired by a true story, "The Paperboy" follows a pair of doubtful reporters (Matthew McConaughey and David Oyelowo) investigating evidence that might prove the man whom Charlotte seeks to free is indeed innocent. Also in the mix is Jack (played by Zac Efron), the 20-year-old brother of one reporter, who is attracted to the 40-ish Charlotte in ways that could only lead to trouble for all.
Speaking at the New York Film Festival, where the film screened prior to its opening in theaters on Friday, Kidman said that in preparing for the role she met with five women who were themselves "prison groupies."
"For me, playing it, it's a woman who is obviously very damaged and is terrified of intimacy, of being close to someone, which is a common thread a lot of time with the relationships with people in prison, because they're in prison - as soon as they get out, it's a whole different thing.
"I said, 'I don't know how I'm going to be authentic in this role,' and one of them said, 'You go, girl!' She kind of gave me the confidence. And then I just let it flow out of me, I kind of went with it. I didn't want to censor myself in any way, and so I just went straight into the character and didn't step out of it until we were done filming.
"For me the freedom of her sexuality was important. I didn't want to be saying 'No' to anything, which is an important part of being an actor, is learning not to shut down and not to say 'No,' and be completely free. I think as you get older you get a little more frightened - that's the thing that makes me want to go, 'Oh, screw this, I just want to push through that,' and never stop myself from fighting through my own insecurities."
Lee Daniels, an Academy Award-nominee for "Precious," said he looked for inspiration to films from the late 1960s and early '70s, such as "Cool Hand Luke," hoping audiences would feel that they were watching a movie dating from that period, with its camerawork, editing, acting and music. In addition to the zoom lenses and jump cuts, the film also captures the feeling of a time when cinema's new-found sexual frankness was pushing the boundaries of audience acceptance.
Kidman said she wanted to be very visceral in her performance rather than intellectualize her approach to playing Charlotte. "I just wanted to abandon myself to it," she said. "I suppose my whole thing that I've gone through as an actor is fulfill a director's vision, because that's what you're hired to do. I have opinions and I have ideas and I'm there to stimulate hopefully and ignite things in a director, but at the same time I'm not going to stop him.
"I really try with every director I've worked with never to pull them off their vision. You're there as their muse sometimes, you're there as their conduit. You're there to create a character together. So that's where the spreading the legs and all that stuff came from, because I wanted to please Lee!
"I'm now 45 years old and I've worked a lot with many different directors and many different places and experienced so many things. I just want to push myself, I wanted to be in place that I haven't been before. I wanted to be uncomfortable in those places sometimes, but I wanted to go home at night and feel discomfort at times, and feel challenged. It's very, very hard to find those roles."
In addition to Charlotte's determined efforts to free the convict played by John Cusack from prison, she also finds herself an object of lust for 20-year-old Jack. It's a role Charlotte fulfills not too unwillingly, but with an eye on the Big Picture.
"The way in which she deals with the Zac character is, she knows he's kind of following her around like a puppy dog but at the same time if she let him really fall in love with her, if she lets herself give in to him and soften towards him, then she's going to ruin his life forever," Kidman said. "She says to him, in a line that we ad-libbed, 'You don't want me, trust me.' That to me is unconditional love; she really shows him love that way.
"And her destiny she feels is that kind of life that she has with the Cusack character. That's kind of where she's heading. It's almost like a death wish in a way. For me it's tragic, it's very sad, and that's where I came from with her.
"So I have lot of compassion for [Charlotte]. And when I was playing it the reasons I wouldn't step in and out of the accent or the character was because if I did I would feel that I was going to judge her, so I just stayed in it."
Kidman stayed in character throughout filming, even with costar John Cusack, with whom she had a sex scene on her first day of the shoot. "We had very limited time, we were on a tight, tight budget. We kind of went for it," she said. "I didn't know John and that's when I just went, I'm actually never going to know John, I'm just going to deal with him as the character and he can just deal with me as the character.
"I never spoke to him throughout the shoot as John. At the very end of the film he came to my trailer and said, 'Hi, I'm John!'"
Oyelowo, who plays a black journalist from London seeking a big story to put under his byline, praised Daniels, with whom he also worked on the upcoming "The Butler." "Every time I work with him, no matter what your ability is, no matter who you are as an individual, he feels it is his job to push you out of your comfort zone. He feels that the truth will be accessed by you being discombobulated, by you not going to safe places.
"That is very clearly articulated before you hit the set, in phone conversations, in rehearsals - not so much rehearsals because Lee doesn't like to rehearse so much, he wants it all to happen in front of the camera - mostly by being around Lee, the thought of saying 'No,' it just doesn't quite work. I'm always a better actor having said 'Yes.'"
When asked if Kidman had said "No" to Daniels at all, the director recounted the racial tensions that were felt while going on location scouts in the swamps of Louisiana - where Confederate flags were displayed and his assistant director would have to talk at locations because the people there refused to speak to him - and asking Kidman to call Oyelowo's character the N-word. She refused, saying it didn't fit with her character.
"I talked to my producer - She won't say the N-word!" Daniels recalled. "My producer said, 'Lee, Day One, she's bent over a washing machine; Day Two, she urinates on Zac Efron; Day Three, she has telepathic sex. I think you can forgive her for [not using] the N-word."
"The Paperboy" opens Oct. 5, from Millennium Films.
Directed by Lee Daniels; screenplay by Daniels and Peter Dexter; produced by Daniels, Ed Cathell III, Cassian Elwes and Hilary Shor.
Thanks for reading CBS NEWS.
Create your free account or log in
for more features.