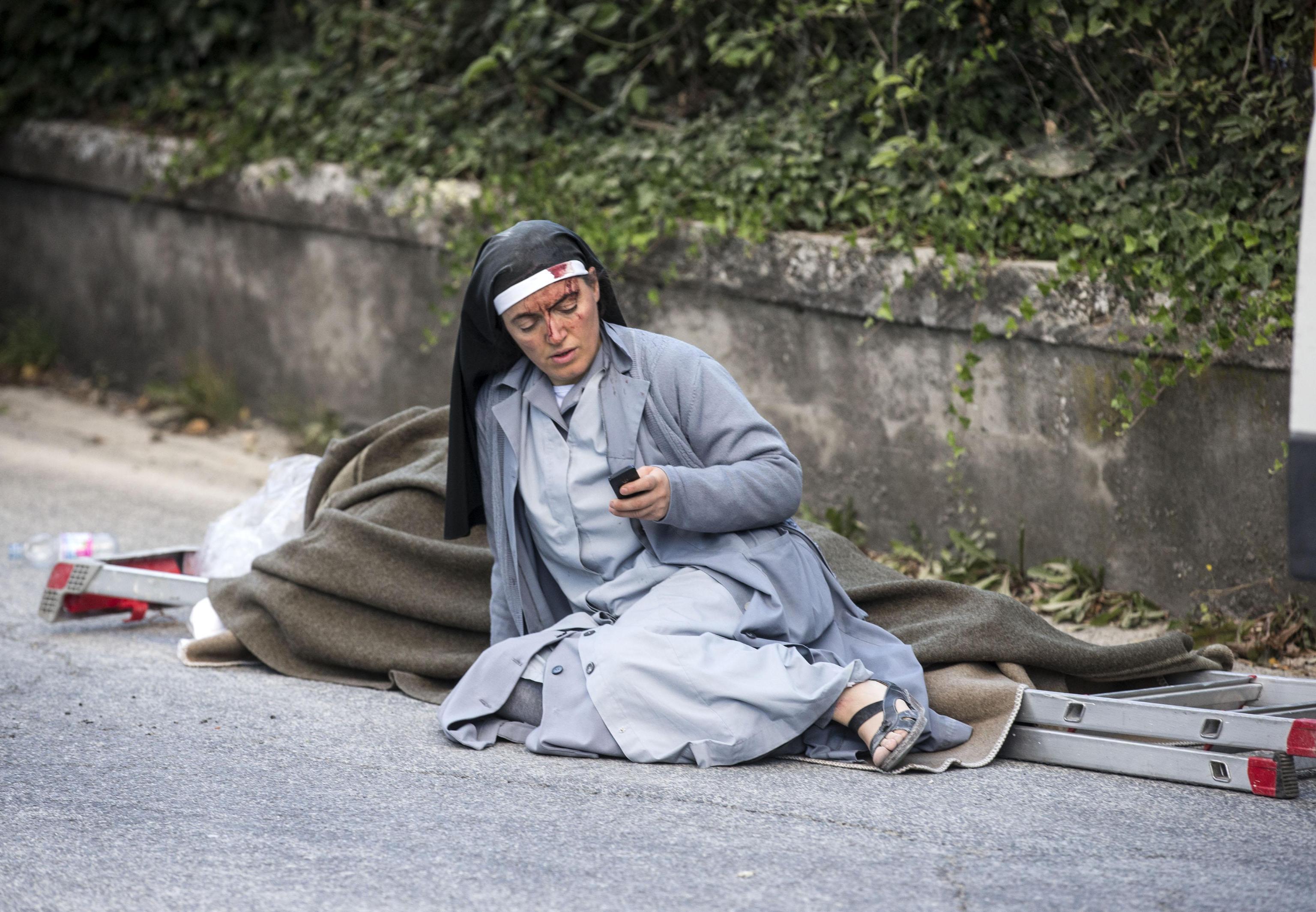 Nun in iconic Italy quake photo shares her story of survival
ASCOLI PICENO, Italy -- She became the face of Italy's earthquake: Sister Marjana Lleshi, blood staining her veil as she texted her family and friends in her native Albania that she was alive.

In an interview Thursday at the mother house of her religious order, the 35-year-old nun recounted how she thought she would die when her convent walls collapsed. She texted her friends asking that they pray for her soul, only to be rescued by a man she has called her "angel."
Now safe, Lleshi says she wants nothing more than to go to next week's Rome canonization of Mother Teresa, the ethnic Albanian nun "who gave hope to those who didn't have any."
Lleshi was sleeping in the Don Minozzi convent beside the Church of the Most Holy Crucifix in Amatrice when the quake struck at 3:36 a.m. Wednesday. She had been there, with six other sisters, caring for five elderly women. Her order, the Sisters of the Handmaidens of the Lord, runs nurseries and homes for the aged.
She woke up covered in dust and bleeding. Realizing what had happened, she immediately tried to summon help outside her room.
No one responded. And she couldn't get out.
"When I started losing all hope of being saved, I resigned myself to it and started sending messages to friends saying to pray for me and to pray for my soul and I said goodbye to them forever," she said outside the order's headquarters in Ascoli Piceno.
"I couldn't send a message like this to my family because I was afraid that my father would have an emotional collapse and die hearing something like that."
She said she eventually was rescued by a young man who cared for one of the elderly women at the home. "In that moment, I heard a voice who called me: 'Sister Marjana, Sister Marjana.'"
He pulled her out. With the ground still shaking, she sat on the side of the road and began texting her friends and sisters that she had survived.

That moment was immortalized in an image taken by a photographer for the ANSA news agency reprinted worldwide.
Lleshi spent much of Thursday getting medical checks for dust inhalation and her head wound, which required stitches. Once back home, she wept as she thought of her family.
She still hopes to travel to Rome for the Sept. 4 canonization of Mother Teresa, the Macedonian-born ethnic Albanian nun who ministered to the poor of India. But the chaos and horror of the moment may be too much. Her order lost three sisters and four of the elderly women they cared for, alongside incalculable losses in the wider community.
"For me she's the symbol of Albania, of a strong woman," she said of Teresa. "I would have liked to go, but after this I don't think I can."
She can relish the simple fact of still being alive.
"I had said 'adieu,'" she said, "and in the end it wasn't an adieu."
Rescue efforts continued through Thursday night and into the morning, but more than a day and a half had passed since the last person was extracted alive from the rubble. While Premier Matteo Renzi hailed the fact that 215 people had been rescued since the quake, civil protection officials reported a steadily rising death toll that stood early Friday at 267.
The number of people in these mountain villages swells during the summer as they're popular vacation destinations. In the remote village of Accumoli, the population had nearly doubled, which means the death toll was also higher, CBS News correspondent Seth Doane reported.
Some Accumoli residents were allowed to return home Thursday to salvage what they could. One woman told CBS News she was sad, but with all the aftershocks, also scared.
Some of hard-hit Amatrice's crumbled buildings suffered more cracks after the biggest aftershock of the morning struck at 6:28 a.m. The U.S. Geological Service said it had a magnitude of 4.7, while the Italian geophysics institute measured it at 4.8.
The aftershock was preceded by more than a dozen weaker ones overnight and was followed by another nine in the subsequent hour -- some of the nearly 1,000 aftershocks that have rocked the seismic area of Italy's central Apennine Mountains in the two days since the original quake Wednesday.
Those who lost their homes or could not return to them camped out. People were half nervous and half desperate, but most of them had lost everything -- the work of an entire life -- one volunteer said.
Drone video showed the random nature of the quake, with some towns flattened while others were spared.
The ancient architecture in places like Amatrice has drawn tourists for years. The bell of the clock tower was obscured by buildings, but those structures that stood for centuries were reduced to rubble in seconds. The clock tower now stands alone, with tourists now replaced by rescue workers.
Many of the villages have become ghost towns.
Thanks for reading CBS NEWS.
Create your free account or log in
for more features.