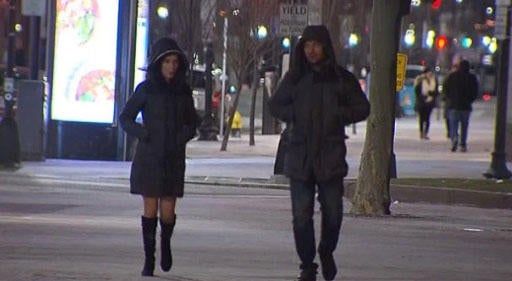 Northeast braces for powerful late winter wallop
NEW YORK -- A powerful nor'easter could bring blizzard conditions and more than a foot of snow to some parts of the Northeast, proving winter isn't done yet.
The National Weather Service upgraded a blizzard watch to a blizzard warning for New York City from midnight Monday night through midnight Tuesday night for New York City, Long Island and parts of New Jersey and Connecticut, with snow amounts ranging from a foot to 20 inches and strong wind gusts.
NYC
New York Mayor Bill de Blasio declared a state of emergency in the city starting at midnight Monday. He urged residents to avoid unnecessary travel and help keep the roads clear for sanitation crews and first responders.
"We're preparing for a significant storm on Tuesday, and New Yorkers should also prepare for snow and dangerous road conditions," de Blasio said.
De Blasio said the city expects the worst of the situation to be in the early morning hours. Snow is expected to begin between midnight and 1 a.m., with the most intensive accumulation beginning between 5 a.m. and 6 a.m., and continuing at a very high level for hours thereafter.
"We expect this storm overall to be in the range of 16 inches to 20 inches of snow," with a high end of up to 24 inches, de Blasio said.
All above-ground subway service will be shut down beginning at 4 a.m. Tuesday as a dangerous snowstorm blows into the area, CBS New York reports.
Trains underground are still scheduled to run. A decision will be made later on for the Long Island Rail Road and the Metro-North Railroad.
De Blasio also announced New York City schools will be closed on Tuesday.
"This would certainly be the biggest snowstorm of the 2017 winter season in New York City," said Faye Barthold, a weather service meteorologist based on Long Island.
New York Gov. Andrew Cuomo announced Sunday that the New York State Emergency Operations Center will be activated Monday evening, with stockpiles of sandbags, generators and pumps at the ready, reports CBS New York.
Long Islanders who spoke to CBS New York seemed to be taking the forecast in stride.
The Saboni family, from Seaford, says they're stocked up and ready for a storm they think is long overdue.
"I kind of expected this because of such a mild early winter," husband Andy said, "but I was going to drag on until the spring possibly."
His wife Judy says they have their salt and shovels ready to go.
Pat Myren and her friends from Long Island have loaded up their truck with supplies.
"I'm hoping, need to stay home and be safe and that's what I'm praying for," she said.
Boston
Boston also could get 12 to 18 inches, with isolated amounts of up to 2 feet across northeastern Massachusetts.
With more than a foot of snow getting ready to drop beginning early Tuesday morning, folks were snatching up all the bread and eggs they could find, CBS Boston reports.
"I shopped for two hours and stood in line for 45 minutes," shopper Diana Rivera said.
Massachusetts Governor Charlie Baker said it's "not your typical storm."
"The most important point I will make is that the snow will fall about 2 to 4 inches an hour," Baker said.
At Home Depot, backyard grills took a distant second place to shopping carts filled with ice melt.
Parking bans were in effect in many cities and towns across the state on Monday evening.
"The combination of high winds, wet snow and cold weather can lead to downed trees and we are closely monitoring the power outages," Baker said.
School cancellations were also in effect as a city and region prepared for the storm.
Philadelphia
In Philadelphia, crews began treating some area roadways on Sunday. The city could see 6 to 12 inches of snow.
The snow will be heavy at times on Tuesday morning and will accumulate on roads, CBS Philly reports. There is still some uncertainty on the track of the storm and where sleet could mix in, which would cut down snow amounts. A winter storm warning will go into effect late Monday night for most the region.
Washington, D.C.
Farther south, in the nation's capital, where the National Cherry Blossom Festival is scheduled to start Wednesday, snow is also expected.
Mayor Muriel Bowser, while admitting that forecasts for a snowstorm keep changing, says the District is ready for whatever Mother Nature sends its way. Bowser, speaking Monday afternoon at a news conference at a southeast salt storage facility, says officials don't know how much snow will hit the nation's capital Monday night into Tuesday.
The mayor says streets have been pretreated, more than 200 snowplows will be at their posts, and overnight warming sites will be open.
Bowser says city officials aren't expected to make decisions about schools closing until Tuesday morning. The Office of Personnel Management says it will announce at 4 a.m. Tuesday its decision about whether federal workers have to report for work.
The expected snow led German Chancellor Angela Merkel to postpone her trip to Washington for her first face-to-face meeting with President Donald Trump. Merkel had been scheduled to arrive late Monday night for meetings with Mr. Trump on Tuesday. The White House said the meeting was rescheduled for Friday.
Flights canceled
The storm is already causing trouble for travelers. U.S. airlines canceled more than 6,000 flights Monday and Tuesday as the late-winter storm is expected to dump enough snow to disrupt travel in the Northeast.
Southwest Airlines, which carries more domestic passengers than any other airline, doesn't expect to operate any flights Tuesday at 14 airports stretching from Washington to Portland, Maine.
Tracking service FlightAware.com said Monday afternoon that more than 1,500 flights on Monday and more than 4,600 on Tuesday had been canceled.
Chicago is bearing the largest share of Monday's cancellations, while Tuesday's disruptions are hitting hardest in the East, from Washington to Boston including the New York City area.
The major airlines are waiving ticket-change fees that range up to $200 for customers who want to change their travel plans. Restrictions vary by airline.
Southwest has canceled more than 300 flights for Monday and nearly another 900 scheduled for Tuesday, according to FlightAware.
American Airlines and its American Eagle contractor Envoy Air together had canceled more than 300 flights Monday and 700 on Tuesday. JetBlue Airways, with major operations in Boston and New York, had already canceled more than 600 flights scheduled for Tuesday, FlightAware said.
Thanks for reading CBS NEWS.
Create your free account or log in
for more features.