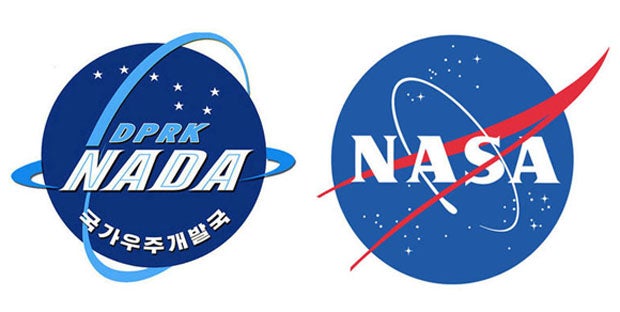 North Korea's new space agency dubbed "NADA"
North Korea's fledging space program now has an impressive-sounding name -- with an unintentionally humorous acronym. It has also adopted a logo that looks suspiciously familiar.

According to the Korean Central News Agency, the state news service, North Korean officials marked the one-year anniversary of the space agency's founding by unveiling the official name and emblem for the organization: the National Aerospace Development Administration, or NADA.

"NADA," of course, translates to "nothing" in Spanish -- perhaps not what the space agency had in mind when choosing its name.

The press release goes on to explain the meaning of the dark blue globe-shaped emblem crossed with two light blue rings -- without noting that it bore a striking similarity to NASA's famous logo.

"DPRK NADA" and its Korean language equivalent are emblazoned on the globe, with a cluster of seven stars forming the Big Dipper, or Ursa Major, above it.

"The Great Bear reflects the will of the space scientists of the DPRK to glorify Kim Il Sung's and Kim Jong Il's Korea as a space power," the release states, referring to the Communist nation's first two leaders. "The globe represents the DPRK's idea for peaceful development of the space and the rings show the DPRK's will to launch satellite into all orbits."

More than a year after the country's 2012 long-range rocket launches, which the U.S. condemned as "a highly provocative act" -- a threat to regional security and a violation of U.N. resolutions -- the North Korean law that founded the space agency called for international cooperation on space projects.

North Korea claims it rejects the so-called "double-standards in space activities and the weaponization of outer space."



Thanks for reading CBS NEWS.
Create your free account or log in
for more features.