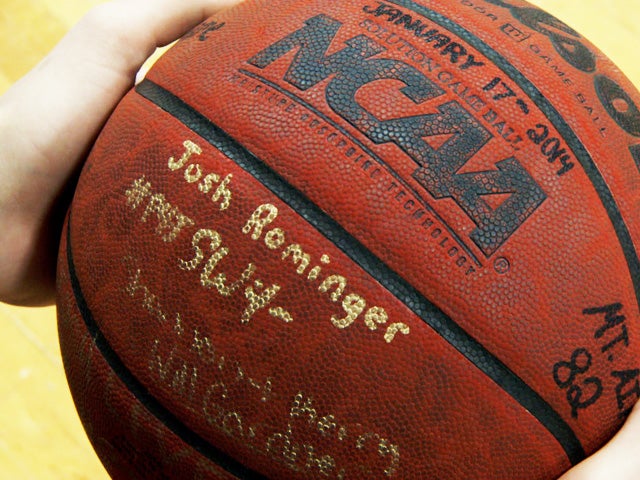 N.C. teen hits miracle shot, with assist from late friend
GREENSBORO, N.C. -- Just outside Greensboro, N.C., Bishop McGuinness boys' basketball team is coming off what may be the most remarkable game in school history.
"I still can't believe that even happened," one player says.
"I felt like there was no one who could stop us," says another.

"I will remember this game for the rest of my life," a third player says.

The game was against their archrivals, Mount Airy High School, but to fully appreciate what happened here, you first need to know how Coach Josh Thompson prepared them for this night.

It all started a few days earlier with an old ball and a gold Sharpie. Coach Thompson told each player to pick someone to dedicate the game to -- could be an uncle, a grandpa, one kid picked his parents. They all joined the exercise, but safe to say no one took it more seriously than junior guard Spencer Wilson. He picked his friend Josh Rominger.

"Josh's passion for life really drew me towards him," Spencer says.

Spencer and Josh were two great friends with one lousy thing in common: they both had cancer. The difference was Spencer beat his, and Josh didn't. He died nine months ago.

Before the game, Spencer wrote a letter to Josh's mom, explaining what they were doing and why he would be playing for Josh.

"His joy illuminated the room, and it was always apparent to me that he was special," Spencer wrote. "Just wanted to let you know the impact your son has on my life still to this day. I will never forget him. Play for Josh."

"I read it and cried," says Josh's mom, Denna Rominger. "They just had that bond. Nobody else knew how Josh felt except for Spencer."

Spencer says he still thinks about Josh every day. That's why this opportunity meant so much to him.

"During timeouts, when we touched the ball, I found where I wrote 'Josh,' and I looked for that," Spencer says. "Put my hand on it every single time."

Spencer thought of his friend, who he says "meant a whole lot to me."

Which brings us to the end of that game. With two seconds left on the clock, Bishop down by a point and their archrivals at the free-throw line, Bishop needed a miracle. And some say that's exactly what they got.

"Rebound comes down to Gardner, leads it ahead to Wilson, he's going to lob it up from 3/4 court," the announcer said. "That's got a shot -- it's good! Oh my goodness! Spencer Wilson from 50 feet out wins the game for the Villains!"

In the official record book, Spencer Wilson will get credit for that remarkable Hail Mary. But the boys here at Bishop believe Spencer's friend Josh deserves at least an assist. And no matter what you believe, you've got to score one for friendship.

To contact On the Road, or to send us a story idea, email us.

Thanks for reading CBS NEWS.
Create your free account or log in
for more features.