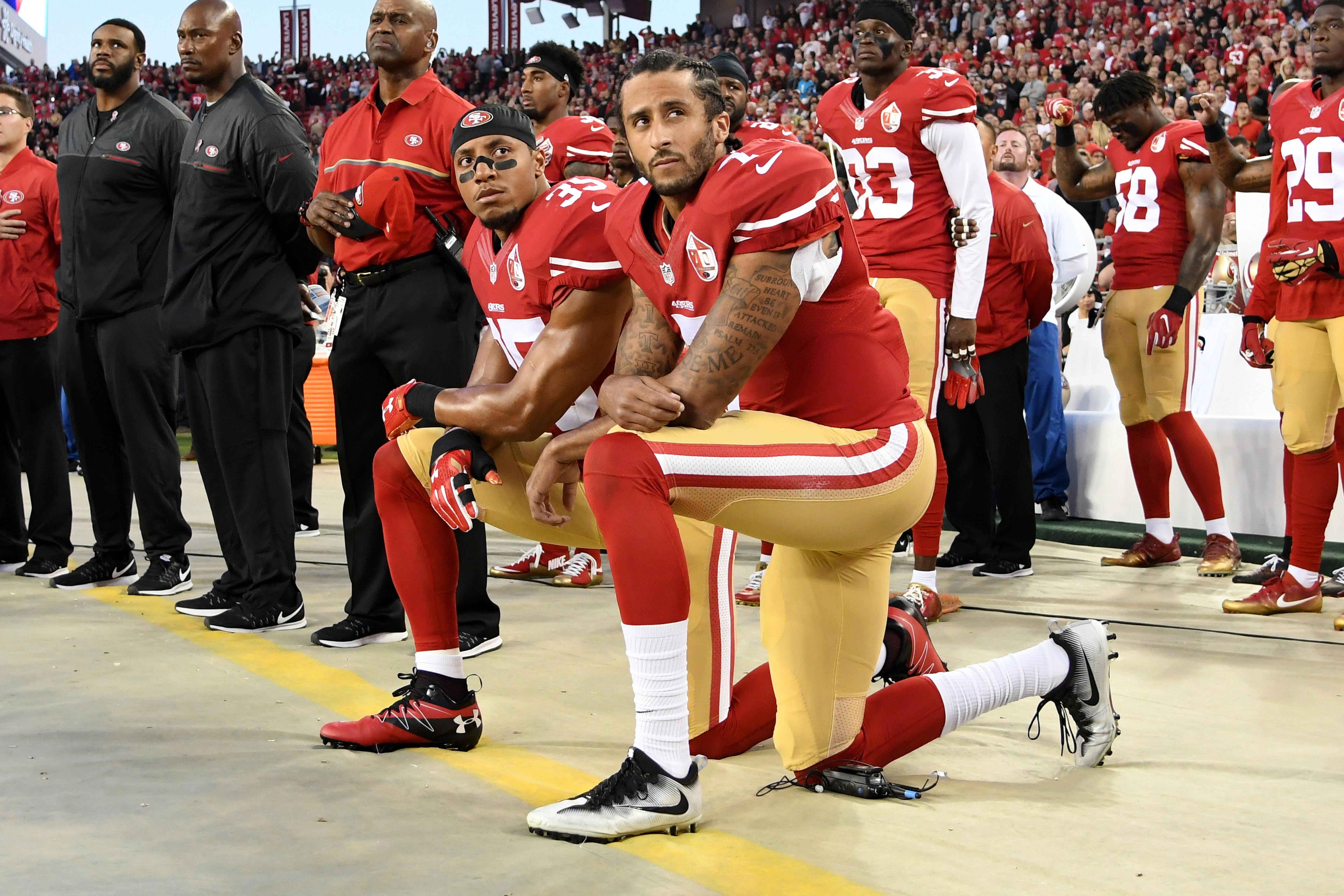 NFL anthem policy sparks questions; Trump suggests kneeling players shouldn't be in U.S.
ATLANTA -- With its popularity threatened and critics stretching all the way to the White House, the NFL just wanted to get past the debate over taking a knee during the national anthem. Put the focus back on football. Instead, the league seemed to muddle the divisive issue even more with a new policy that stirred up defenders of free speech, prompted a couple of owners to quickly backtrack and raised all sorts of potential questions heading into next season.
After a tumultuous season, NFL owners wrapped up their spring meeting in Atlanta by announcing Wednesday that players would be required to stand for the national anthem if they're on the field before a game, but gave them the option of staying in the locker room if they wanted to carry on the Colin Kaepernick-inspired campaign against police brutality and social injustice.
Commissioner Roger Goodell called it a compromise that respected the wishes of everyone, from those who consider "The Star-Spangled Banner" a sacred part of the American experience to those who believe the right to protest during the anthem is also in the best tradition of a free but imperfect society.
Yet, it was clear to everyone that the owners wanted to quell a firestorm by moving any further protests away from the public eye - especially if it lured back disgruntled fans while appeasing President Donald Trump and his vocal base of support.
Kneel if you like.
But stay out of sight.
"This is a fear of the diminished bottom line," said defensive end Chris Long of the Super Bowl champion Philadelphia Eagles . "It's also fear of a president turning his base against a corporation. This is not patriotism. Don't get it confused. These owners don't love America more than the players demonstrating and taking real action to improve it."
Trump stoked the issue during a political campaign, saying the NFL should fire any players who kneel during the anthem . During an interview that aired Thursday morning on "Fox & Friends," he praised the league for doing "the right thing."
"You have to stand proudly for the national anthem," Trump said. Or "you shouldn't be playing, you shouldn't be there. Maybe they shouldn't be in the country."
Vice President Mike Pence called it "a win for the fans, a win for (the president), and a win for America."
The NFL didn't consult the players' union on its new policy, though Goodell stressed that the league had talked to countless players over the past year and was committed both financially and philosophically to the fight for social justice.
"We want people to be respectful of the national anthem. We want people to stand," Goodell said. "We've been very sensitive on making sure that we give players choices, but we do believe that moment is an important moment and one that we are going to focus on."
In an attempt to quell a potential challenge from the NFL Players Association, the league said any violations of the new rules would result in fines against teams - not individual players.
But the league also gave teams the option of developing their own workplace rules, which many players interpreted as a backhanded way of subjecting them to fines - or worse - should they carry on with the protests.
"If the team says 'this is what we're doing,' and ownership (does too), you either deal with it or you're probably going to get cut," Pittsburgh Steelers guard Ramon Foster said.
The head of the NFLPA, DeMaurice Smith , angrily denounced the NFL's decision and called it a blow against America's most basic rights - freedom of speech.
Since the new policy is a change in the terms and conditions of employment that was not collectively bargained, any attempts to fine individual players would surely be opposed by the union.
"History has taught us that both patriotism and protest are like water; if the force is strong enough it cannot be suppressed," Smith wrote on Twitter. "The CEOs of the NFL created a rule that people who hate autocracies should reject."
But many players are mindful that Kaepernick, who began the protest movement in 2016 during his final year at quarterback for the San Francisco 49ers, didn't play at all last season and still hasn't been picked up by another team . They're also aware of the plight faced by safety Eric Reid, one of Kaepernick's former teammates and another protest leader, who is also out of work with the upcoming season just a few months away.
Both have filed collusion grievances against the NFL .
Washington defensive back Josh Norman said the owners have a right to decide what the players can and cannot do, a sentiment shared by many of his colleagues around the league.
"They've pretty much got the teams," Norman said. "They make those decisions. We've just got to go through with it, I guess."
A handful of outspoken players vowed to carry on the cause, including Eagles safety Malcolm Jenkins.
"I will not let it silence me or stop me from fighting," he said. "This has never been about taking a knee, raising a fist or anyone's patriotism, but doing what we can to effect real change for real people."
While Goodell said the new policy was unanimously approved by the owners, CEO Jed York of the 49ers - Kaepernick's former team - contradicted the commissioner by saying he abstained. York said he didn't feel comfortable making a decision without directly involving the players' union.
New York Jets owner Christopher Johnson took a similar approach. He said his team will pay any fines doled out by the league, without passing on punishment to the players.
"I will support our players wherever we land as a team," Johnson said. "Our focus is not on imposing any club rules, fines or restrictions."
Johnson is serving as the team's acting owner while his brother Woody serves out his term as the U.S. Ambassador to the Britain,
So, what happens next?
The NFL just wants the issue to go away.
Instead, it raised a whole new batch of questions.
Thanks for reading CBS NEWS.
Create your free account or log in
for more features.