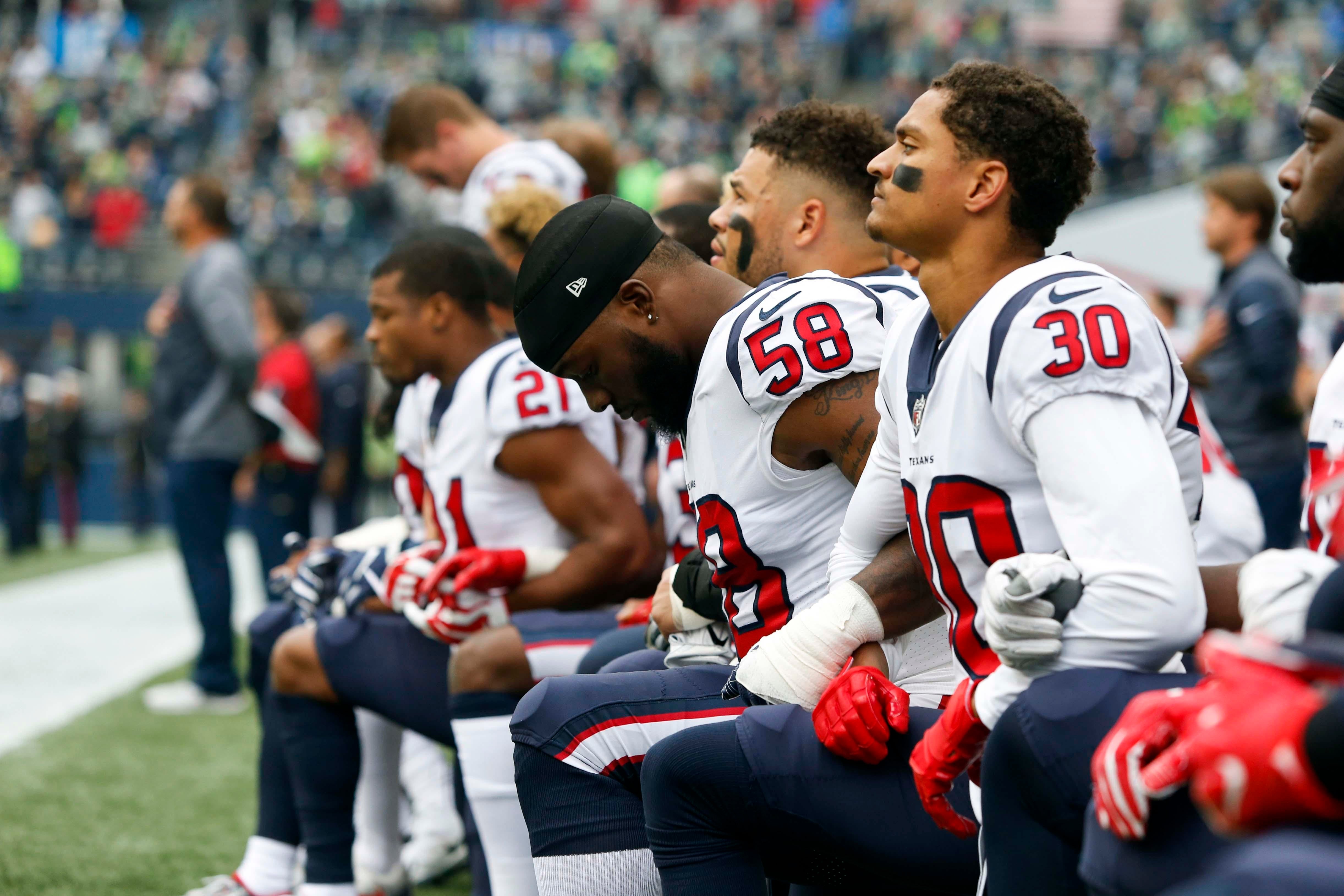 NFL to players: Stand for the anthem or stay off the field
ATLANTA -- NFL owners have approved a new policy aimed at addressing the firestorm over national anthem protests. It permits players to stay in the locker room during the "The Star-Spangled Banner" but requires them to stand -- and not kneel -- if they're on the field.
Kneeling became a focus of NFL games after former San Francisco 49ers quarterback Colin Kaepernick began kneeling during the national anthem in 2016 -- a quiet but powerful protest against police brutality and racial inequities in the justice system. Other players later took up the cause.
On Wednesday, NFL Commissioner Roger Goodell announced the decision on the new policy during the league's spring meeting in Atlanta. He also issued a statement, saying that "efforts by many of our players sparked awareness and action around issues of social justice that must be addressed."
"It was unfortunate that on-field protests created a false perception among many that thousands of NFL players were unpatriotic," he said. "This is not and was never the case."
"We believe today's decision will keep our focus on the game and the extraordinary athletes who play it-and on our fans who enjoy it," he added.
In a sign that players were not part of the discussions, any violations of the policy would result in fines against the team -- not the players. The NFL Players Association said it will challenge any part of the new policy that violates the collective bargaining agreement.
The owners spent several hours addressing the contentious issue, which has reached all the way to the White House.
Last fall, President Trump repeatedly lashed out against the NFL on Twitter for not intervening in the ongoing silent protests carried out by players across the country. In September, he had advice for NFL owners: fire players who kneel.
"That's a total disrespect of our heritage. That's a total disrespect of everything that we stand for," Mr. Trump said at a political rally in Alabama, encouraging owners to act.
In February, in a statement released just hours before Super Bowl LII, he once again called for football fans to stand during the playing of the national anthem as a sign of support for the nation's troops.
As CBSSports.com reports, the protests were never about "disrespecting" the anthem, but were about drawing attention to inequality.
Thanks for reading CBS NEWS.
Create your free account or log in
for more features.