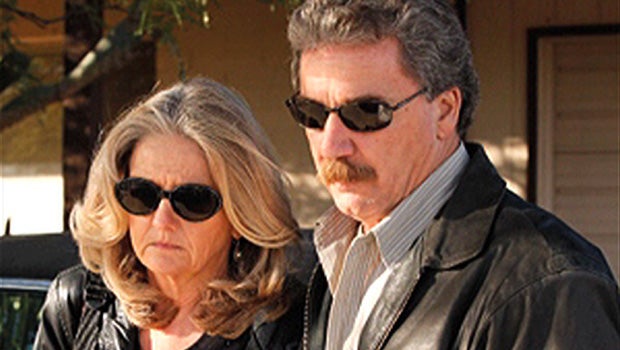 Newly released Jared Lee Loughner files reveal chilling details
(CBS News) After every mass shooting, the same question is asked: Did anyone see it coming?
On Wednesday, for the first time, CBS News learned what the family of Jared Loughner saw in the months before he attempted to assassinate Arizona Congresswoman Gabby Giffords.
Loughner is serving life for shooting Giffords and 18 others as she was meeting with constituents in Tucson. Six of them died.
Full Coverage: Tragedy in Tucson
Jared Lee Loughner grew delusional in months before Tucson rampage, police reports show
At the site of her shooting, Gabby Giffords pushes gun control
Investigators released documents that give us the clearest look yet into the mind of a killer.
In the minutes after the shooting, while many of the victims were still being treated, Jared Lee Loughner calmly told police, "I just want you to know that I'm the only person that knew about this."
He refused to answer questions and asked "to plead the Fifth." In searching Loughner, officers found he was wearing earplugs and carrying two loaded ammunition magazines in his left front pocket.
The details come from more than 2,700 pages of newly released police files, which include pictures of Loughner's 9mm Glock, witness statements and transcripts of 911 calls.
"There are multiple shot," a caller says.
"Okay, oh my God," the dispatcher responds.
Interviews with Loughner's parents revealed they were deeply concerned about their son's increasingly angry and erratic behavior. His mother, Amy Loughner, said he no longer used alcohol and had tested negative for drugs.
"My concern was like, meth or something ... because his behavior and his, was, um, odd," she said in one of the interviews.
Randy Loughner said he was so concerned, he took away Jared's shotgun and often disabled Jared's car at night to prevent him from leaving the house.
Just hours before the shooting, Randy Loughner said he tried to confront his son.
"He came in and I wanted to talk to him. And he took off," he said. He was carrying a backpack.
Witness interviews document repeated horror stories and a chaotic shooting scene. Giffords' intern Daniel Hernandez told police he began treating the congresswoman.
"She was conscious," Hernandez said. "Her breathing started getting shallower." In an interview this afternoon, Hernandez remembered trying to keep her alive.
"I was trying to keep Gabby calm, talking to her, giving her instructions to squeeze my hand ... I was talking about her responding to commands and trying to listen to what I was saying."
And one of the most chilling pieces of evidence is a voicemail, first played by "60 Minutes" in January 2011. At 2 a.m., eight hours before the shooting, Loughner left this message for a friend he'd not spoken to in nearly a year:
"Hey. Hey, it's Jared. I just want to tell you good times. Peace out. Later."
The papers also reveal Loughner did not seek mental health treatment. When he was expelled from college, his parents were urged to have him evaluated, but they never followed up.
Thanks for reading CBS NEWS.
Create your free account or log in
for more features.