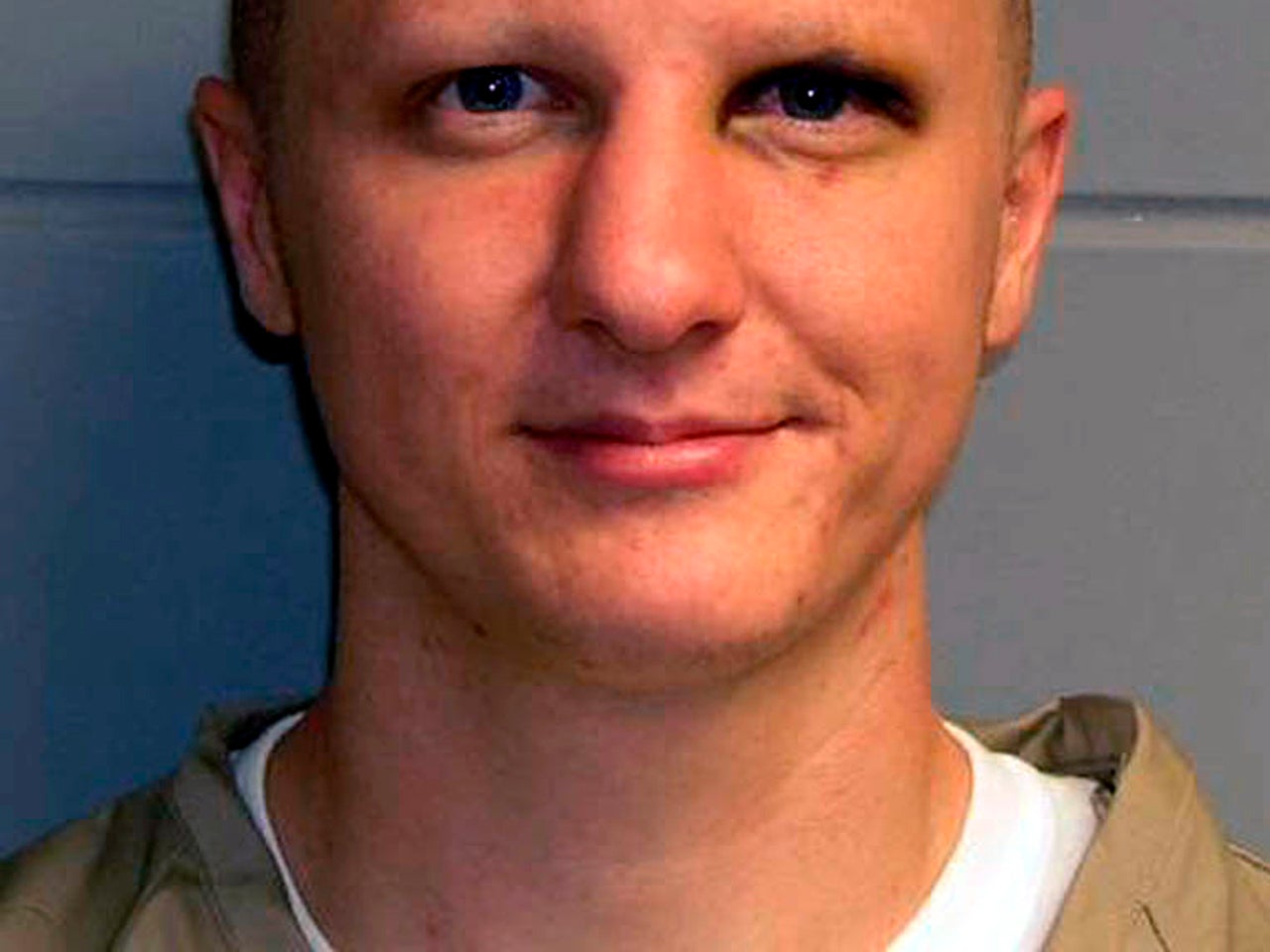 Jared Lee Loughner grew delusional in months before Tucson rampage, police reports show
Updated at 6:28 p.m. ET
PHOENIX Documents released Wednesday detailing the shooting of former Rep. Gabrielle Giffords show how the gunman had grown increasingly erratic and delusional in the months leading up to the rampage as he alienated friends and family and became paranoid that police were out to get him.
The roughly 2,700 pages included witness and survivor accounts from people who helped save Giffords' life after she was shot in the head outside a Tucson supermarket in 2011 during a meet-and-greet with constituents. Six people were killed and 11 others were wounded.
Giffords said the release of the reports shows that the "mentally disturbed" shooter should have never had access to a gun. In a statement released Wednesday by the gun control advocacy group she started with her husband, Giffords said "no one piece of legislation will end all gun violence." But she hopes "commonsense policies like universal background checks" are enacted.
The files also provide the first glimpse into gunman Jared Lee Loughner's family. His parents have said nothing publicly beyond a brief statement after the attack, but records show they were trying to deal with a son who had grown nearly impossible to communicate with.
"I tried to talk to him. But you can't. He wouldn't let you," his father, Randy Loughner, told police. "Lost, lost and just didn't want to communicate with me no more."
"Sometimes you'd hear him in his room, like, having conversations," said his mother, Amy Loughner. "And sometimes he would look like he was having a conversation with someone right there, be talking to someone. I don't know how to explain it."
Randy Loughner said his 24-year-old son had never been diagnosed with mental illness. Despite recommendations from officials at Pima Community College, which expelled Loughner, that he undergo a mental evaluation, his parents never followed up.
However, Loughner's parents grew worried enough about their son that they drug tested him.
The results were negative, said Amy Loughner, who was particularly worried that her son might have been using methamphetamine.
She said Loughner had told his parents that he had not had a drink of alcohol in five months but that he had tried marijuana and cocaine in the past.
The father said his son kept journals, but they were written in an indecipherable script.
Several weeks before the shooting, Loughner visited Anthony George Kuck, who had known him since preschool. Kuck said he was alarmed to find he had shaved his head and was armed with a handgun.
"I kicked him out of my house because he showed me his gun," Kuck told police, adding that Loughner said he bought it for protection.
"I tried to talk to him about why it's not smart to have a gun," Kuck said. "He obviously didn't listen to me."
Kuck told police he had seen Loughner's mental state deteriorate over time, starting with drinking problems in high school, trouble with authorities and being kicked out of college, noting Loughner had gotten tattoos of bullets and a gun on his shoulder.
"I know he has some crazy thoughts where he ... just believes the government is corrupt, and he has all these assumptions on things, that he doesn't really know what he's talking about," Kuck told investigators.
While he never heard him mention Giffords "he just seemed to have some kind of ... hate for government," Kuck added.
Kuck's roommate, Derek Andrew Heintz, who has known Loughner since he was about 12, said he was cooking when Loughner showed up with a gun and removed it from his belt. It was loaded with 32 rounds.
He asked Loughner why he had the weapon. "There's no need for it here," Heintz told him.
"I just want to show you," Loughner replied.
Loughner then left Heintz with a souvenir — one bullet.
On the day of the Jan. 8, 2011, shooting, a friend, Bryce Tierney, told investigators Loughner called him early in the morning and left a cryptic voice mail that he believed was suicidal.
"He just said, 'Hey, this is Jared. Um, we had some good times together. Uh, see you later.' And that's it," Tierney said.
He recalled for detectives a time when Giffords visited Pima Community College, where the two attended classes together.
Loughner asked her, "What is government and stuff?" Tierney said. "She couldn't give him the answer. ... I feel like he had ... something against Gabrielle Giffords."
Tierney also described Loughner's apparent spiral into madness, saying his behavior was growing strange "in a dark way." He said Loughner would send him text messages that he called "nihilistic ... the belief in nothing."
Onetime Loughner friend Zachary Osler also described the shooter's increasing isolation from his other friends and acquaintances in the years leading up to the shooting.
He explained how he worked at a sporting goods store where Loughner bought the Glock 9 mm handgun used in the shooting. He was questioned about seeing Loughner shopping there, sometime before Thanksgiving, and described his awkward encounter with the man.
"His response is nothing. Just a mute facial expression. And just like he, he didn't care," Osler told authorities.
Osler also told investigators he had grown uncomfortable with Loughner's strange personality.
"He would say he could dream and then control what he was doing while he was dreaming," Osler said.
Still, he said he was shocked to learn Loughner had carried out such an attack.
"And I was like, 'I know this person. Why would he do it? What would his motive be?"' he added, noting that Loughner had never mentioned Giffords in the past.
When he was arrested at the scene, Loughner was wearing peach-colored foam earplugs, authorities wrote in the documents. He was polite and cooperative as detectives began their hours-long initial interview.
As Loughner sat in restraints in an interview room, the conversation was confined mainly to small talk. Little was said over the first four hours. Loughner asked if he could use the restroom, then at one point complained he felt sore.
"I'm about ready to fall over," he said.
Giffords intern Daniel Hernandez described how constituents and others were lining up to see Giffords that morning. He helped people sign in and recalled handing the sheet on a clipboard to Loughner.
"The next thing I hear is someone yell, 'Gun,"' said Hernandez, who rushed to tend to Giffords' gunshot wound to the head.
"She couldn't open her eyes. I tried to get any responses from her. It looked like her left side was the only side that was still mobile," Hernandez told authorities. "She couldn't speak. It was mumbled. She was squeezing my hand."
Hernandez explained how he had some training as a nurse and first checked for a pulse.
"She was still breathing. Her breathing was getting shallower," he said. "I then lifted her up so that she wasn't flat on the ground."
The documents detailing the event and ensuing investigation had been kept private until being released by the Pima County Sheriff's Department.
News organizations seeking the records were repeatedly denied access in the months after the shooting and the arrest of Loughner, who was sentenced in November to seven consecutive life sentences, plus 140 years, after he pleaded guilty to 19 federal charges.
Last month, U.S. District Judge Larry Burns cleared the way for the release of the records after Star Publishing Company, which publishes the Arizona Daily Star in Tucson, sought their release. The judge said Loughner's fair-trial rights were no longer on the line now that his criminal case has resolved.
Loughner's guilty plea enabled him to avoid the death sentence. He is serving his sentence at a federal prison medical facility in Springfield, Mo., where he was initially diagnosed with schizophrenia and forcibly given psychotropic drug treatments.
Arizona's chief federal judge and a 9-year-old girl were among those killed in the rampage. Giffords was left partially blind, with a paralyzed right arm and brain injury. She resigned from Congress last year and has since started, along with her husband, a gun-control advocacy group.
The Star said it wanted the records because they contain information about how a mass shooting occurs, including how long it took Loughner to fire gunshots — an issue raised by some advocates in the debate over high-capacity pistol magazines.
Phoenix Newspapers Inc., which publishes The Arizona Republic, and KPNX-TV had joined Star Publishing in the latest effort to get the records released after The Washington Post's initial request was denied in March 2011.
Thanks for reading CBS NEWS.
Create your free account or log in
for more features.