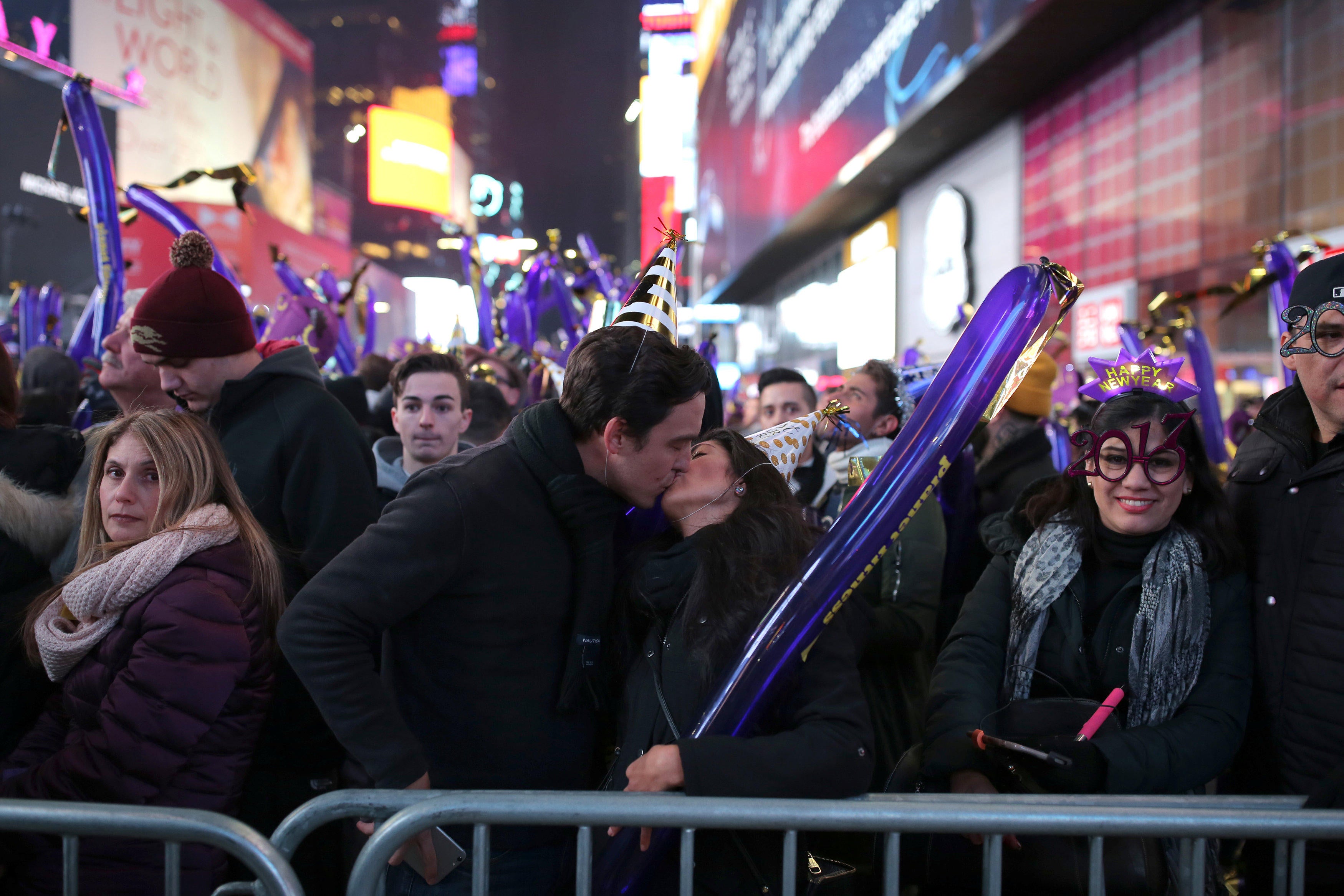 "The energy here is like out of control": Times Square kicks off American New Year celebrations
NEW YORK CITY -- An estimated 2 million people ushered in the new year in Times Square, screaming and kissing as the glittering crystal ball dropped.
And millions more tuned in to watch Mariah Carey's botched performance.
The celebration came as a major terror attack struck a New Year's celebration overseas. Early Sunday morning local time, a gunman believed to have been dressed as Santa Claus opened fire at a nightclub in Istanbul and killed at least 35 people.
Police emphasized there were no credible threats targeting New York and Times Square, and revelers with their balloons and high spirits were not deterred, CBS New York reports.
In the other legendary party city, Las Vegas, brides walking to wedding chapels fielded warm wishes from strangers on the sidewalk and a cover band gave slot players a soundtrack to usher in the new year.
More than 300,000 visitors are expected to descend on Las Vegas for an extravagant party that features some of the biggest names in music and an eight-minute fireworks show launched from the tops of half a dozen casinos, CBS affiliate KLAS reports.
Meanwhile, President-elect Donald Trump attended his annual bash at the Mar-a-Lago golf club, where he took a few minutes to tell reporters that his New Year's resolution is to "make America great again."
In New York City's Times Square, throngs arrived several hours ahead of time for the massive festivities. When night fell, the crowd watched as workers raised and lit the Waterford crystal ball high above One Times Square — to the accompaniment of "Fanfare for the Common Man."
The crowd was later treated to performances by Gloria Estefan and Joe Jonas' band DNCE, among others. Many revelers said there was nowhere else they would want to be.
"(I said), 'I'm going to New York to watch the ball drop, yeah,' and I'm here!" said Theresa Abraham of Arlington, Virginia.
After a very long wait, many revelers said it was worth it.
"Probably not again, but like it's a bucket list item," said Ammon Orgill of San Francisco. "You have to do it once. It's so fun. The energy here is like out of control. You're just like with tons of other crazy people – it's totally worth it!"
Some revelers got in before noon – and even before dawn – to see the festivities.
Meghan and Madison are in town from Atlanta with friends. Last year, they arrived too late to get in, so this year, they got to the party nice and early — at 6 a.m.
"Last year I was late. I got here at 7 p.m. so I missed it all," Meghan said.
Stefania Moran, from Puebla, Mexico, and five friends traveled to New York to secure a coveted spot in one of 35 metal pens where re-entry was prohibited.
"I've always wanted to come to New York, and this is one of the must-dos before you die," she said.
Dozens of 20-ton sanitation trucks weighted with an extra 15 tons of sand blocked off streets leading to the celebration zone to avoid the possibility of a truck attack like those in Germany and France in recent months. About 7,000 police officers, along with specially armed counterterrorism units and bomb-sniffing dogs, were on guard.

NYPD Commissioner James O'Neill told CBS New York that his department is well-prepared.
"We're absolutely ready for it. We've been preparing for this since January 2 of 2016. This is an event that we do well. We're well-versed in this. We have a lot of large events in New York City every year, and this is one of the biggest along with Thanksgiving and Fourth of July," O'Neill said.
Chief of Department Carlos Gomez explained the tight security this year – including the sanitation trucks full of sand and much more.
"We have thousands of officers here in Times Square, as well as in other venues throughout the city. As you see, you walk nearby, you'll see an officer within 10 or 15 feet. We have several ways of screening – you get screened before you enter Times Square, and before you enter the pen, you will be screened," Gomez said.
O'Neill noted that his own family was coming to Times Square Saturday night.
"I'm bringing some of my nieces and nephews down to Times Square tonight. My two sons are busy – they're doing other things – but I look forward to it," he said. "And if you're coming down here, just know that the NYPD is going to do what they get paid to do, and that's to keep the people of this city safe."
In Las Vegas, federal officials have ranked the celebration just below the Super Bowl and on par with the festivities in Times Square, CBS affiliate KLAS reports. FBI and Secret Service agents will work alongside local police departments that are putting all hands on deck for the big night.
"We are very concerned about safety," said 35-year-old tourist Jonathan Potwana, who was visiting Las Vegas from South Africa and snapped a picture with a group of uniformed officers milling outside of downtown bars. "When we see visible policing, we feel much safer."
The heart of the Las Vegas Strip was closed to vehicle traffic starting Saturday evening so pedestrians could stroll the famous boulevard in the misty weather that was expected to drop to the mid-40s around midnight.
Police ramped up barriers this year to prevent cars from reaching partiers, and a new county ordinance prohibited large bags, strollers, backpacks and glass bottles on the Strip for the party. Las Vegas police spokeswoman Laura Meltzer said there were no significant incidents reported as of two hours before the new year, but officers had to remind people of the bag rule, which aimed to prevent people from hiding dangerous items.
Clark County fire officials said they took seven people from the Las Vegas Strip area to the hospital over the course of the evening, although none of the injuries appeared to be life-threatening.
A fireworks show synchronized to music - including the standard Auld Lang Syne and Prince's "Let's Go Crazy" - was planned for midnight. Revelers can watch the spectacle from unusual vantage points, including from the windows of a helicopter tour and the cabin of the High Roller, the world's tallest observation wheel.
Casinos are pulling out all the stops for the holiday. Headliners at Las Vegas' swanky nightclubs include DJ Calvin Harris, rappers T-Pain and Kendrick Lamar and artists Drake and Bruno Mars.
At a lower-key celebration in downtown Las Vegas' casino-flanked Fremont Street Experience, bands played under a video canopy while visitors sipped giant beers. Ken and Linda Troyan of Peoria, Illinois were decked in a light-up "Happy New Year" hat and "2017" glasses as they took in a concert.
"We're looking forward to a new adventure in our career," said Linda Troyan, 54. She added, "2017's going to be awesome."
The couple said they're excited to expand their carpet cleaning business and do renovations on their home in the new year.
Some tourists said 2016 was a year of disappointment. Colorado Springs resident Virginia Quill, 54, said she wished she had a better-paying job in 2016 and wasn't thrilled that Donald Trump won the presidency.
But even those who troubled by the political climate were finding a silver lining as they looked toward 2017.
"Our president-elect has got to stop running his mouth ... he looks like he wants a war," said Albany resident Mike Mogavero, 47, who was spending New Year's Eve with his wife Marissa. "That same bravado might actually get things done."
Thanks for reading CBS NEWS.
Create your free account or log in
for more features.