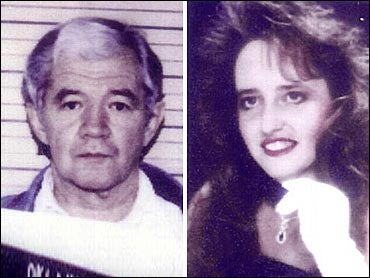 New Twist In Case Of Warden's Wife
The case of the warden's wife who lived with fugitive killer Randolph Dial for more than 11 years has taken a bizarre turn with news that a second woman aided Dial during his years on the lam.
The woman, who is in her 70s, told the Dallas Morning News that Dial threatened to harm her family if she didn't take Bobbi Parker, the warden's wife, on errands.
Parker has told authorities a similar story; that she stayed with Dial because she feared he would harm her family. Parker was abducted by Dial in 1994 when he escaped from an Oklahoma prison.
"I knew the kind of threats she was living under for herself and for her family, because, damn it, I was living under the same kinds of threats," said the woman, who has known Dial since she was one of his teachers at a Houston-area high school more than 40 years ago.
The woman told her story to the newspaper on condition that her name not be published.
"The people that blow their heads about, 'Oh, she could've gotten away.' They don't know him."
She said she still fears Dial and his claims of underworld ties and his threats to hurt her loved ones.
Police acting on a tip arrested Dial on April 4 at a chicken farm near Center, Texas, where the couple lived and worked. Parker has since been reunited with her husband and her two daughters, who were 8 and 10 when she disappeared from the prison grounds in Granite in southwestern Oklahoma.
The schoolteacher said she regularly accompanied Bonnie Parker on shopping trips. She said Dial would dictate a grocery list that always began with beer, cigarette tobacco and jug wine.
The women were given a strict timetable for the trip. Dial always took whatever change was left over from Parker when they returned.
The schoolteacher described Dial as a troubled student she had tried to help. Intermittently over the years that followed their meeting in high school, the teacher helped Dial in response to threats against her family.
In 1999, she said, some five years after Dial escaped, the killer called her "out of the blue" and summoned her to a farm where he was then living with Bobbi Parker.

The teacher told the newspaper that she and Parker came up with plans to escape at least three times, but would talk each other out of making the attempt
The teacher said she and the warden's wife were powerless.
"She was like a frightened bunny," the teacher recalled of the first time she met Parker. She said Dial summoned her to Crockett in 1999, just after she had moved back to East Texas. The teacher said she immediately knew the woman was the warden's wife.
The teacher said Parker did whatever Dial said.
Parker later told the teacher that Dial had drugged her initially to keep her docile. Dial also told Parker that her husband and children would reject her as convict trash if she ever tried to go home, the teacher said.
"He worked on her constantly," the teacher said.
Investigators from several police agencies that tracked down Dial said the teacher was one of two friends Parker contacted immediately after she was found.
"I got the impression that, yes, she knew," said Nacogdoches County Justice of the Peace Donna Clayton, a reserve sheriff's deputy brought in by the FBI and Texas Rangers to stay with Parker after Dial's arrest.
"I felt like once she was coerced into doing what she did, she became attached," Clayton said of the teacher. "She couldn't get out, either."
Dial, 60, and Parker, 42, lived on the chicken farm as Richard and Samantha Deahl. Dial told reporters he had abducted Parker at knifepoint and kept her from fleeing by threatening to hurt her family.
Parker, 42, was reunited with her husband, Randy, a prison warden at Fort Supply, Okla. He said his wife hasn't talked about what she endured but has said the teacher helped her "through some very difficult times." He is convinced that both women were "paralyzed" by fear.
"People don't understand how gripping that fear is," Randy Parker said. "People who haven't lived with it can't understand."

Thanks for reading CBS NEWS.
Create your free account or log in
for more features.