Thousands of flights were canceled, students got an extra day off from school or were being sent home early, and the federal government closed its offices in the Washington area Tuesday as a winter storm bore down on the Mid-Atlantic and Northeast.

The storm stretched 1,000 miles between Kentucky and Massachusetts but was expected to hit hardest along the heavily populated Interstate 95 corridor between Philadelphia and Boston, creating a perilous commute home for millions of motorists.

It was blamed for at least one death in Maryland after a car fishtailed into the path of a tractor-trailer on a snow-covered road about 50 miles northwest of Baltimore. The car's driver was thrown from the vehicle.


In Campbelltown, Pa., Ralph Duquette kept close tabs on the weather because his wife needed to go to Washington's Dulles Airport for a flight to London. But those plans were thrown into doubt when an 18-wheeler went into a ditch, hindering her route to the airport.

She was trying instead to get a flight out of Newark, N.J., but Duquette added: "Don't think she's going to get there."


The National Weather Service said the storm could bring 10 to 14 inches of snow to Philadelphia and southern New England and up to a foot in New York City, to be followed by bitter cold. Cold air with wind chills as low as 10 degrees below zero was forecast.

It warned of heavy winds and hazardous driving conditions as the storm moved up the East Coast.
Terry Eliasen, meteorologist and weather producer of CBS Boston station WBZ, reports that between 5 p.m. and 11 p.m. Eastern time Tuesday evening, the snow will overspread the entire region and begin to ramp up in intensity. By Wednesday, the wind chill is expected to be sub-zero in New York and Boston and wind chill advisories are in effect for parts of 26 different states.

More than 3,000 flights Tuesday were canceled, with airports from Washington to Boston affected, according to flight-tracking site Flightaware.com. An additional 885 flights for Wednesday were already called off. Amtrak planned to cut back train service in the afternoon.

Schools in Pennsylvania, New Jersey, Connecticut, Virginia, West Virginia and Kentucky stayed closed for an extra day after the Martin Luther King Jr. Day holiday. Some parents kept their kids home even if their schools were open, unwilling to put them on slippery roads.
A winter storm warning was issued beginning at noon Tuesday for the five boroughs of New York City, the northern suburbs, all of Long Island, most of New Jersey, and southern and eastern Connecticut, reported CBS New York station WCBS-TV.
The warning continues until 6 a.m. Wednesday.
Philadelphia and its adjacent counties, as well as South Jersey and Delaware, were probably going to see 5-10 inches of snow, reported CBS Philadelphia station KYW-TV.
The rush to get home early by many workers was evident in Philadelphia, where many commuter trains were packed.

Standing in Philadelphia's LOVE Park with snow swirling around her, visitor Jenn Byrne of Portland, Ore., said the nasty weather put a crimp in her plans to do a "giant walking tour" of the city. But she vowed to soldier on, taking cabs instead of trudging. She wasn't wearing snow boots.
"I'll keep going. Just the means of transportation will change a bit," Byrne said.
Others shrugged off the snow as well.
In Herndon, Va., where voters were casting ballots in a special election that was likely to determine control of the state Senate, Earlene Coleman said she felt obligated to make her selection: "It only made sense to come out and do my duty."
Construction worker Tony Cockrell, stopping for coffee at a Hagerstown, Md., gas station, said he planned to continue driving to work sites in western Maryland and northern Virginia to supervise the installation of insulation in building projects.
"If you don't work, you don't get paid," he said, adding that deep cold is good for business. "We're trying to get stuff insulated so it doesn't freeze up."

The northern half of Ohio was under a wind chill advisory and commuters were being warned about dangerous driving conditions as temperatures plummeted and snow was expected to blanket much of the state. Several counties in the area were under snow advisories because of snowy or icy roads, as were some counties in southern Ohio.
The mercury was expected to fall as low as 10 degrees as far south as Georgia and Alabama, with wind chills as low as 10 below zero.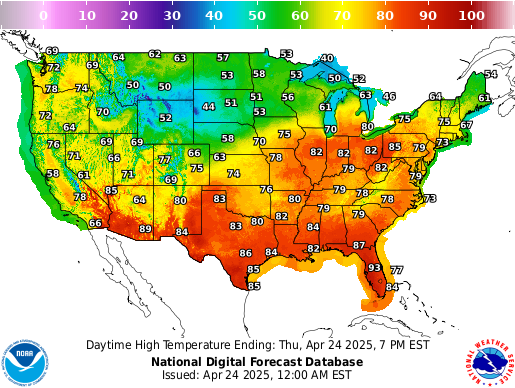 New Jersey Gov. Chris Christie was forced to modify his schedule of inaugural events - canceling an evening party on Ellis Island - because there was fear snow would make travel dangerous. Both chambers of Delaware's General Assembly canceled sessions as the storm approached.
The Pennsylvania Department of Transportation reduced speeds on interstates and other major roads, and said it had already blown through more than half of its $189 million winter weather budget.
"Lots of nuisance storms this season have meant that PennDOT crews have been plowing and treating roads more frequently this winter," agency spokeswoman Erin Waters-Trasatt said.

With federal workers given the day off, Tom Ripley, who works at a Washington hardware store, said his morning commute was cut in half because "there was almost no one on the road." He said the store was jammed Monday as customers stocked up on ice melt and shovels.
"Nobody prepares because we never get any snow, so the slightest chance of it, everybody freaks out," Ripley said.