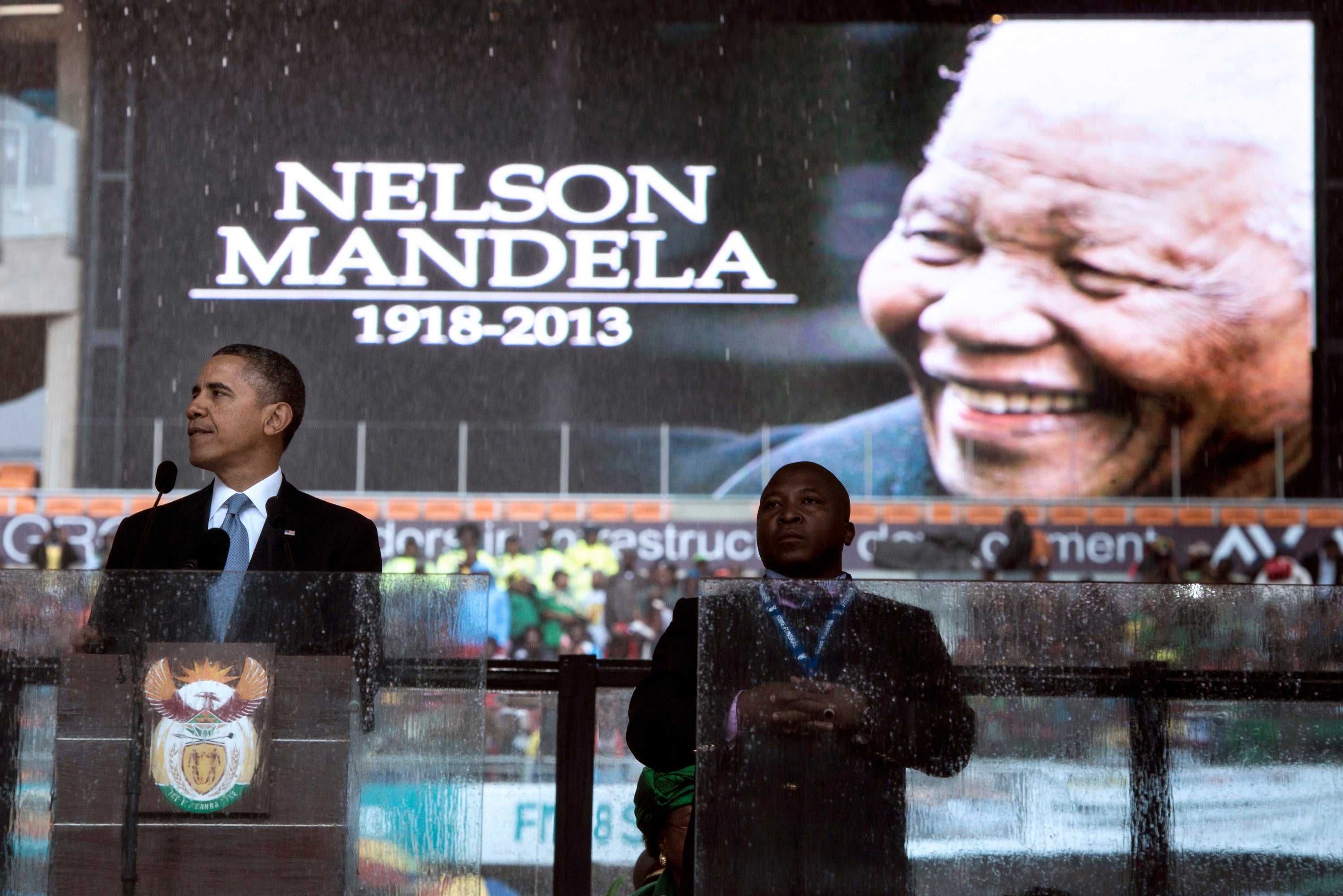 Nelson Mandela memorial service draws thousands to rain-soaked Soweto stadium
JOHANNESBURG -- Joyous, singing South Africans and dozens of foreign dignitaries gathered in the rain Tuesday to honor Nelson Mandela at a massive memorial service that drew some 100 heads of state and other luminaries, united in tribute to a global symbol of reconciliation.
Crowds converged on FNB Stadium in Soweto, the Johannesburg township that was a stronghold of support for the anti-apartheid struggle that Mandela embodied as a prisoner of white rule for 27 years and then during a peril-fraught transition to the all-race elections that made him president.
President Obama landed in South Africa early Tuesday. He attended the service in Soweto alongside three of his predecessors, George W. Bush, Bill Clinton and Jimmy Carter. Besides Mr. Obama, eulogies were delivered by U.N. Secretary-General Ban Ki-moon, Chinese Vice President Li Yuanchao and Cuban President Raul Castro.
When President Obama and First Lady Michelle Obama were shown on monitors inside the stadium taking their seats, a loud cheer erupted from the crowd -- not doubt relishing the symbolism of the first black President of the United States of America coming to pay his respects to Mandela.
Taking the podium, Mr. Obama lauded the late South African leader, whom he has said was a great personal inspiration, as "a giant of history who moved the nation toward justice and, in the process, moved billions around the world."

He was, according to the American president, "the last great liberator of the 20th century."
Mr. Obama went on to praise Mandela for entrenching the principles of democracy in the country which had for so long been ruled by an elite white minority, saying his "commitment to democracy and the rule of law, (was) ratified not only by his election, but by his willingness to step down form power after only one term."

In spite of his praise for Mandela, Mr. Obama noted that the characteristic which made him such a lasting inspiration to so many around the world was that he "insisted on sharing his miscalculations along with his victories... he could admit to imperfections."

Concluding his remarks, President Obama said, "while I will always fall short of Madiba's example, he makes me want to be a better man... Let us search for his strength, let us search for his largeness of spirit somewhere inside of ourselves."


Other speakers included the presidents of Brazil, Namibia and India, as well as tributes from Mandela's grandchildren. South African President Jacob Zuma gave the keynote address. In contrast to the wild applause given to Obama, South African President Jacob Zuma was booed. Many South Africans are unhappy with Zuma because of state corruption scandals, though his ruling African National Congress, once led by Mandela, remains the front-runner ahead of elections next year.


Former Archbishop Desmond Tutu, who fought alongside Mandela to end apartheid, encouraged the crowd present at the memorial service to "follow his example," before offering a prayer.

"I stand here as an old man and I want to remind you that we fought to be at this point because we were disciplined," Tutu said while imploring the crowd to stand in remembrance.




In spite of driving rain and cold temperatures, crowds of South Africans spontaneously broke out in song and dance around the FNB Stadium, chanting words of respect and adoration for the man whom many in the country revered as a father or grandfather figure. His nickname, Tata Madiba, could be heard echoing from the jubilant crowds.

CBS News correspondent Debora Patta explained that, far from dampening spirits, the rain would be seen by many as a blessing; a sign of a life well lived.

John Carlin, who has written two books on Mandela's life, including the recently published "Knowing Mandela," told CBS News from inside the stadium that the mood was "absolutely exhilarating."

"It's supposed to be a funeral service," said Carlin, "but you've never seen a funeral service like it. People are so proud and so grateful that he was with us, with us in our hour of need.We're just so, so proud and happy."

Carlin, who spent years in South Africa documenting Mandela's life, said the crowds in the stadium were filling the vast building with joyful noise. "The natural choral faculty that these crowds have -- you get these sort of crashing waves of song, and it's just exhilarating, and it's a funeral!"

I would not have the life I have today if it was not for him," said Matlhogonolo Mothoagae, a postgraduate marketing student who arrived hours before the stadium gates opened. "He was jailed so we could have our freedom."

Carlin noted that the only moments during the memorial service when the jubilant atmosphere was interrupted, were when President Zuma appeared on the huge monitors inside the stadium.

Zuma, in the words of Carlin, is a leader from Mandela's own ANC political party who is now "creaking under the weight of allegations of corruption and cronyism... The comparisons to him and Mandela are not very favorable at all." Zuma was to give his keynote address later in the memorial service.


Rohan Laird, the 54-year-old CEO of a health insurance company, said he grew up during white rule in a "privileged position" as a white South African and that Mandela helped whites work through a burden of guilt.
"His reconciliation allowed whites to be released themselves," Laird said. "I honestly don't think the world will see another leader like Nelson Mandela."

Workers were still welding at a VIP area as the first spectators arrived amid an enormous logistical challenge of organizing the memorial for Mandela, who died Dec. 5 in his Johannesburg home at the age of 95.

Tuesday was the 20th anniversary of the day when Mandela and South Africa's last apartheid-era president, F.W. de Klerk, received the Nobel Peace Prize for their efforts to bring peace to their country.

Mandela said in his acceptance speech at the time: "We live with the hope that as she battles to remake herself, South Africa will be like a microcosm of the new world that is striving to be born."

The sounds of horns and cheering filled the stadium ahead of the ceremony. Rain sent those who arrived early into the stadium's covered upper deck, and many of the lower seats were empty.

People blew on vuvuzelas, the plastic horn that was widely used during the World Cup soccer tournament in 2010, and sang songs from the era of the anti-apartheid struggle decades ago.

"It is a moment of sadness celebrated by song and dance, which is what we South Africans do," said Xolisa Madywabe, CEO of a South African investment firm.

The soccer venue was also the spot where Mandela made his last public appearance at the closing ceremony of the World Cup. After the memorial, his body will lie in state for three days at the Union Buildings in Pretoria, once the seat of white power, before burial Sunday in his rural childhood village of Qunu in Eastern Cape Province.

Police promised tight security, locking down roads miles around the stadium. However, the first crowds entered the stadium without being searched.

CBS News correspondent Bill Whitaker, also covering the memorial from inside the stadium, told CBS This Morning that on Wednesday, Mandela's body was to be moved to Pretoria where it will lie in state until a more private burial ceremony in the late president's ancestral village of Qunu on Sunday.




Thanks for reading CBS NEWS.
Create your free account or log in
for more features.