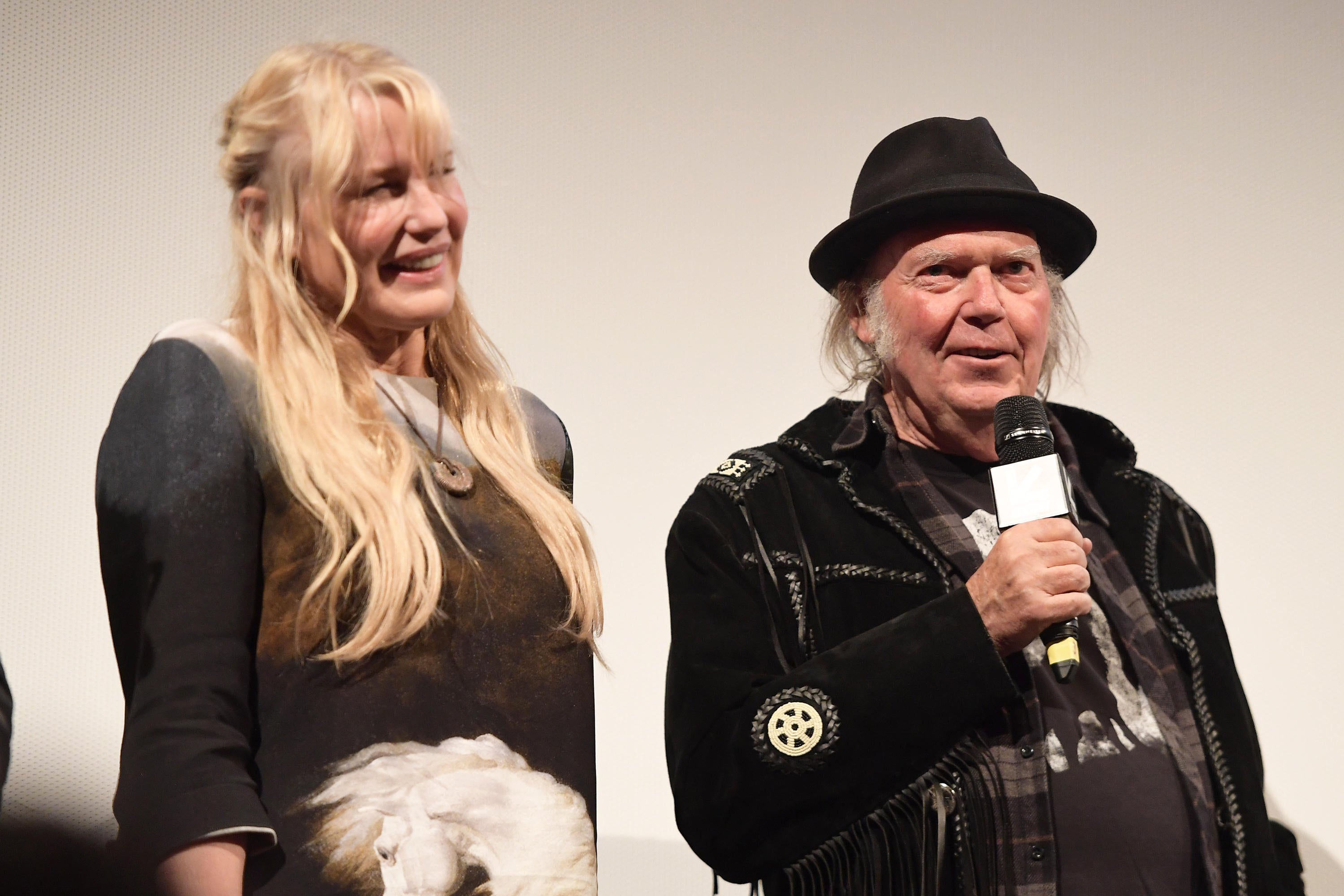 Neil Young confirms marriage to Daryl Hannah
Neil Young has confirmed that he and Daryl Hannah are married. In August, it was reported that Young and Hannah had tied the knot, but neither of them confirmed the news until Young casually referred to Hannah as his wife on his website.
The "Harvest Moon" singer posted a new video for his song, "Ohio," on his website and wrote that "my wife Daryl and I" had made the video together to urge fans to vote. He talked about how the song, which he wrote nearly 40 years ago, has stayed relevant today.
"'Ohio' was written back in 1970 after seeing the cover of a magazine with a young girl kneeling beside her fallen friend," he explained. "When the National Guard murdered four students at Ohio's Kent State University for protesting the Vietnam War, it was a pivotal moment in our history. It was a pivotal moment for me. Today we see what we have become. With no real laws protecting us from guns, and with politicians supporting the NRA because the NRA supports them, we are not well represented. Today's students are brave, demanding change in violent times. My wife Daryl and I put this video together for you to reflect on. Give us common sense gun laws that protect our people, in schools, in places of worship, in the workplace and on the streets. VOTE."
In August, the actress and the singer-songwriter, who have been dating since 2014, reportedly wed in a top-secret ceremony near San Luis Obispo, California, according to Page Six.
Page Six reported that Young intentionally planned a time when the moon would be nearly full so he could serenade her with "Harvest Moon." The couple reportedly had 100 guests, and the only celebrities on the list were Joni Mitchell and Stephen Stills. Guests were reportedly asked to keep the nuptials under wraps and not let any local hotels know why they were there; they were also asked to leave their phones and cameras at their hotel, per Page Six.
This is not the first time Hannah and Young have gotten political together. In 2014, the two teamed up for the environmentalist documentary, "Petropolis: Aerial Perspectives on the Alberta Tar Sands." They also led a Keystone XL Pipeline protest in Washington, D.C., that year in April, before Young filed for divorce that July from Pegi Young, his wife of 36 years.
Young said of the media attention surrounding his relationship, "We didn't pay any attention to that. It doesn't matter. We don't give a s ** t . . . What matters is us, not the press."
Thanks for reading CBS NEWS.
Create your free account or log in
for more features.