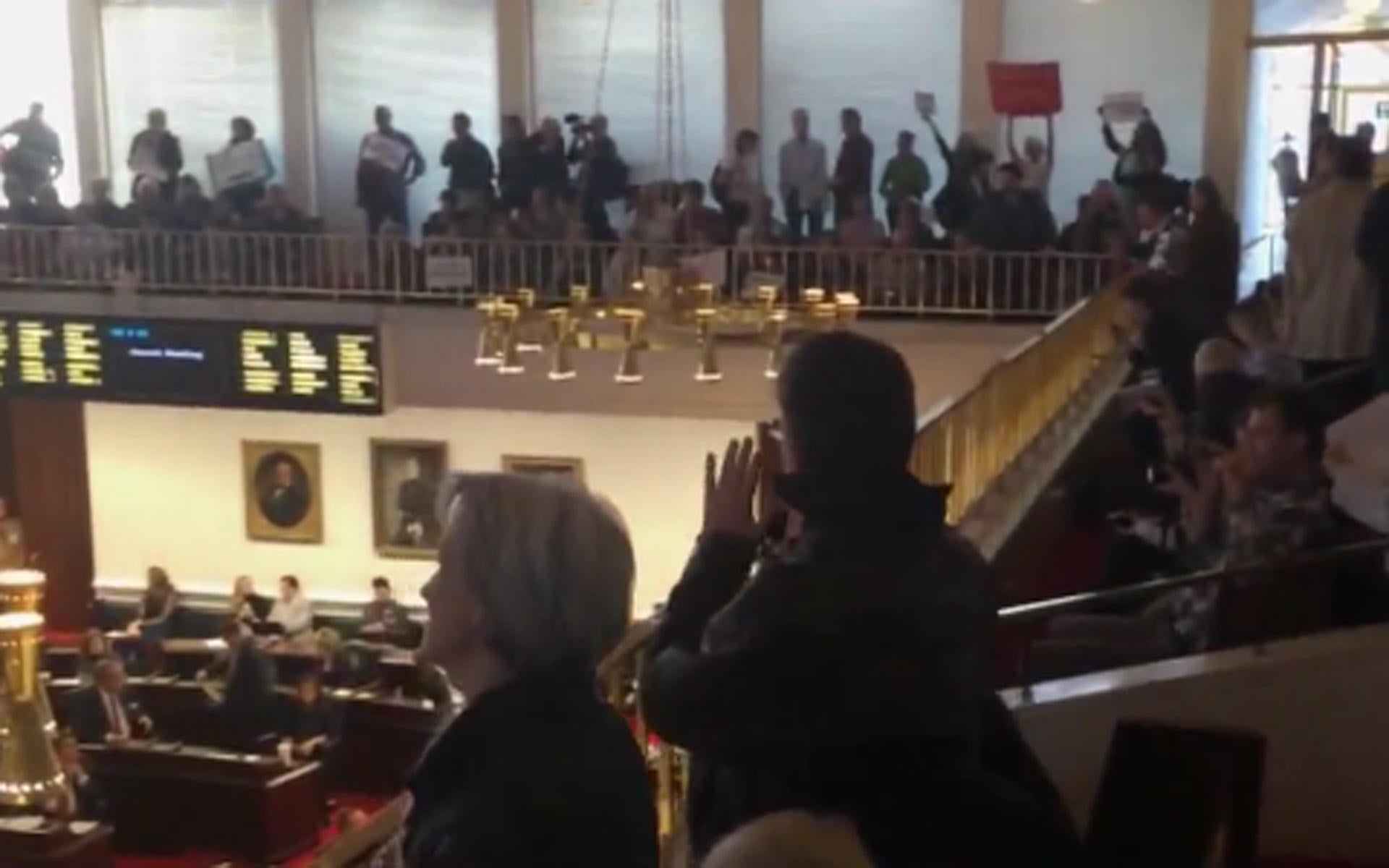 N.C. GOP ignores protests, pushes to strip Dem governor of power
RALEIGH, N.C. -- Nearly a month after Election Day, North Carolina Republicans appeared to finally accept Democrats' narrow win in the contentious governor's race. As it turns out, they weren't done fighting.
In a surprise special session in the dying days of the old administration, some say, the Republican-dominated legislature has thrown the government into total disarray, introducing bills aimed at emasculating incoming Gov. Roy Cooper's administration.
Cooper, the current attorney general, has threatened to sue. And many in the state are accusing Republicans of letting sour grapes over losing the governor's mansion turn into a legislative coup that flies in the face of voters.
"I believe fervently in democracy. I'm watching it be undermined ... by people who seem unwilling to consider or to listen," said Margaret Toman, who was among hundreds of protesters rallying inside the Legislative Building this week, demanding that Republicans leave Cooper's authority alone.
The protesters were so loud that Senate and House cleared the galleries, and more than a dozen people were arrested. There were at least 16 new arrests Friday as the House resumed its debate. Protesters chanted "all political power comes from the people."
The session continued after the brief interruption, CBS Raleigh affiliate WNCN reported. More than 150 demonstrators remained behind in the rotunda of the Legislative Building, according to the Associated Press.
At least 16 other protesters were arrested late on Thursday, when demonstrators spent hours chanting and holding signs. They urged elected officials to remember who put them in their seats to begin with.
Republicans are considering scaling back the number of political appointees Cooper can make and require the Senate's approval for top administrators at state agencies. They also are talking about erasing the governor's ability to shape elections boards statewide.
Republicans insist the legislation is simply adjusting the constitutional powers already granted to the General Assembly. They've said many of the provisions had been debated for years but always got set aside.
"There's probably no better time than to deal with it in the present," said Republican Rep. Bert Jones.
Democrats said it was a GOP power grab occurring a week after Republican incumbent Gov. Pat McCrory conceded a race he lost by just over 10,000 votes.
"It is done in a blatant political move by a party that must be afraid of the voters so they have to hold onto the power that they have," said Democratic Rep. Graig Meyer.
Rep. Billy Richardson, also a Democrat, agreed, expressing disappointment at the legislature's quick-footed actions during the special session.
"I really fear that we have harmed our reputation and integrity this week," Richardson said.
Whatever bills get final approval, likely to come Friday, will head to the governor's desk, but it's unclear what would happen next. McCrory, who hasn't commented publicly, could veto or sign the bills, or they could become law without his signature - and before Cooper takes office Jan. 1.
Republicans gained power of both legislative chambers in 2010 for the first time in more than a century, and they have veto-proof majorities.
Two former North Carolina governors - Republican Jim Martin and Democrat Jim Hunt - said this week that the legislation goes too far.
Cooper ran on a platform of defeating Republicans' agenda, saying he would work to repeal a law known as House Bill 2 that limits LGBT rights.
"If I believe that laws passed by the legislature hurt working families and are unconstitutional, they will see me in court," Cooper said.
Cooper says while Republican lawmakers aim to cripple his powers, the effect is to protect programs that transfer taxpayer money to private schools, allow increased pollution of air and water, and cut taxes for big corporations instead of the middle class,WNCN reported. Cooper promised he'd fight the proposed legislation, which he called "unprecedented."
Any notion Cooper would get a honeymoon period with the legislature were dashed swiftly this week. Lawmakers began the surprise session on Wednesday within minutes of adjourning another special session McCrory called to approve a disaster relief package.
Thanks for reading CBS NEWS.
Create your free account or log in
for more features.