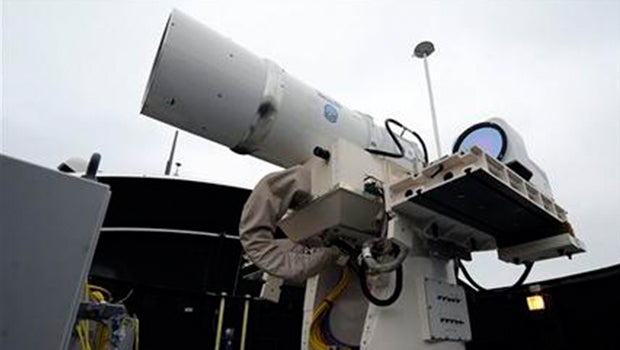 Navy laser weapon successfully deployed aboard ship for first time
A laser weapon designed to shoot down aerial drones was successfully deployed and operated for the first time aboard a U.S. Navy ship in the Arabian Gulf, the Navy announced Wednesday.
Rear Admiral Matthew Klunder, head of the Office of Naval Research, said that the technology was integrated into systems aboard the USS Ponce and tested between September and November, according to a statement released on the Navy's website.
The Navy released video showing the laser weapon system (LaWS) hit targets mounted aboard a speeding boat and shooting a drone out of the sky.
"Laser weapons are powerful, affordable and will play a vital role in the future of naval combat operations," Klunder said. "We ran this particular weapon, a prototype, through some extremely tough paces, and it locked on and destroyed the targets we designated with near-instantaneous lethality."
For the Navy, the cutting-edge technology is about cutting costs. The laser weapon - as well as a new electric guns that fire projectiles at hypersonic speeds - are far cheaper than missiles and smart bombs. The weapons can also be fired continuously, unlike missiles and bombs, which eventually run out.
"At less than a dollar per shot, there's no question about the value LaWS provides," said Klunder. "With affordability a serious concern for our defense budgets, this will more effectively manage resources to ensure our sailors and Marines are never in a fair fight."
Thanks for reading CBS NEWS.
Create your free account or log in
for more features.