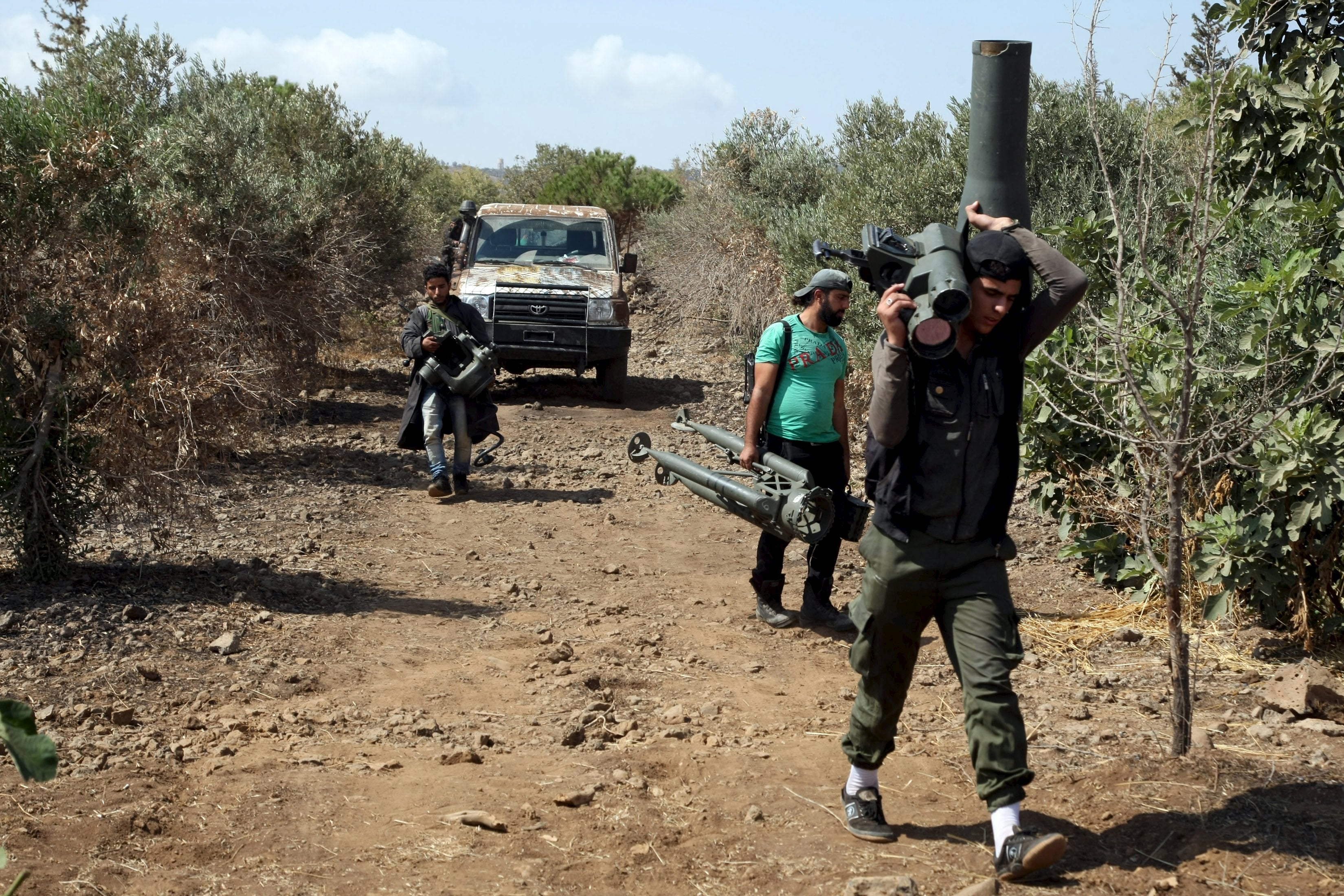 Russian "volunteers" likely to fight with Assad's troops
ANKARA, Turkey -- A senior Russian politician said Tuesday that the same "volunteer" forces who fought with separatists in eastern Ukraine would likely soon be fighting alongside President Bashar Assad's troops in Syria.
Vladimir Komoyedov, the former commander of Russia's Black Sea fleet and current chairman of the Russian parliament's defense committee, told the Interfax news agency "a unit of Russian volunteers, conflict veterans, will probably appear in the ranks of the Syrian army."
In spite of Washington's insistence to the contrary, Russia always maintained that no regular Russian forces had joined the fighting in Ukraine.
Likewise, President Vladimir Putin, who began a relentless air campaign against Syrian rebel groups last Wednesday, has insisted none of his forces will take part in the ground war in Syria.
But the so-called "volunteers" are another matter. The Kremlin distances itself from the forces, suggesting they are private citizens who choose to fight out of a sense of duty, or simply for the money.
"What brings volunteers there besides the cause? Of course, it's probably money," Komoyedov told Interfax. It wasn't clear whether Komoyedov was expressing the viewpoint of the Kremlin, or merely his own.
Later Tuesday, Komoyedov seemed to walk back his remarks, telling Russia's RIA Novosti news agency that Russia was still blocking citizens from trying to join the war in Syria -- for either side in the conflict.
The U.S. has learned that Russia is setting up a forward operating base for air operations in Syria, CBS News senior national security correspondent David Martin reported last month, adding that 100 Russian marines were spotted at Assad International Airport near the Mediterranean port city of Latakia, seemingly to be a base security force.
Additional housing units were being assembled at the airfield, and in early September there were already enough units at the airfield to hold more than 1,000 people.
The prospect of Russian nationals fighting alongside Assad's troops and their allies on the ground (most notably the Iran-backed Shiite militia Hezbollah, classed a terror group by the U.S.) would increase the risk of Washington and Moscow butting heads in a war that already has the two world superpowers sharply at odds.
There are small numbers of American and European nationals fighting on the ground in Syria, mostly alongside Kurdish forces in the north battling ISIS.
The Obama administration and its allies in NATO have criticized Russia for carrying out airstrikes targeting U.S.-backed rebel factions, in addition to the Islamic extremist groups including al Qaeda's al Nusra and ISIS which are battling to topple Assad.
According to The Guardian, in a rare manifestation of unity among those insurgent factions, more than 40 groups have vowed to attack any Russian forces inside Syria as "occupiers."
Unlike airstrikes, ground combat would be certain to involve casualties and threaten Putin's popularity by raising memories of the thousands of Soviet deaths in Afghanistan in the decade that followed its intervention there in 1979.
With tensions soaring over the Russian airstrikes, NATO denounced Moscow Monday for "irresponsible behavior" after its warplanes violated Turkish airspace, and Turkey warned that any future aerial intruder would be treated like an enemy.
Turkey, a NATO member, mentioned only one Russian intrusion over the weekend, but the military alliance said a second Russian jet also violated Turkish airspace Sunday.
The intrusions, which come amid deep suspicions and mutual distrust between Moscow and the West over Russia's military action in Syria, highlight the potential for clashes between Russian and allied forces in the increasingly crowded skies over Syria.
David Martin reported Monday that Russian aircraft have had their closest encounters to date with U.S. planes over Syria.
U.S. pilots flying F-16s out of Turkey first picked up the Russian planes on radar. The Russians closed to within 20 miles, at which point the American pilots could visually identify them on their targeting cameras.
Lt. Gen. Charles Brown, commander of the American air campaign, said the Russians have come even closer than that to his unmanned drones.
"The closest has been within a handful of miles of our remotely piloted aircraft," said Brown. "But to our manned aircraft they've not been closer than about 20 miles."
Brown said he intends to simply work around the Russians in Syria, and he doesn't think they will crowd out American operations.
Russia sought to play down the incursion into Turkish airspace. Defense Ministry spokesman Maj.-Gen. Igor Konashenkov said a jet accidentally entered Turkish airspace for "several seconds" Saturday while returning to its base about 20 miles south of the border with Turkey. He said the violation happened due to poor weather in the area, which forced the pilot to approach the base from the north.
Russia has taken measures "to prevent any such incidents in the future," he added.
The ministry said Russia had nothing to do with the second alleged incursion Sunday, but on Tuesday, a Turkish official told the French news agency AFP that that the Russian ambassador was summoned again in Ankara on Monday to discuss that breach.
NATO called Russia's actions "irresponsible behavior," and U.S. Defense Secretary Ash Carter said Washington was conferring with Turkish leaders about the violation.
White House spokesman Josh Earnest said the U.S. was "quite concerned" by Russia's action, describing it as a provocation.
"Given the stakes and sensitivity around the Russian military action in that region of the world, I think our concerns are well-founded," Earnest said.
U.S. Secretary of State John Kerry also expressed concern, telling reporters during a trip to Chile that the incident could have led to Turkey shooting down the Russian plane, and that Russia has a responsibility to act within international standards.
NATO Secretary-General Jens Stoltenberg said Russian warplanes had committed "unacceptable violations of Turkish airspace."
"Russia's actions are not contributing to the security and stability of the region. I call on Russia to fully respect NATO airspace and to avoid escalating tensions with the alliance," he said.
The Kremlin voiced hope that the incident wouldn't damage its friendly ties with Ankara.
"Bilateral relations with Turkey are quite comprehensive, and they are solidly based on mutual benefits," President Vladimir Putin's spokesman Dmitry Peskov said, adding that Moscow was looking into the incursion.
Turkish Prime Minister Ahmet Davutoglu said Russia had said the plane intruded "by mistake."
"They said they are respectful of Turkey's borders and that it would not happen again," he told Haber Turk television.
But Davutoglu warned that Turkey would enforce its rules of engagement in case of intrusions, which call for treating anyone approaching its border from Syria as an enemy.
"The Turkish armed forces have their orders," he said, saying it will take the necessary steps "even if it's a bird that violates Turkey's border. ... Our rules of engagement are clear."
A security meeting was called for Monday evening in Ankara, with Davutoglu chairing it.
Following urgent consultations Monday, NATO strongly protested the Russian intrusions and noted "the extreme danger of such irresponsible behavior."
"The security of the alliance is indivisible, and allies stand in strong solidarity with Turkey," the NATO statement said.
The Turkish Foreign Ministry said the Russian jet intruded Saturday near the town of Yayladagi, in Hatay province. Two F-16 jets intercepted the aircraft and forced it to return to Syrian airspace.
The Turkish military said a MiG-29 fighter of unknown origin had threatened two Turkish planes Sunday by locking its radar on them for 5 minutes and 40 seconds. The military said the incident occurred while 10 F-16s were patrolling the Turkish-Syrian border.
Konashenkov said the Russian air force doesn't operate any MiG-29s in Syria. The Syrian air force reportedly has some MiG-29s.
NATO said Russian Su-30 and Su-24 aircraft violated Turkish airspace Saturday and Sunday in the Hatay region.
"The aircraft in question entered Turkish airspace despite Turkish authorities' clear, timely and repeated warnings," it said. "In accordance with NATO practice, Turkish fighter aircraft responded to these incursions by closing to identify the intruder, after which the Russian planes departed Turkish airspace."
NATO also strongly criticized the Russian air campaign in Syria that began Wednesday.
Russia says its airstrikes are directed against the Islamic State of Iraq and Syria (ISIS), also known as ISIL, as well as al Nusra. The U.S. and France say at least some of the strikes appear to have hit Western-backed rebel factions fighting government troops, with the real goal of protecting Syrian President Bashar Assad.
NATO said the alliance was calling on Russia "to immediately cease its attacks on the Syrian opposition and civilians, to focus its efforts on fighting ISIL, and to promote a solution to the conflict through a political transition."
Russia's Defense Ministry said its jets Monday flew 15 sorties and struck 10 targets, including militants' field headquarters in Aleppo province and militants' headquarters in Damascus province. It said they also destroyed about 20 tanks in the province of Homs and 30 other combat vehicles in Idlib province.
The Russian strikes in Syria have largely focused on the northwestern and central provinces - gateways to the heartland of Assad's power in the capital and on the Mediterranean coast. French Defense Minister Jean-Yves Le Drian said in Tunisia that most of the Russian airstrikes "do not target the Islamic State."
Turkey, which has strongly demanded that Assad step down since the Syrian conflict began in March 2011, has voiced dismay about the Russian military action. On Sunday, President Recep Tayyip Erdogan said the Russian airstrikes were unacceptable and a grave mistake that could alienate Moscow in the region.
Le Drian reaffirmed that a political settlement of the Syrian crisis can't be achieved with Assad remaining in power, since he was responsible for the conflict.
"We're favorable to a political solution that would integrate the regime's elements that would also integrate the Syrian opposition" who hit by Russian airstrikes, he said.
The United States is leading a coalition that is carrying out airstrikes in Syria, as well as Iraq, against Islamic State militants. Russia maintains that its air campaign came at the request of the Damascus government, unlike the coalition's military action.
Stephane Dujarric, spokesman for U.N. Secretary-General Ban Ki-moon, said the various air campaigns in Syria create "a situation that is fraught with danger and very delicate, as we'd seen in the issue of the violation of the airspace with Turkey."
"This should really refocus people's attention on finding a political solution," he said.
Thanks for reading CBS NEWS.
Create your free account or log in
for more features.