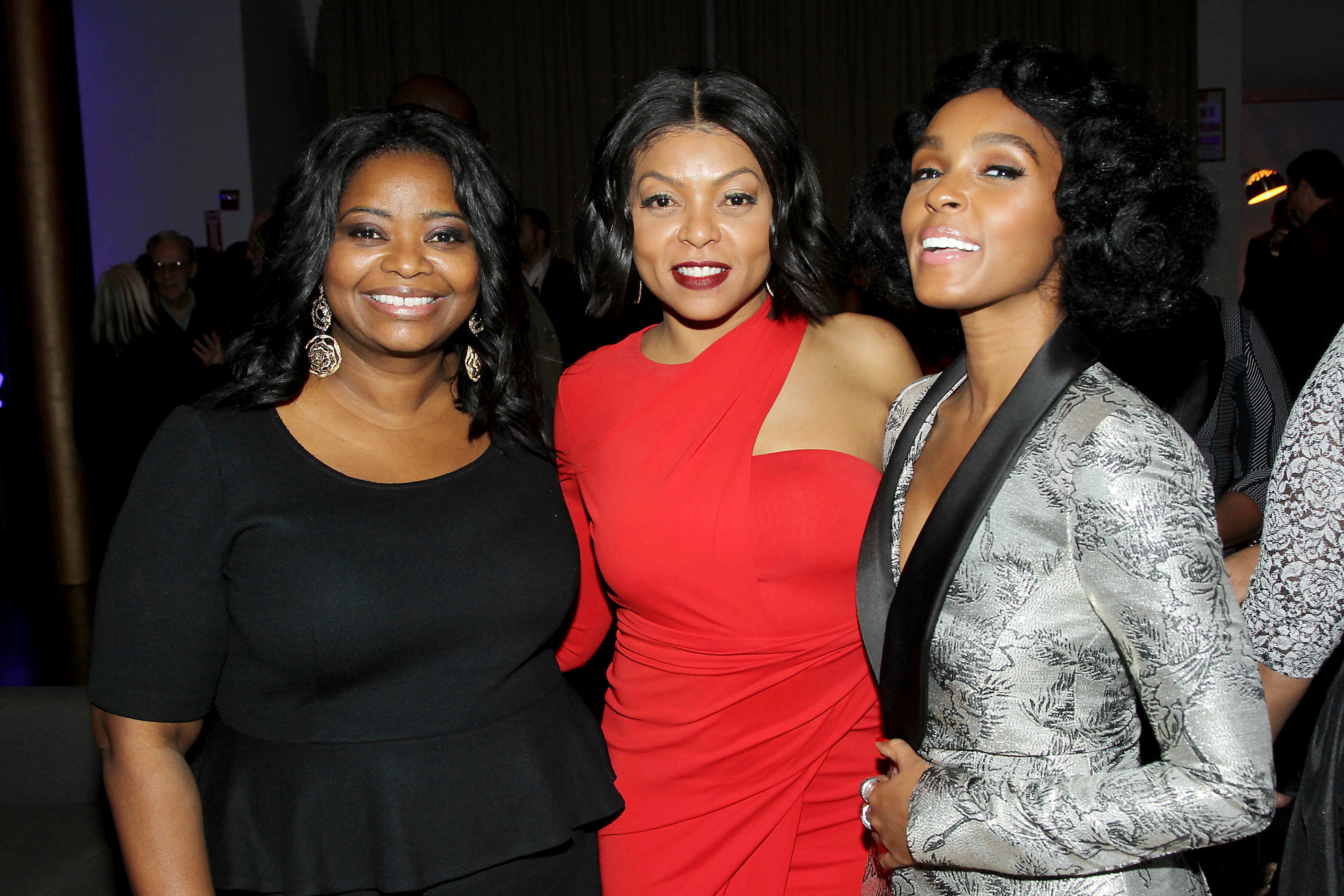 NASA and "Hidden Figures" team honor John Glenn and female space pioneers
When the film "Hidden Figures" had its big red carpet premiere in New York City last weekend, mixed in with stars like Taraji P. Henson and Pharrell Williams were people who aren't part of the typical Hollywood crowd — NASA astronauts and historians. They were there because the film chronicles the largely unknown story of three young African-American women who worked for NASA when large swaths of the country were still segregated, and contributed to making the late John H. Glenn Jr.'s historic orbit around the Earth possible.
The film focuses on characters who often get overlooked in the movies — not heroic, larger-than-life figures like Glenn, but the brilliant minds working behind the scenes.
The story centers on Katherine Johnson, a so-called NASA "computer" whose expertise in analytic geometry led her be asked to verify the calculations of the then-newfangled IBM mainframes that laid the groundwork for launching rockets into space. Johnson, now 98 years old, was honored with the Presidential Medal of Freedom in 2015 for her pioneering role in the space program starting in the 1950s.
"Growing up, my dad was a NASA Langley scientist — he worked with these women, I knew these women. They were in the community, they were normal. They were just 'Mrs. Johnson' to me and went about their normal lives," Margot Lee Shetterly, author of "Hidden Figures," the nonfiction book the film is based on, told CBS News at the premiere.
"They were very modest people and had multiple facets of their lives. These were moms who went to church, were Girl Scout leaders, went to the grocery store. But then they had this other part of them at NASA. It was great growing up to see these NASA engineers, these scientists, who were black. Who were women. It had nothing to do with the 'white male, whatever.' It showed me that all these people could be scientists, they could all achieve their dreams. It was a great way to grow up."
For Shetterly, the path from book to film was unusual. The book — her first — was optioned to be made into a movie even before it was published.
Growing up surrounded by NASA scientists, the story was personal to Shetterly. Screenwriter Allison Schroeder, who wrote the film script along with producer-screenwriter Theodore Melfie, felt that it was crucial to capture this specific slice of NASA history accurately.
"I had a big responsibility not just telling this story, but getting it right. Katherine Johnson's request was not for her but all the women who worked at NASA be represented. She didn't want this to be just about one person — not just one. There are a lot of forgotten, untold stories," she told CBS News. "I have to say this came together pretty organically because the truth was better than any fiction I could have come up with."
"He was a great hero"
Looming large over the premiere was the recent passing of John Glenn, who died Dec. 8 at the age of 95. While his role in history makes him a prominent figure in the film, he isn't the focal point; that is reserved for Johnson (Henson) and her colleagues and friends Dorothy Vaughan (Octavia Spencer) and Mary Jackson (Janelle Monáe).
The filmmakers emphasized at the premiere that these women's contributions were so inextricably tied to Glenn's achievements that essentially, the legend surrounding Glenn can't be examined without shining a spotlight on these "hidden figures."
Shetterly said that Glenn's loss makes the release of the film particularly poignant.
"I'm devastated, to be honest. I'm devastated. But the thing about it — he lived an amazing life, he was a great hero, he recognized excellence. He recognized Katherine Johnson at a time when she was not what a scientist or mathematician necessarily looked like," Shetterly said. "It's a fitting and poignant time for him to leave the stage while we are celebrating his legacy."
NASA astronaut and flight surgeon Dr. Yvonne Cagle, a trailblazer herself, said she was particularly moved. She knew Glenn well and cites him as an influence who helped shape her career.
"John Glenn, in particular, he not only was bold enough to orbit the Earth, but brave enough to return to space in 1997 when I was starting to train with him at the shuttle mission, to assist the team in training with him," she told CBS News. "I'll always remember how graciously he broke away from a huge group of inspiring seasoned astronauts to graciously take my hand in introducing himself to say, 'Hi, I'm John Glenn.' And it's this moment, like so many of these others, that make his spirit live forever in our hearts."
Bill Barry, NASA's chief historian, said that he views his role as a translator between NASA's brilliant minds and the public. When it came to advising the film's team, he said it was particularly meaningful to show a side of Glenn most had not seen before.
"Well, what I really loved about the movie coming out now is that it really reveals a side of John Glenn that people don't know. They know John Glenn as hero, senator, astronaut, as the oldest man to go into space. That being said, hardly anybody realizes what an incredibly nice guy he was. He was advocating for people who were not in a position to advocate for themselves," Barry said.
IBM CEO Ginni Rometty was also at the premiere because of the crucial role her company played in the historic events depicted in the film. She said she hopes the film can play a role in inspiring future Katherine Johnsons.
"This is a movie is about the role three wonderful young women played in our history and it's also about what IBM did in our history — we were part of the space missions, and the role of science technology and engineering and math," Rometty said. "It's so important to get more women involved in science, technology, engineering, and math."
Trailblazers and influencers
It's fitting that a film about groundbreaking figures would attract other influencers to its team. Production designer Wynn Thomas said it was exciting to return to "the world of math" after designing films like "A Beautiful Mind." He also said he found himself reflecting on his own experiences as a black man forging his way in Hollywood as he was working on the film.
"This is a story that I had never heard about before, had no idea that there were women working in NASA doing all of this terrific math work and had no idea there were black women who were also working there doing such important work at NASA," he said. "The film really resonated with me because I know what it's like to kind of be the first and what kind of energy and focus and hard work it takes to change people's minds."
It's something that was on Cagle's mind, too, as she headed down the carpet and into the film screening.
"I have to say my story started when I was 12 years old, and so I saw people reaching for the stars in 1969 when humans first landed on the moon. ... At that moment, my dreams took wing, and right then I didn't want to see my footprints, I wanted to leave my footprints because I knew how powerfully inspiring that was," Cagle said. "And that's what I'm trying to do today, and hope to inspire others to leave those footprints."
"Hidden Figures" opens in select theaters on Christmas Day and nationwide on Jan. 6.
Thanks for reading CBS NEWS.
Create your free account or log in
for more features.